Kenyan ace Kirwa to switch lanes to marathon after Tokyo Games
'I'm now 47. All sports people face this grim reality some time or the other. As years advance, focusing on one event would be good'
09 Nov 2020
Imagen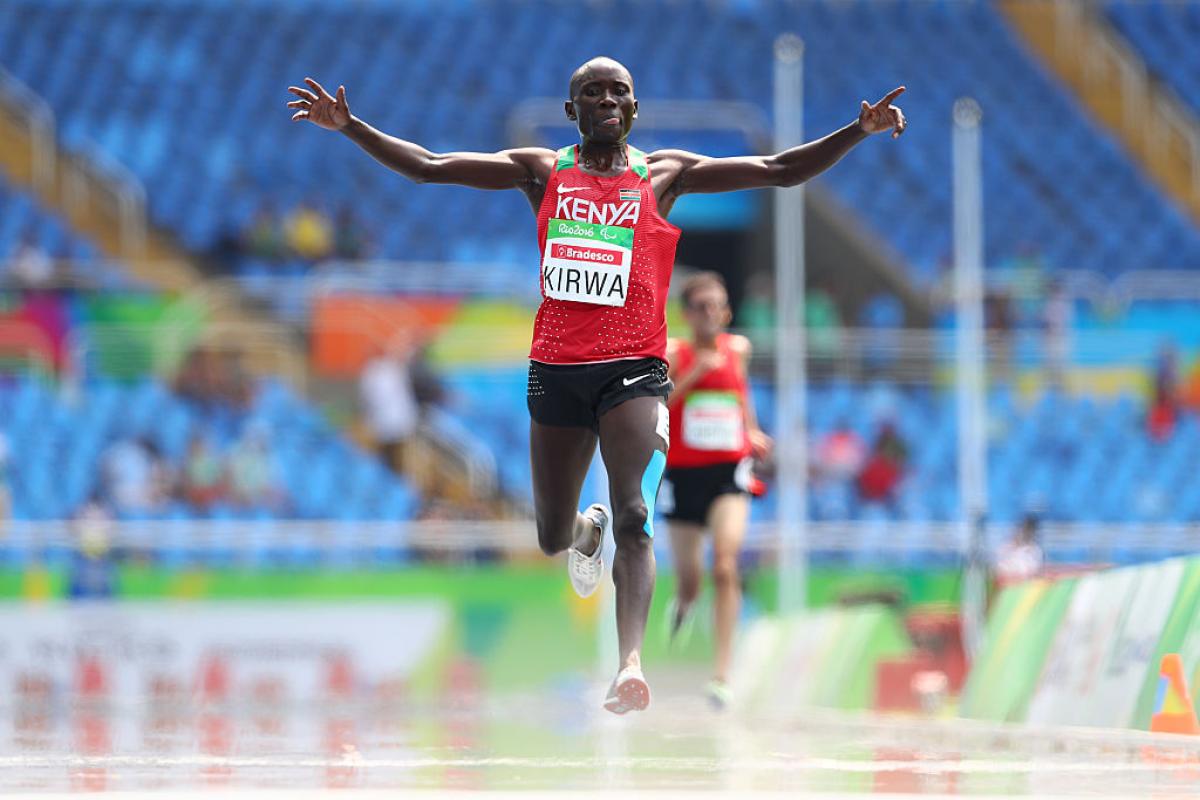 Ⓒ Lucas Uebel / Getty Images
By Tamanda Banda | For the IPC
Mid and long-distance athlete Henry Kirwa says he will compete for the last time in 1500m and 5000m events at the Tokyo 2020 Paralympic Games. The Kenyan will switch to marathon after a final shot in the three distance events in Tokyo next year.
"Tokyo Games will mark the end of my Paralympic career, but I am not done yet. I shall compete in marathon after Tokyo Games," Kirwa stated.
The four-time Paralympic gold medallist and three-time world record holder hopes his transition to the longest distance event is successful. Kirwa made his debut at the age of 35 at Beijing 2008 Paralympic Games. He won three gold medals in all his events (1500m and 5000m T13, and 10,000m T12).
He says age has caught up with him, but his will to keep running remains and hence the plans to switch to marathon. "I'm no more a young man, I'm now 47. All sports people face this grim reality some time or the other. As years advance, focusing on one event would be good. I have chosen the marathon," says Kirwa.
"I will be able to concentrate on building my endurance and stamina, a key need of marathon running."
Carrying family legacy 

Kirwa comes from a famous sports family. Paul Tergat, the first Kenyan to set the world record in marathon in 2003, is his brother. His mother Christine Cheruiyot was a national-level athlete and his father Kirwa Cheruiyot served in the military; he started as an athlete and later switched to shooting and became a sharpshooter. He won a bronze medal at the Military Games in Berlin, Germany.
Being a native of Kenya, a well-known marathon powerhouse, Kirwa always aspired to be an athlete and have his name alongside his brothers. As young boy, the three-time Paralympian would often join his brothers' training sessions. They would tick him off saying he was wasting his time running with them since he had a disability.
Kirwa would reply, "I want to keep fit and improve my stamina." His persistence paid eventually. He improved as an athlete. Later in 2007, he entered competitive sports for people with disabilities and etched his name in the record books with a plethora of podium finishes.
Currently, Kirwa trains vigorously in his village to achieve his goal of winning two gold medals at the postponed Tokyo 2020 Games. He aspires to take a shot at breaking two world records as well. The T12/T13 runner hopes to cap the year by winning the Sportsman of the Year Award (SOYA) in Kenya to add on to his three previous awards (2008, 2012 and 2016).
With COVID-19 disrupting the sports calendar globally, Kirwa has had his share of struggles. In May when the lockdown began, he was forced to sell 40 trees from his farm to cover some debts and expenses. However, he remains upbeat, thanks to his qualification for the Tokyo Games in April.
Positive about Tokyo 2020

Kirwa is all focused on the two gold medals up for grabs at the Games next summer. "The financial situation is not good as we are not getting support from the government but we must keep training. I encourage my Paralympic family to remain strong and to keep training and not lose hope" he says.
Kirwa's three-time podium finish in Beijing 2008 brought so much joy to him that he wanted his community back home to have a similar experience. His heroic achievement in Beijing attracted a financial reward from the Kenyan government. The then-35-year-old dedicated 50 per cent of the award to philanthropic work in his community.
"I grew up in a poor family. I could never afford the education I wished. This motivated me to help 15 families having people with disabilities. I bought them a cow each to help ease their financial burden."
Kirwa pays school fees for the less fortunate children in hopes of providing better opporunities. The world noted his generosity. The United Nations named him the Person of the Year for Kenya in 2009 as well as East Africa Community Ambassador in recognition of his philanthropic work in 2015.
He has also set up the Henry Kiprono Kirwa Foundation that helps people with disabilities in Kenya and East Africa. His aim is to see people living with disabilities offered the same opportunities, especially in education and sports.
"Paralympic Games' achievements have helped people living with disabilities win recognition in Kenya. Some have gone on to hold high positions in the government. This inspires me," says Kirwa. 
He believes the Foundation will inspire and help many people living with disabilities to have a life filled with career choices. This is the reason he wants to take up coaching after he retires.