Lambertini aims to 'eliminate differences' by building unique prostheses
Wheelchair fencer Emanuele Lambertini is pretty keen on grabbing gold at Tokyo 2020 but the automation engineering student is equally focused on changing the world of prosthetics for ever
03 Dec 2020
Imagen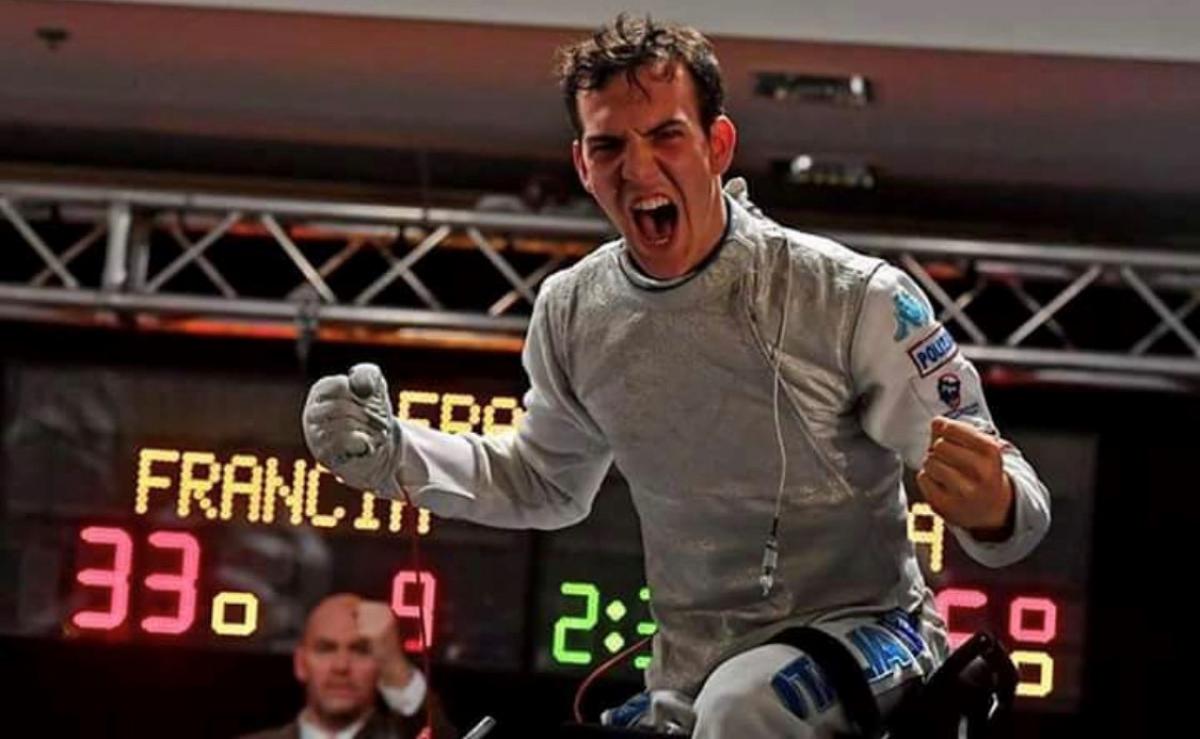 ⒸAugusto Bizzi
By AMP Media | For the IPC
Emanuele Lambertini is not your typical 21-year-old. He knows exactly what he wants to do with his life and is already halfway down the track to doing it.
"I got the inspiration by myself because one day some years ago, three or four years ago, I was in my orthopaedic [clinic] and I asked them for a particular bionic knee or foot for some creative stuff which you see in the movies and the orthopaedic technician who was with me simply answered that those things I was talking about were not invented yet," Lambertini explained.
"So instead of crying for myself and complaining, 'Oh why [has] nobody invented [this] yet?' I said, 'You know what, I will invent them for everybody'."
So, as well as training his heart out, the 2017 Italian men's team foil world championship gold medallist enrolled at Bologna University to study automation engineering. For the best part of three years now, maths, physics, informatics and more have battled for headspace with his sword technique.
"I see there are a lot of technologies that can let a person like me or any other amputee person do anything they like but there's a lot of work to be done yet," said the men's foil world No. 4.
"I am studying this because I want to eliminate the differences that are still evident."
And he has already got to the stage of identifying his first major project.
"My idea of prosthesis is a leg or an arm, a bionic arm or bionic leg which can let you do anything," said Lambertini, for whom the one "excellent thing" about lockdown has been the ability to "study a lot".
"For example," he continued, "nowadays there isn't a unique prosthesis for walking, running, swimming and many other stuff. If you want to walk you use a prosthesis. If you want to run, another one and et cetera for all the other stuff you can do. So, the first step would be to create a unique prosthesis which could include all the activities that anyone can do."
As you may have gathered, and as Lambertini shares with a smile, he does not like to sit still. He was, at the age of 17, the youngest Italian Paralympian to compete at Rio 2016 and, having helped the men's foil team finish fifth, his mind is not only full of engineering.
"Nowadays I always think about Tokyo," he said laughing, before he added: "But if you have one goal in your mind, always thinking about it is not going to help you."
An U23 men's foil world championship gold as well as a senior team silver last year prove the Cento native's claim that he is getting better and better. This and his experience four years ago will, he hopes, ensure that he leaves Tokyo with a gold in September 2021.
Whatever happens, Lambertini, who also plays the piano to a remarkably high level, will not stop charging forever forwards.
"Never be shy of your situation," he smiled. "Always enjoy life, because life is fantastic."