'The good side of being at home all day': France's Valet enjoys family time
Maxime Valet was on a upward progression with top finishes at the previous World Cups. But even with the postponement, he is enjoying more time with his baby girl.
03 May 2020
Imagen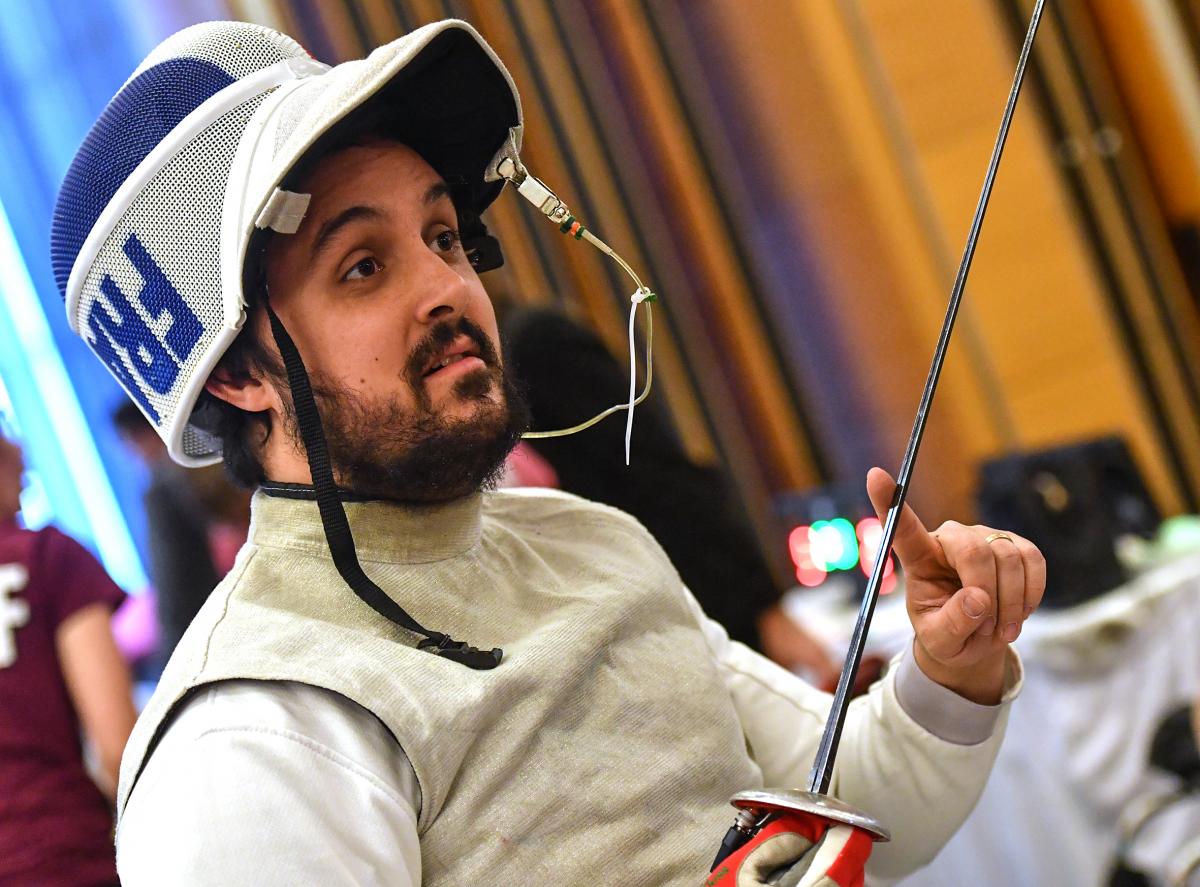 ⒸAugusto Bizzi
By Sam Harris | For IWAS
Maxime Valet is not looking to retire anytime soon, with his eyes already set on competing at the Paris 2024 Paralympics in his home country of France.
The 32-year-old will be looking to continue his impressive performances as the sport's showpiece event following his bronze medals at the Rio 2016 Paralympics in the individual and team foil events.
Now with the postponement of Tokyo 2020, Valet feels he has more time to get into his groove.
"It was a relief because training at home is very complicated, the Games were approaching very fast and we could not be ready to be the best to compete. There was also a big apprehension to be able to compete and training in good sanitary condition."
He understands the impact this will have on the training schedules for athletes and is aware it could be a difficult time.
"We don't know yet when we will be able to go back to training, we lost a lot of time during these two months at home. There will be a lot of physical work to do to come back at a good level and a lot of fencing to recover speed and accuracy. The other big impact will be financial to find more funds to train one more year and go to competitions and fencing camps."
However, despite not being able to practise fencing, there are opportunities for him to do some other training at home.
When the calendar resumes, Valet will be hoping to continue his form from 2019 which saw him display a series of encouraging performances on the World Cup circuit. He recorded six top-five finishes in Sharjah, UAE; Pisa, Italy; Sao Paulo, Brazil; Warsaw, Poland; and Amsterdam, the Netherlands.
Looking back on the previous year Valet said: "2019 was a good season for me with several podiums and good points for Tokyo 2020 qualification. However I was a little disappointed by my results at the World Championships in Korea but it's a good sign to go back to train harder!"
At the majority of competitions he only competed in the individual foil but showcased his versatility with a sixth-place finish in the sabre in Sao Paulo. In addition, he was part of the foil team in Pisa, Warsaw and Amsterdam.
This all bodes well for the Frenchman who has a special, once in a lifetime target to pursue: a home Paralympics in 2024.
"I hope Tokyo is not my last Paralympics as France will be a great experience to compete in our country in front of our family and friends!"
Valet first competed in Eger, Hungary in 2011. He finished first in the foil and has recorded multiple top-10 finishes since, most recently including two bronze medals at World Cups in Amsterdam and Eger in late 2019 and early 2020. He is also a World and regional medallist.
Valet originally started out in fencing before his accident, when he fell into a hole on a construction site. It did not diminish his love for the sport. "I went back to fencing very quickly, maybe a little too soon for the doctor but I was very impatient to go back to training with my friends."
Unsurprisingly, wheelchair fencing has made a great impression on the Frenchman: "Fencing help me realise that I could continue the life I had before at the same club, with the same opponents and the same coach. It was very important for me."
Despite his love for the sport, Valet has welcome distractions at home during lockdown.
"I also try to stay in touch with my family, I read and cook but most of all I spend a lot of time with my 5-month old baby girl. This is the good side of being at home all day long."