Michael Jeremiasz believes in power of sports to unite and overcome hurdles
Former French wheelchair tennis champion hopes Paralympic Games can continue acting as inclusion accelerator
16 Jul 2020
Imagen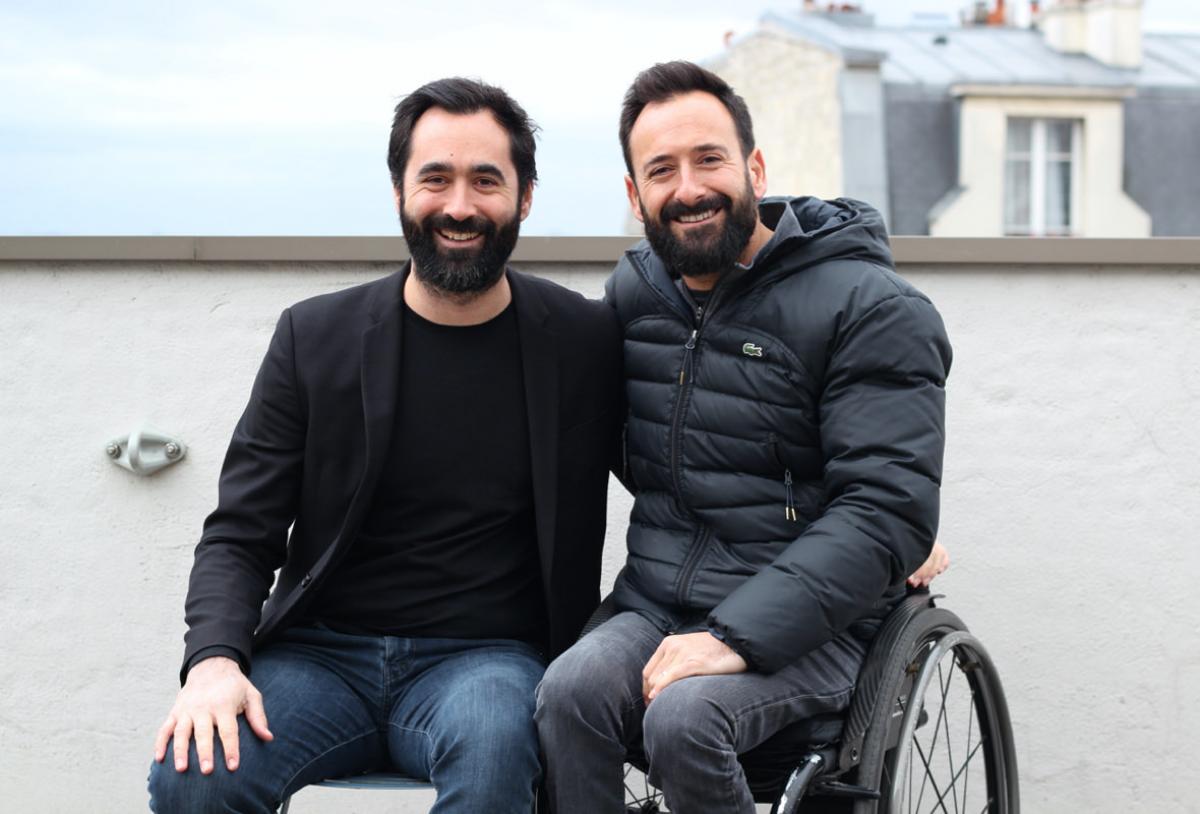 ⒸComme les Autres
By IPC
Michael Jeremiasz is one of the most well-renowned French Paralympians and his influence goes way beyond the field of play. 
Besides his sporting success, the Beijing 2008 wheelchair tennis champion is also a strong advocate for the rights of people with disabilities and sport as a tool for social inclusion.
In 2011, Jeremiasz, who became paraplegic following a ski accident, founded 'Comme les Autres' ('Like the Others') together with his older brother Jonathan and his wife Carolyn.
The association aims to give people who acquired a disability after an accident bounce back to a fulfilling social and professional life, using adventure sports activities as a tool. 
Some years later, popular French TV host Frédéric Lopez invited him for an interview on his show. It was then that Jeremiasz suggested him to become an ambassador for 'Comme les Autres'.
"He said yes, and we began to do a number of things together. We organised around 20 journeys per year for social support across France," said Jeremiasz.
Lopez then proposed making a documentary and Jeremiasz accepted, with both agreeing 'Comme les Autres' should be the name.
The documentary features Lopez, Jeremiasz and people with and without disabilities, who didn't know each other, experiencing a week of sport challenges in Corsica. The film premiered in May on France 2, one of the country's public national television channels. 
"It was a week of very rich adventures, and we had extraordinary feedback from the film. I am extremely enthusiastic; there was a real demand. It was very satisfying for us, for Frédéric, the participants and the 'Comme les Autres' association", said Jeremiasz.
"(It was satisfying) to see what we do inspires people. It breaks taboos. We are extremely proud; I have not yet had time to respond to everyone.
"We have to do something, develop our activities, reach the entire territory. We need more support, which is why following the opening night, we launched a donation campaign to support those who are discriminated, especially in France."
Raising awareness

Paralympic sports are slowly becoming more popular in France, but more visibility is needed. As one of the French athletes with more prominent profile, Jeremiasz has made his life goal to help achieve this.
"I am one of the most promoted; this process accelerated enormously at the time of the Rio 2016 Games, when I was the flagbearer of the French delegation.
"Inevitably, there was greater media exposure. After that, it kept growing because (what I do) goes beyond my sporting status. I am a renowned citizen who is engaged, committed and a bit influential, at least in the field of sports and disability.
"Therefore, when there are speeches, the media hands me the microphone easily.
"We are confronted every day with the ignorance of people, with the awkwardness of people in their attitudes and their looks, the sentences that they can use or the behaviour that they can have towards us.
"One of the consequences that a person with disability will find after an accident is a very strong loss of self-confidence. It happens in the global society, not just in France, that people do not feel comfortable with people with disabilities because they are scared and relate them to suffering, fear and disease.
"Sport is a great tool to gain autonomy against self-confidence, to create social ties, to go to meet people, also to confront people and also to face the obstacles of society."
Recovering from COVID-19

Jeremiasz was one of the millions who tested positive for COVID-19, at the very beginning of the pandemic in Europe. Luckily, he is now fully recovered.
He explained: "I was sick and a little feverish and then I lost taste and smell feeling. I consulted a general practitioner, who told me I had all the symptoms of COVID-19 and that it could not be anything else.
"For 12 days, I lost those senses and then I improved, I got them back and now I am fully recovered."
Jeremiasz also agrees the pandemic has been especially challenging for people with disabilities.
"There are people with disabilities who need support or are in the midst of rehabilitation; therefore, need a physiotherapist. But many are left alone, excluded and marginalised.
"There are people with mental disorders who have been especially affected now by the isolation. There are many consequences we need to keep an eye on." 
Paris 2024

It will be the third time the French capital city stages the Olympic Games but the first it organises the Paralympics. For Jeremiasz, who is part of the Paris 2024 Athletes' Commission, this is a massive opportunity for change.
"An event like the Paralympic Games gives us the opportunity to showcase our talents. The challenge is to inspire a big number of people and show to all that for those who acquire a disability, life is still possible. Sport is one of the tools that allow us to be happy and also to modify society's view on people with disabilities.
"We expect a lot from Paris 2024 as a society to be a great accelerator in terms of inclusion, integration, justice, equality, equity and that we are no longer second-class citizens," he said.
"There is still a lot of work to do. Physical accessibility is one thing, but it is also the perception that we have of our minorities and on that, we have a lot of work. 
"Today, in France, there is an unemployment rate twice as high among people with disabilities and in 2020 this is not acceptable. So there is still a lot of work to be done and, again, we hope that the Olympic and Paralympic Games will be an excellent accelerator in terms of inclusion."