Netherlands' Bo Kramer reveals her inner steel ahead of Tokyo 2020
Orange Lion welcomes the pressure of being gold medal favourites
12 Aug 2021
Imagen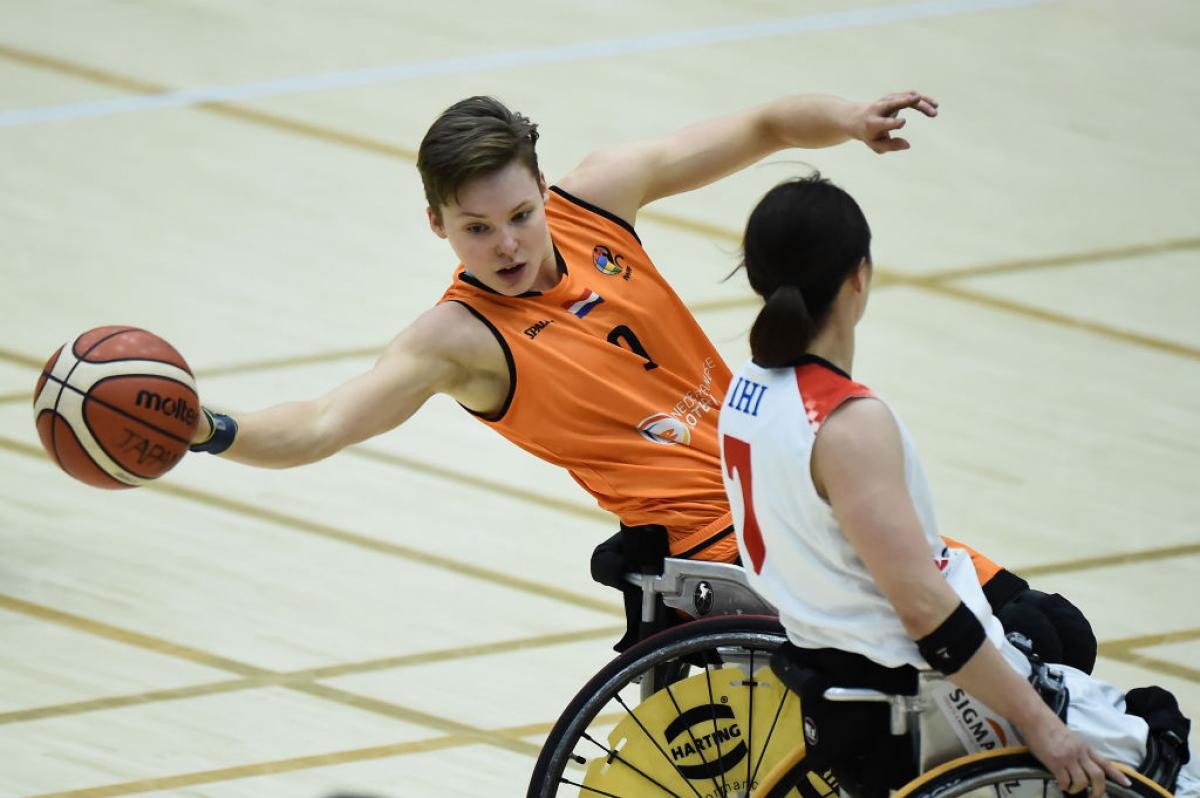 ⒸMatt Roberts/Getty Images
By AMP Media I For The IPC
There is a piece of steel tucked away in a corner of Marjan and Peter Kramer's house, a remnant of the battle their daughter Bo went through as a child fighting bone cancer.
"It reminds me what was on the inside," said Bo Kramer, the Netherlands wheelchair basketball player, who was diagnosed at the age of 11 and needed major surgery on her legs.
"I couldn't walk but now I can. It reminds me how strong you can be. When I look back I know I missed things in my life but I took it as a child, and I was young enough not to get hit by it.
"It was harder for my parents and sister [Jessie]. We are twins – for her it was the hardest time because we are really close."
Kramer's experience has already shaped her future. She is studying to be a physiotherapist for young children and plans to do a masters degree so she can research childhood illness.
First though, the 22-year-old is part of a Dutch team who are favourites to take gold at Tokyo 2020 after winning two European and one World title since their bronze medal performance in Rio, five years ago.
"We only get pressure when we deserve it, so at least other people think we are the best," she said. "So we keep it as a compliment and try to show the world some good basketball.
"Our main key is to make fun and if we make fun then we can play really good basketball. We know it is going to be difficult because we haven't seen many other teams and we haven't played many games but it would be weird if we don't go to Tokyo [aiming] for the gold medal."
For eight weeks last year, the wheelchair team scattered to their homes for lockdown and Kramer managed to have some fun there, too.
"We did the most creative things. I bought my wheelchair with me so that I could do conditioning outside and I went to the playground to do pull-ups. We bought things to build a home gym.
"The most inventive was [working out] with split peas, which we use in a soup that is really Dutch. You buy it in big packets weighing around 1kg and my mum had five or six in her cupboard. I made a workout and it went out on social media. It was really funny."
The team travel to Japan with a new name – the Orange Lions have replaced the Orange Angels to join forces with the men – and a unique song released by band Enorm and which involved the whole squad in a YouTube video.
"It was written just for us, 'What comes down, will come up'. It is relatable to everyone who has been through a rough time. It will be our live song. Especially for us. It sticks in your mind."
Bo owes her unusual name to her mother's admiration for actress Bo Derek – "although it's a popular dog's name in the Netherlands. My mum thought Bo Derek was a beautiful and strong woman so she called me that. I love it. It's short and easy to write."
If Netherlands match their expectations, then it is also a headline writer's dream.