Canadian wheelchair basketball star Cindy Ouellet aims for podium in Tokyo
Women's team looking for first Paralympic medal since 2004
24 Jun 2020
Imagen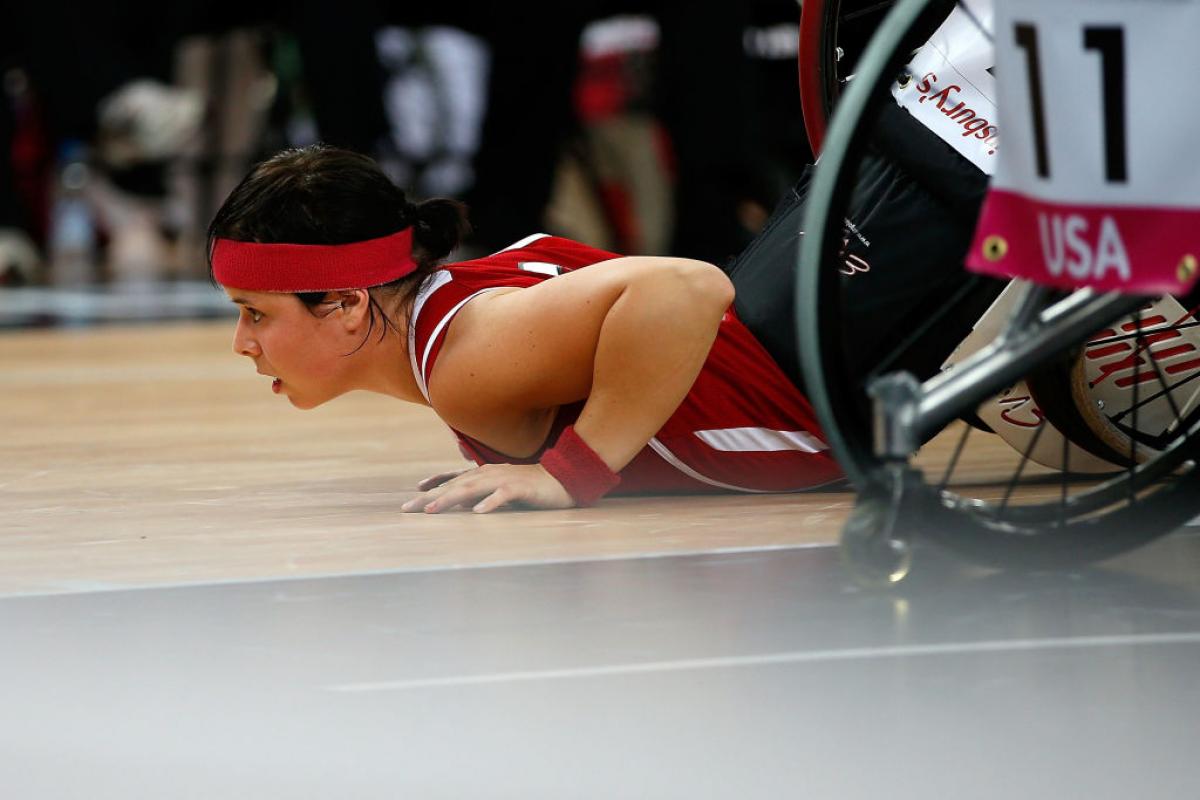 ⒸMatthew Lloyd/Getty Images
By Teddy Katz | For the IPC
One of the stars of Canada's women's wheelchair basketball team is looking to achieve something in Tokyo that has alluded her despite a stellar career – winning a Paralympic medal.
31-year-old Cindy Ouellet grew up idolising some of the Canadian players who came before her.
From 1992 to 2000, Canada reigned supreme in women's wheelchair basketball becoming the first and only country to win three straight Paralympic gold medals.
But Team Canada has been kept off the podium ever since winning a bronze medal in 2004.
"Canada obviously has been super good at wheelchair basketball in the past. So, it would be nice to make history again and just make Canada proud that we can go up on that podium with that new crew," Ouellet says.
Firm favourites
The team is hoping to improve on its fifth place showing at the 2016 Rio Games after losing a heartbreaker in the quarter-finals there. Canada's gold medal at the Parapan American Games in Lima in 2019, guaranteed a spot in Tokyo.
"Our team is really ready this time around. We've got some new players. We've got some speed, height."
Canada will centralise its entire team for about four months leading up to Tokyo, something Ouellet believes could make the difference.
"It's the team that's going to come together with the best cohesion that is probably going to win because all the athletes and teams are really fit so it doesn't come to physical fitness. It comes down to the mental side of things and team cohesion."
Ouellet says, there are a handful of countries likely in the running for medals in Tokyo. Current world champions Netherlands, Germany, defending Paralympic champions United States, China and Great Britain are all really strong, she says. And she believes Canada is in that mix.
Wanting to excel
Ouellet feels she hasn't reached her full potential yet. The versatile athlete competed in cross-country skiing at the 2018 PyeongChang Paralympics.
"I watch video. I watch other players in the world that are better than me. I just want to be the best."
Ouellet, who grew playing all kinds of able-bodied sports, was diagnosed with bone cancer when she was 12.  An experience that was tough on her in many ways.
"For me the first time I came back to high school after the illness, I had no hair because I just came out of chemo treatment. I was super skinny, so people were making fun of me. I was on crutches, so people were kicking my crutches. You're like why me again. I already had cancer. Why do I have to be bullied?"
She says sport literally saved her life. That's why she puts everything into it. Ouellet is also one of the few openly gay Paralympic athletes.
"If we can teach the kids in school at an early age that it's ok to be gay – to be queer – homosexual – whatever you want to be – you can be – there should be no judgement."
Ouellet is looking to leave her mark in Tokyo on the basketball court. "I would love to be that team to win Canada's first medal in years at the Paralympic Games."