When Eric Barber beat Michael Jordan in wheelchair basketball
'The Last Dance' documentary re-emerges photo of 16-year-old with the basketball legend
10 Jun 2020
Imagen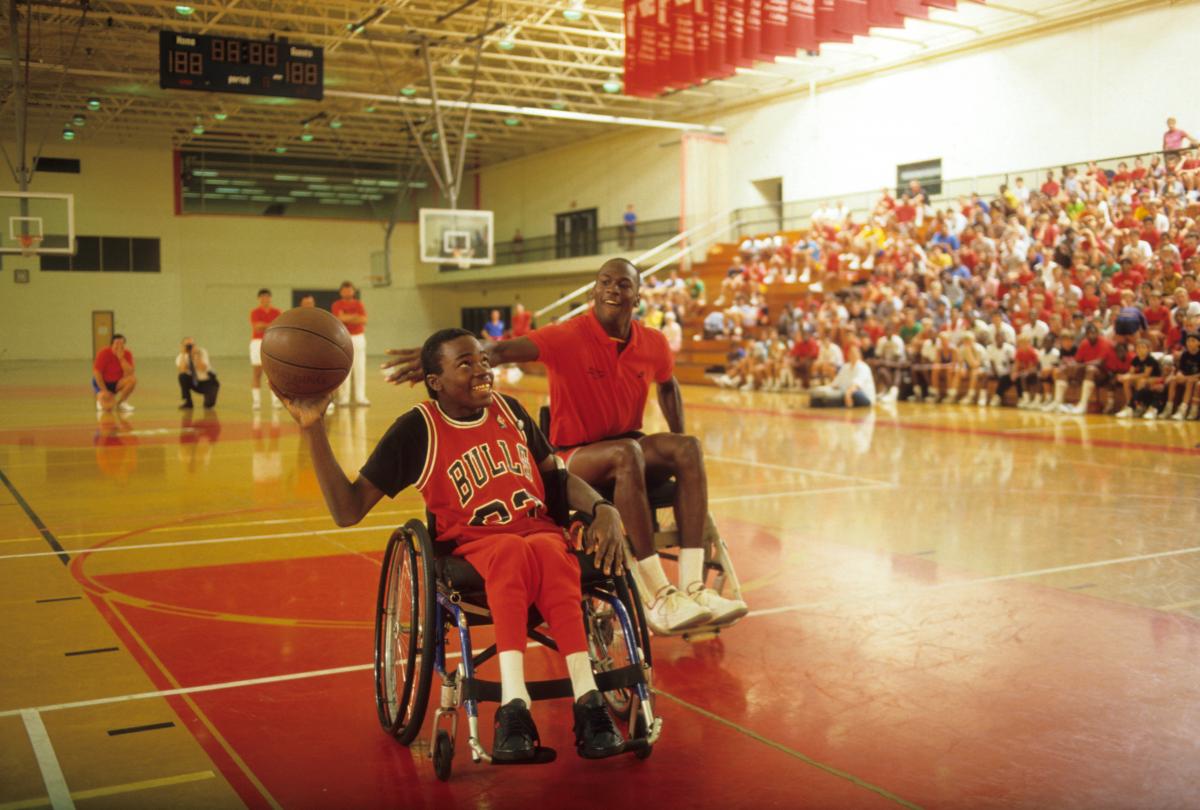 ⒸGetty Images
By Ros Dumlao | For the IPC
Eric Barber wrote to an 80s television show, sharing his dream of going one-on-one against Michael Jordan.
 
The catch was that the Chicago Bulls star would have to play in a wheelchair, like him.
Barber, 16 at the time, was not serious when he submitted the letter to NBC's Sports Fantasy, a show that makes people's sports dreams become a reality.
But little did he know that it would become serious.
Barber's fantasy came alive, and the moment was photographed. Thirty-three years later, those images resurfaced due to the hype of Netflix's 'The Last Dance' in April. The 10-part series documents Jordan and the Bulls' quest to an unprecedented sixth NBA title in eight years. 
Barber, who has since won two bronze medals over four Paralympic Games (2000, 2004, 2008, 2012), vividly recalled that day when he beat Jordan, arguably the greatest basketball player in history. 
The final score read 20-14.
"I won that game because he had never practiced in a wheelchair before," Barber recalled. "If you had given him a wheelchair in advance, he would have spent that whole week in the chair and his chair skills would have probably been better than they were (that July day)."
Born with a cured spinal condition called scoliosis, Barber lost the use of his legs when he was three. He grew up in Chicago, dribbling and shooting a basketball in the asphalt park courts. His mentor Bob Trotter introduced him to wheelchair basketball at 13 while he was at a rehab centre.
Three years later in the summer of 1987, his letter to NBC was picked up and the television show organised the opportunity for Barber to take on Jordan at a basketball camp hosted at Illinois Benedictine College outside Chicago.
They would play a game up to 20 points. Barber interviewed with media beforehand, later regretting some comments about his confidence in beating Jordan.
"What I learned was sometimes it's better to be humble because they asked me what will be the outcome of the game?" Barber explained. "I said 'Look, (Michael Jordan) has never been in a wheelchair before. He's a novice. I've been doing this for at least two to three years. I go to the court every day. My game is tight. He's not gonna know how to manoeuvre in a chair.'"
Jordan approached Barber about his remarks.
"He came to me and said, 'What's this you been talking? You going to get away with me and think I don't have a chance?'"
Tip off happened, and as Barber predicted, Jordan played awkwardly in the wheelchair.  
"He was taking these really little short strokes as able-bodied do when they are in a wheelchair. His turns were pretty sluggish," he said.
Barber took a 16-4 lead. 
But Jordan eventually adjusted, finding his sweet spot off the 45-degree angle from the hoop and knocking five shots in a row, to Barber's memory.
"There was a play when he had the ball and he was driving and I cut him off, and then he kind of put the ball out in front of him. I thought this is my time to get the ball from Michael Jordan. So I took my hand out and hit down on it as hard as I could to jar it out of him. But the ball did not move at all. 
"And he goes, 'Aw OK, you wanna reach? Cause I'm starting to feel it.' And he was like 'Oh, you know what that means right?' And I said ball stiff?' He's like ball stiff. 63 points.
"They talk about his competitive drive," Barber added. "It was definitely evident even back in 1987 to me, from his ability to pick up the sport quickly, to understand what he needed to do to be successful in the sport," Barber said. "It's why he is the greatest basketball player to ever live."
That small game in 1987 was before Jordan's first NBA championship title in 1991. Barber saw first-hand Jordan's drive to win six total, and was important for Barber himself to reach four Paralympics.
"He was basically Michael Jordan, this great rising star and I had an opportunity to cross paths with him," recalled Barber . "It helped me personally and from an athletic perspective too taking on one of the best athletes in the world and seeing his growth throughout that day we had together."
Barber, now 40, closed his Paralympic career at London 2012 with bronze; he also medalled at his first Games at Sydney 2000. He currently plays club basketball, mentoring younger athletes and works with human resources at the University of Wisconsin-Madison. 
He watched the entire series of 'The Last Dance', which rekindled some nostalgia.
"For me that was the golden age of basketball, having grown up in Chicago and being a sports fan," Barber reminisced. "Seeing him do some of the things that he did from the first Championship against the Lakers to the last against Utah, he captivated all of Chicago and most of the world and I was no different."