'Pressure' brings out the best of US star Rebecca Murray
Her training starts with running through game-like situations on her own, visualising defenders coming at her from various points on court
07 May 2020
Imagen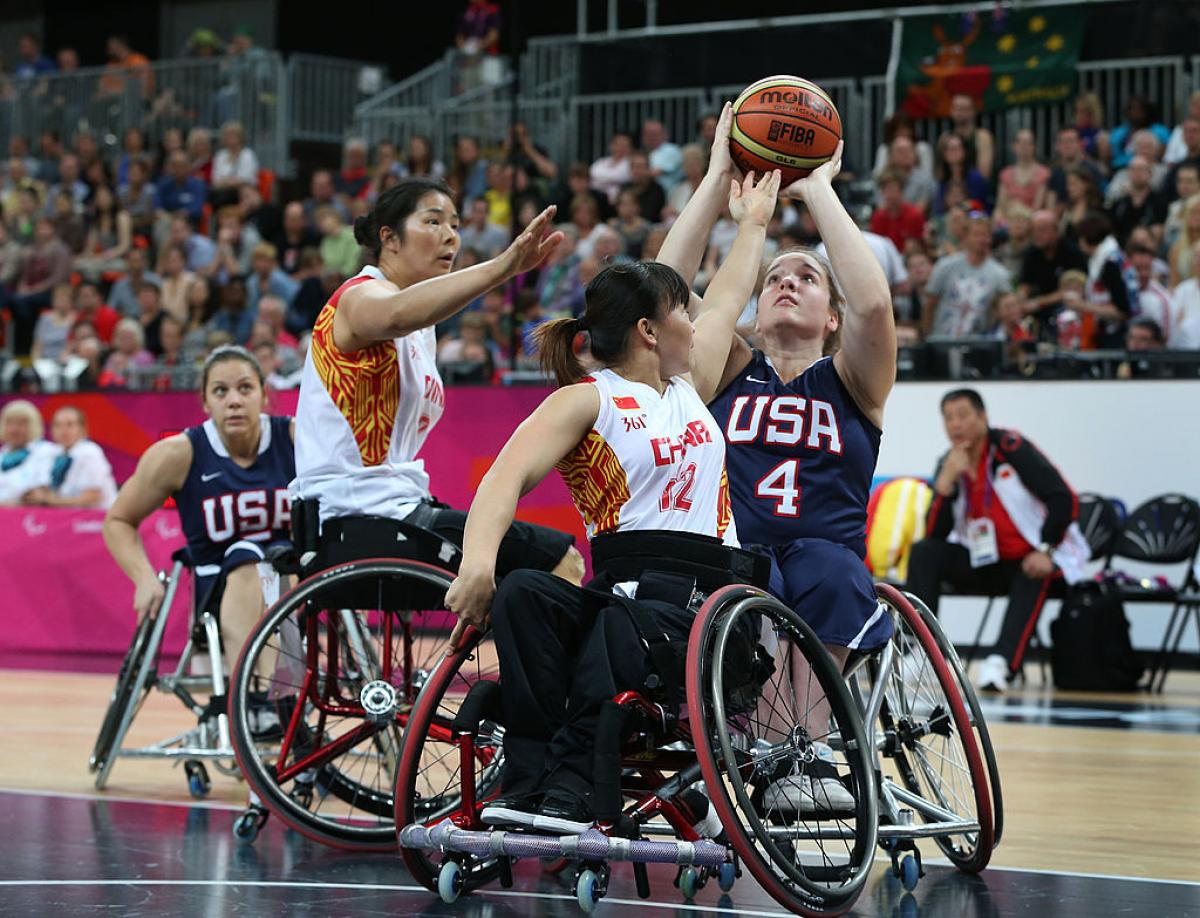 ⒸGetty
By Ryan Wilson | For the IPC
A TV announcer had described US wheelchair basketball star Rebecca Murray as a player with 'robot-like shooting' prowess. 
National team coach Trooper Johnson, a former player himself, can concur, adding "there is no other athlete that I've seen like her."
 
He has analysed Murray's shooting form since he was named the assistant coach for the USA leading up to the Rio 2016 Paralympic Games. As someone who heavily relies on data, Johnson noticed something interesting about Murray, who sits low in her chair due to spina bifida. The latter has a unique quality of improving her shooting percentage under pressure.
"In the 2016 campaign, I was a little frustrated," Johnson said. "Not in the fact in how she performed, but it was really hard tracking her data. In game situations, her percentage would jump up constantly, and so it was the one athlete who was always different than everybody else."
Although Murray is the one whom the defenders try to shut down, her shooting does not seem to falter with pressure. At Rio 2016, Murray dropped 31 points in the semi-final win against Great Britain, then 33 for the gold medal victory over Germany. She was the leading scorer in both games. 
Murray said her coach brought this 'statistical oddity' to her attention in the last couple of years.
"I had my meeting with him, and he was like, 'I don't even know what to say to you, because your numbers are confusing'," the three-time Paralympian chuckled. "We both got a laugh out of that."
Murray has a hard time trying to explain why she performs better with tough defense and game-time stress. 
The 30-year-old can be seen at a local YMCA at 5 am in Wisconsin, running through game-like situations on her own, visualising defenders coming at her from various points on court. She will do the same after her 7 am practices with the National Wheelchair Basketball Associations' Milwaukee Buck's – she will shoot alone and simulate as many game-like scenarios.
"I do like the pressure," she admitted.
However, fellow Paralympic teammate Rose Hollermann believes, Murray can shoot well even without opponents in her face. Recalling about Rio 2016, Hollermann said, Great Britain were going to lock-down on Murray in the semi-final. There were a couple moments when defenders would back off her, particularly in the first quarter when she would drive to the lane.
Throughout the rest of the game, Murray was double teamed by British defenders. But in turn, she would pass the ball to an open teammate for one of her 13 assists in total in that game.
It seems Murray can shoot well in all situations. 
In the Rio 2016 finals, Murray's 33 points was a brilliant 69 per cent from the field. 
"I don't even know when I just started saying, 'Well, that's just Becca. Like, that's just what she does'," Johnson said.
Hollermann looks up to Murray as a role model for young athletes. The 24-year-old watched every game Murray has figured in and has been in awe of the Wisconsin's native tendencies on and off the court.
"She had a game where she scored like 30, 40 points, something ridiculous," exclaimed Hollermann, who made her Paralympic debut in 2012 at the age of 16. "I was so excited and talking to her about it after the game. She goes, 'Rose, it doesn't matter, as long as the team wins, then I win'."