Wheelchair basketball family weighs in on Kobe Bryant's legacy
Athletes, coaches and more share what the basketball legend meant to them
28 Jan 2020
Imagen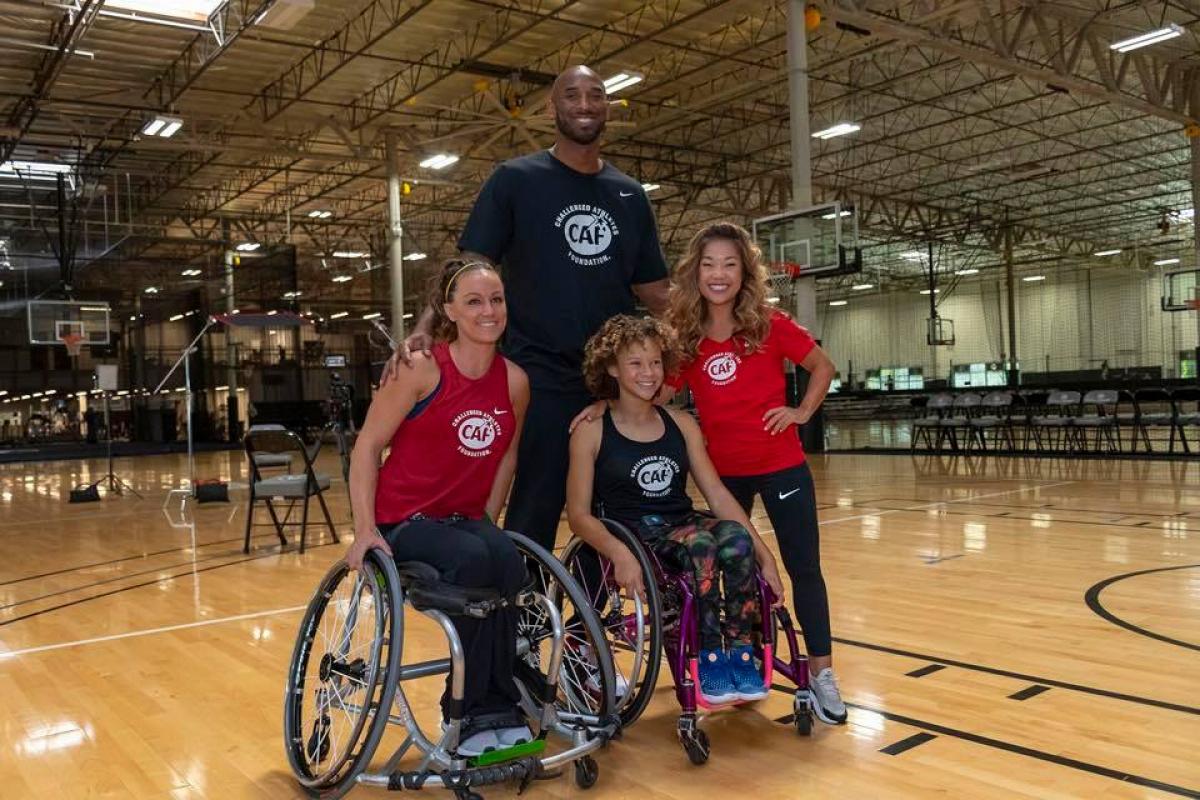 ⒸChallenged Athletes Foundation
By IPC and IWBF
Basketball great Kobe Bryant, who died in a tragic helicopter crash on Sunday (26 January), was not far from the wheelchair basketball community. When the US women's team won the Under-25 World Championships last May, Bryant let them know he was following them closely.
For US wheelchair basketball head coach Trooper Johnson, that one-worded tweet spoke volumes about the two-time Olympic and five-time NBA champion, whose 13-year-old daughter Gianna and seven others travelling to a junior basketball tournament also died in the crash.
Johnson won a pair of Paralympic bronze medals on the US men's team from the 2000 and 1996 Games took inspiration from Bryant's hard work off the court.
"There were two things that impressed me the most," Johnson said. "One was his work ethic and the amount of time he spent preparing himself for the game. Everyone watches a 48 minutes game but doesn't get to see the hours and years and hundreds of thousands of shots that go into getting ready for those 48. He embraced doing all the dirty work that average athletes avoid. He did not take his natural tadlents for granted.
"The second thing was how focused he was once the game started. No matter what the score, he was never out of a game. He would continue to dial up the intensity to a level that other players simply couldn't match.
"He loved the game, and the game loved him."

US national player and Paralympic champion Megan Blunk met Bryant once for a commercial shoot for the Challenged Athletes Foundation in October of 2018. She described it as a "once in a lifetime opportunity."
"I spent about an hour with him that day but the impact he had on me will last a lifetime," she said. "Kobe left with me a feeling of strength, of confidence and motivation to keep working hard towards the things I believe in, for myself and for others."
Bryant, 41, was known as an ambassador for basketball not only in the USA but around the world, recently promoting the sport ahead of the FIBA Basketball World Cup 2019 in China.
He "influenced a generation of players," and his drive was a "inspired athletes regardless of ability and level of play to work hard and reach their dreams." This was among the memories of IWBF's President Ulf Mehrens, who saw Bryant at the FIBA World Cup in China, and NWBA President Tim Fox.
Bryant's inspiration to wheelchair basketball athletes 
Jake Williams, US Paralympic gold medallist:
"Some of the most unexpected news I've ever heard. Growing up watching Kobe was one of the first basketball superstars that I really remember watching. Thank you, Kobe, for all the memories that you game me from the (five) titles that I watched to the 81-point game, to the 2001 Lakers one of the best teams I've ever watched. Although I wasn't always your biggest fan the way you played and competed and what you did for the game of basketball is unforgettable. The basketball universe and I are truly shook."
Simon Brown, Great Britain world champion:
"This is the Kobe I will remember. That pure heart and determination, refusing to lose. He wasn't the perfect leader but he dragged teams to success whether they deserved it or not. A man who craved victory, a man so cold and focused on his targets he didn't flinch at a ball thrown in his face, a man so proud he shot his free throws before leaving the game after a career-ending injury. I don't know how many times I went to bed at 6 or 7 in the morning because I was too pumped up to sleep after watching him play. Grieving for a person you never even got to see in person is pretty weird but damn my heart hurts today. Thank you, Mamba."
Allon Dor-Onn, Israel:
"To be honest, Kobe was never my favourite player. He was the one I was so scared my favourite players will have to face! The most lethal player who played the game I love so much. Always focused. Sharp as a blade. Concentrated in his goal of winning, no matter how.
"Thank you, Kobe, for teaching me about commitment. About trusting the path and process. For showing me your desire to the game. For aspiring to be the best you can possibly be. Rest in peace."
Simone De Maggi, Italy:
"I hoped until the end that it was fake news. It's like a member of my family has been taken away... It's amazing what sport can do and how people can bring people closer. I'll forever stay that kid with rolled socks, garbage bin in the corner 5 seconds to play. Ball in my hands. 5... 4... 3... 2... 1... I will love you forever, Kobe." 
David Eng, Canada, four-time Paralympian:
"We are roughly the same age and he has inspired and taught me so much.  The memories of him winning his first three rings with Shaq was awesome then how he fought all the naysayers and won two more on his own. I even named my Husky after him. 
"When I went through my surgery a few months before Rio 2016, he gave me strength seeing and watching him go through his Achilles tear rehab. His work ethic inspired mine. I felt at a loss when he retired at the moment but then he kept inspiring me with his retirement transition as I am approaching mine. He also inspired me as I saw him being an awesome father as I am building my own family. I feel like he still keeps showing me the way. He has showed me how to live a life of excellence and I will always be in debt to him for that."
Annabelle Lindsay, Australia: 
"From the age of 8, Kobe has huge impact on me both on and off the court.  I've always tried to approach my basketball with Kobe's iconic 'Mamba mentality.' 
"On the court, this meant playing with passion, fearlessness and confidence.  Off the court, this meant consistently trying to make self-improvements and striving to reach my highest potential — in both basketball and life. 
"Kobe also taught me that as athletes, it is important that we use our platform to have a positive impact on our communities. I am forever grateful for the impact Kobe had on my life and the lives of so many other athletes like me. Though gone, his legacy and impact will never be forgotten".