Sport Week: Welcome to wheelchair basketball
The sport was part of the original eight at the first Paralympic Games in 1960
22 Jun 2020
Imagen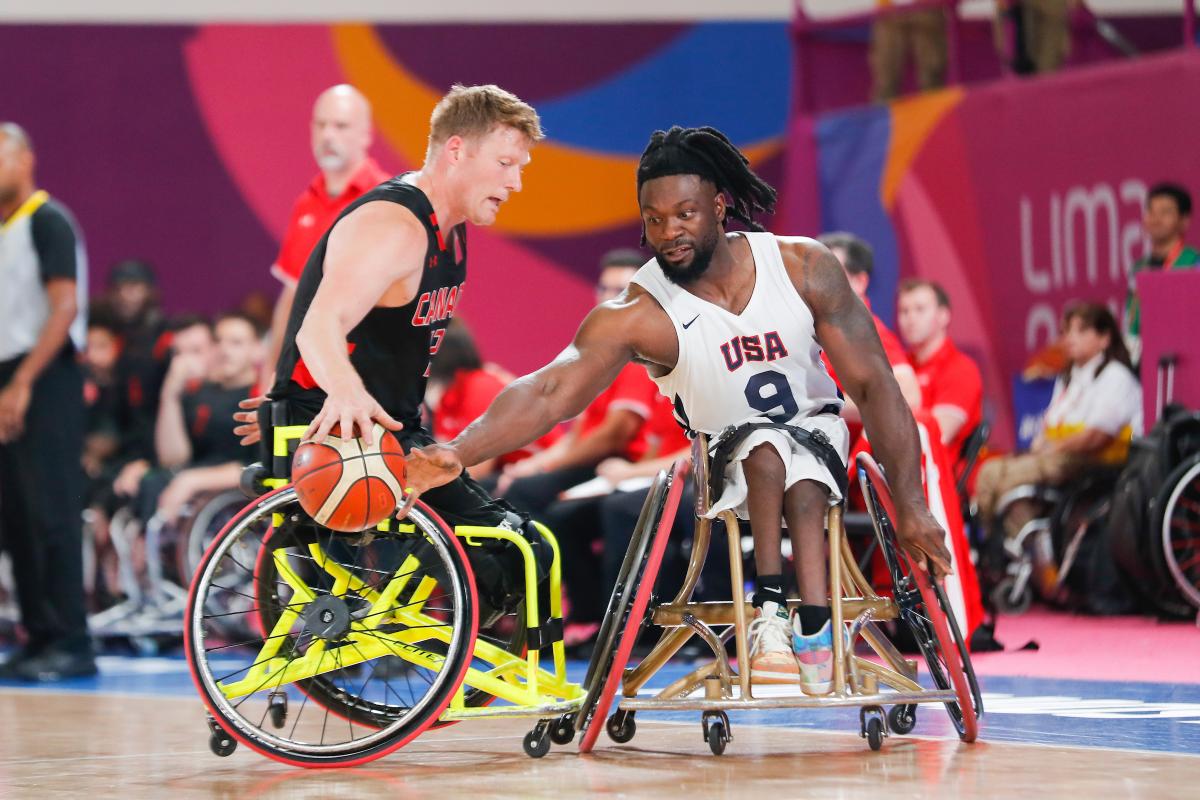 ⒸLima 2019
By IPC
Wheelchair basketball is a fast-paced game between two teams trying to shoot a ball into the opposing team's basket. 
Athletes showcase an array of skillsets, from ball-handling to chair skills combined with smart tactics, making it one of the most thrill-seeking spectator sports at the Paralympic Games.
How it works

Every team comprises of five players and seven substitutes, and games consist of four periods of 10 minutes. 
The rules of wheelchair basketball are similar to stand-up basketball. The court is the same size, the basket is at the same height and scoring is identical: two points for a shot inside the 3-point line, one point for each free throw and three points for a shot outside the 3-point arc (6.75m or more from the basket). 
Players must dribble or pass to move the ball around the court by passing or dribbling. Perhaps the biggest rule difference to the stand-up version is the travel rule. Wheelchair athletes must pass or bounce the ball after every two push on their wheelchair to avoid being penalised for travelling.
There are 12 players in each team, with no more than five on court. 
Every player is assigned a point value based on their functional ability, from 1.0 for a player with the least physical function ('low-pointer') through to 4.5 for the most physical function ('high-pointer'). The five players on court are only allowed to have a maximum of 14 points.
History

Wheelchair basketball initially developed around 1945 as a form of rehabilitation for World War II servicemen in the US.
At a similar time, Sir Ludwig Guttmann developed a similar sport called wheelchair netball at the Spinal Rehabilitation Hospital in Stoke Mandeville, Great Britain at Stoke Mandeville. When a US team entered the International Stoke Mandeville Games, there was a further burst of interest in wheelchair basketball that saw it grow across Europe.
By 1960, wheelchair basketball was played on the global stage at the first Paralympic Games in Rome, Italy, and now is practiced world-wide. Wheelchair basketball has evolved into a fast-paced, chair-knocking Paralympic sport. At the Rio 2016 Paralympic Games, 12 men's and 10 women's teams hit courts for two medal events.