No. 12: USA's 'Armless Archer' becomes London icon
American Matt Stutzman won silver in archery at London 2012, but he became one of London's biggest inspirations and images of him shooting without arms have become iconic of London.
20 Dec 2012
Imagen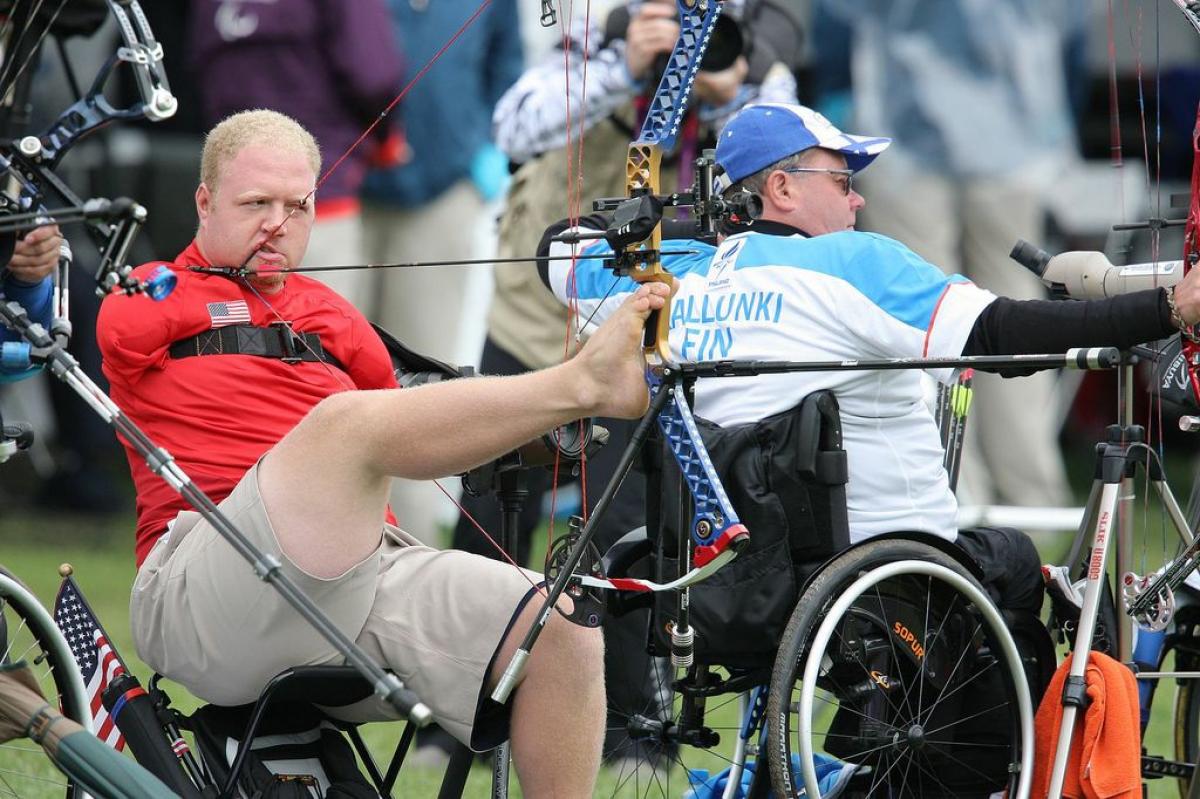 ⒸMarcus Hartmann
By IPC
Find out which other stories made it into the Top 50 Paralympic Moments of 2012
Matt Stutzman will never forget the time he approached Oscar Pistorius in the athlete's dining hall at the London 2012 Paralympic Games.
Pistorius was sitting alone, blocking out any and all distractions.
"Congratulations on the Olympics," Stutzman said, briefly setting his tray in front of Pistorius.
The American father of two went on to tell Pistorius how tremendous it was that he represented the Paralympic Movement at the world's biggest sporting event just a couple weeks prior.
As soon as Stutzman finished, Pistorius opened his mouth to say something it seemed he had been waiting to share.
"He began to tell me a story about a guy who had no arms and shoots a bow who was going to be on the Piers Morgan show," Stutzman recalled.
"It was going to be one o'clock in the morning when it aired, but he stayed up to one o'clock to watch my episode on Piers Morgan.
"It was cool to see that I was inspired by what he did, yet he was watching me as well."
Stutzman, known as America's "Armless Archer," did more than win a silver and catch the attention of Pistorius at London 2012.
Photos of him shooting a bow and arrow without arms were some of the most iconic of the Games.
He became an inspiration.
Hitting the target
When Stutzman began to enter archery competitions two and a half years ago, his goal was to make the team for the Rio 2016 Games.
Born without arms and adopted at four months old, Stutzman grew up in a family of hunters in Iowa, and he had always wanted to be like his father and brother.
"They couldn't hit nothing," Stutzman chuckled. "But when you're little, you want to act like your dad or mimic what he does, so he helped me purchase my first bow. I was 16 at the time."
That bow was stolen from Stutzman the next year, and it wasn't until three years ago that he purchased another when he needed something to do during the winter months.
Every day from then on, he practiced.
He set the bow on his right shoulder with its standard-issued mechanical release aid.
He drew it back, the trigger just underneath his jaw bone.
Then, moving his jaw slightly backwards, using about as much pressure as it takes to click a computer mouse, he released the bow.
Bulls eye.
A dream come true
All the hours spent in front of the target were worth it for Stutzman after winning the US Paralympic Trials in April and then going on to win silver in the men's individual compound open at London 2012 in September.
Stutzman finished first in the Paralympic ranking round, and his only loss in London came against Finland's Jere Forsberg in the gold-medal matchup.
The crowds went wild for Stutzman, whose armless figure easily won them over.
"What you're doing with the sport, and how you're doing it, has inspired me," a spectator told Stutzman after one of his rounds.
"Let's say I wake up in the morning and my back hurts. Well there's no reason to complain about that anymore because I just witnessed some guy without arms shooting a bow."
The adrenaline rush from the fans surely hit Stutzman head on, and he enjoyed every minute of interaction with them.
"I think I know why they do the Games every four years – because it takes three to recuperate," Stutzman joked.
"It takes three years to recuperate from all the adrenaline, and then you have one more year to get ready for Rio."
While Stutzman surprised all those who packed into London's Royal Artillery Barracks to watch him compete, he also left the British capital a little overwhelmed himself.
"It was the experience of a lifetime for sure," Stutzman said.
"It kind of hit me when we had the Opening Ceremony. We walked out as the United States of America, and people started cheering and clapping, and I was very, very proud of that moment to be part of something bigger than just myself.
"When I was a little boy, I was always interested in joining the military. I wanted to represent America. The fact that I got an opportunity to go to London, in a round about way, let me live a dream I wanted to live. It was just amazing. It was just a dream come true and one that I never thought I was going to be able to do."
And that was just the beginning of a life change.
Personal legacy
The London 2012 legacy is no more prominent now than within Stutzman's personal life back in Iowa.
"The Paralympics have changed my life and my family's life for the better," Stutzman said.
"Before London, with training and the small town that we're in, it was hard for me to find a job. People look at you a little differently because you have no arms. I didn't get hired on much because of that reason, and I was collecting disability.
"But now, after the Games, I've made it a career. I go around and I can use my accomplishment in London to go to schools and to events and talk to them about my disability and give a demonstration. And now, I don't collect disability any more, which is awesome as a father to say I can pay my own bills."
Recently, Stutzman shared his story at a school to try to influence the students to sign up for their local archery programme.
Afterwards, a record number of 176 children signed up for the programme, which only offered 10 spots.
Looking into those children's eyes and thinking back to where he was a year ago, it is as if Stutzman moved mountains in London.
"I told myself and my family that I was going to go do my best, whether I win a medal or not, so I can just inspire one person while I'm there in a positive way," he said.
"Then, the whole thing would be worth it."
Well, Stutzman didn't just inspire one person.
He moved millions.
And it was more than worth it.
Related Videos