No. 17 IPC sports develop sponsorship and competitions
2014 has been a hugely successful year for the sports governed by the International Paralympic Committee.
15 Dec 2014
Imagen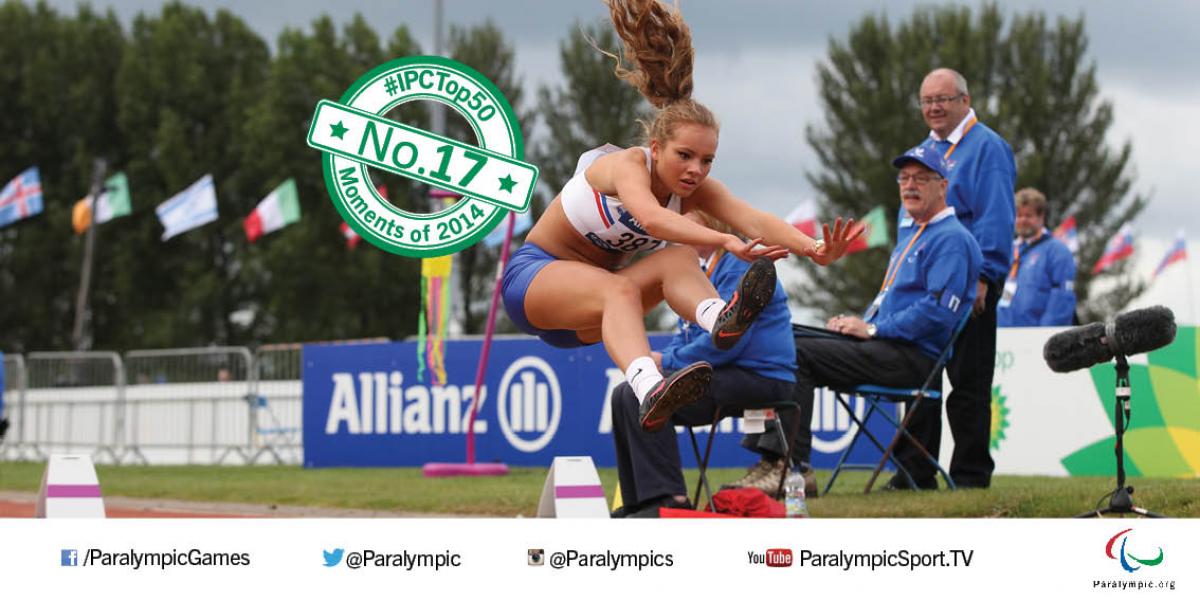 ⒸSteve Pope
Visit the IPC's Top 50 Moments of 2014 page to discover more about an incredible year of para-sport.
The number of competitions in the various sports has never been as great, new sponsorship deals have been signed and media coverage has grown. This impressive development deserves to take No. 17 of the IPC's top 50 moments of 2014.
IPC Athletics
After a successful 2013, IPC Athletics developed further in 2014 and the second year of the Grand Prix series saw nine events staged on four contients.
The biggest announcement of the year came in May when Allianz was announced as the sport's first official global partner. Together, the two have developed joint programmes and digital assets to help raise the profile of both the sport and its athletes. In addition, Allianz supported three IPC Athletics Grand Prix events - for which TV news and highlights packages were produced - and August's European Championships in Swansea, Great Britain.
The Euros, which were broadcast to eight countries, were the most successful yet with a record 560 athletes from 37 countries taking part.
IPC Powerlifting
IPC Powerlifting staged the biggest World Championships ever in April in Dubai, UAE, with more than 360 lifters from 60 countries taking part. The event was livestreamed online and 34 world records were broken during seven days of competition.
Another important step was the signing of a landmark partnership deal with globally recognised lifting equipment manufacturer Eleiko.
The deal sees the Swedish-based company, which has a long and illustrious history in weightlifting, provide equipment for all World and regional championships until 2018. Eleiko will also create greater awareness of the sport to a new generation of global fans.
The announcement came shortly after regional championships for Europe, Asia and the Americas were confirmed for 2015. April's Americas Open Championships in Mexico City, Mexico, will be the first of its kind and will further support the growth of the sport in this region.
IPC Shooting
At the end of 2013, IPC Shooting announced SUIS as the official target system and results provider for the sport at regional, world and World Cup events until 2016. This new co-operation contributed to a successful year which was highlighted by the biggest ever World Championships.
In July, Suhl, Germany welcomed more than 265 athletes from 53 countries. With eight new world and 38 new regional records, the Championships were truly record-breaking.
The Championships also staged new demonstration events in visually impaired and para-clay target shooting. Countries later supported the move to the next phase which will include further research and testing to establish a sport-specific classification system from which rules and regulations can be defined.
A similar process will be taken for progressing visually impaired shooting as a new impairment group in shooting para-sport.
IPC Swimming
Swimming saw young talents emerge at the 2014 IPC Swimming European Championships in Eindhoven, the Netherlands. Over 70 medals were won by swimmers aged 18 or under, proving the sport has a bright future ahead.
Stand-out performances included the hosts' 13-year-old Chantalle Zijderveld who won the women's 100m breaststroke SB9 in a new European record time and Poland's Oliwia Jablonska who left Eindhoven with four medals at just the age of 17.
IPC Winter sports
The highlight for the IPC winter sports was the Sochi 2014 Paralympic Winter Games. Away from the Games they also experienced great progress.
IPC Alpine Skiing and Para-snowboard
After the successful introduction of para-snowboard at Sochi 2014, IPC Alpine Skiing announced it would be introducing banked slalom – a new race format – in 2015, together with splitting the classification for lower limb impairments into two.
Another change for the 2014/2015 season is that in snowboard cross athletes will come down the course two-by-two. After a qualifying round, athletes will go head-to-head down the course with the winner progressing to the next round of competition.
IPC Alpine Skiing is also further developing its Youth Circuit, offering competition opportunities to young emerging para-alpine skiing talents in three different countries.
In addition, NORAM Cup races were given the same status as World and Europa Cup events.
IPC Ice Sledge Hockey
To capitalise on the success of Sochi 2014, where the gold medal match was shown live on NBC in the USA, the sport announced the launch of the World Series.
The competition aims to ensure that all games during the year count towards an overall title.
In November, the first ever internationally sanctioned women's ice sledge hockey tournament took place in Brampton, Ontario, Canada, featuring teams from USA, Canada and a combined Europe.
IPC Nordic Skiing
During Sochi 2014, IPC Nordic Skiing announced that Cable, Minnesota, USA, will host the 2015 IPC Nordic Skiing World Championships, which will likely be the biggest ever with more than 150 athletes from 20 countries.
The 2014/2015 season will also feature four World Cup events, including the first ever held in PyeongChang, South Korea.
IPC Wheelchair Dance Sport
In 2014, Wheelchair Dance Sport held its first European Championships for five years in Lomianki, Poland, and introducing two new events – singles and freestyle.
Visit the IPC's Top 50 Moments of 2014 page to discover more about an incredible year of para-sport.