No. 18 Para-snowboard makes sensational debut
Dutch rider Bibian Mentel-Spee and the USA's Evan Strong became the first Paralympic champions at Sochi 2014, and the sport has continued to progress.
10 Dec 2014
Imagen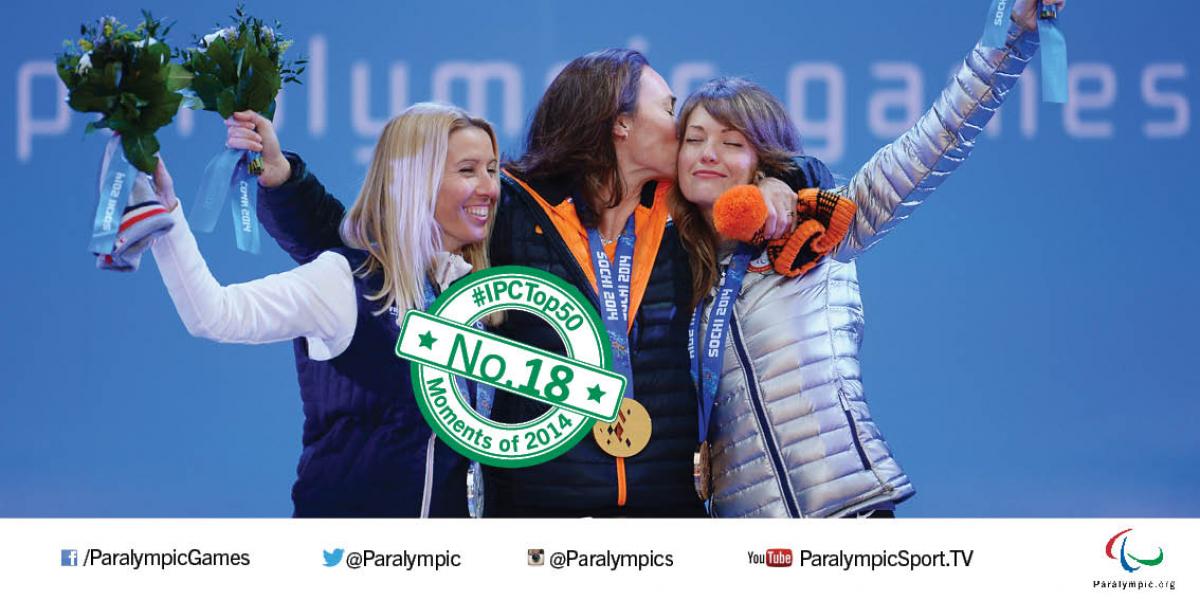 ⒸGetty
By IPC
"I've got more potential for now to spread the word."
Making its debut as a discipline of IPC Alpine Skiing, para-snowboard burst into the Paralympic Winter Games at Sochi 2014 and enters the 2014 IPC Top 50 Moments at No. 18.
After years of campaigning by a committed group of riders and organisations, and as a result of co-operation between the International Paralympic Committee, World Snowboard Federation and the Sochi 2014 Organising Committee, athletes competed in men's and women's snowboard cross at Rosa Khutor.
At the forefront of the push was Dutch world champion Bibian Mentel-Spee. A former able-bodied rider, Mentel-Spee secured her place in history by winning the first ever women's Paralympic gold medal in para-snowboard. She was joined on the podium by France's Cecile Hernandez-Cervillon and American Amy Purdy.
"After a long road, eight years of lobbying and trying to convince people that snowboard should be a Paralympic discipline, it was just one day when everything came together," Mentel-Spee said.
"The fact that I was standing there with other athletes who had been part of growing snowboard to a Paralympic level and then of course, the cherry on the pie winning the gold medal."
On the men's side, the USA's Evan Strong stood alongside compatriots Mike Shea and Keith Gabel on the podium. All of those riders had been part of the campaign too, making the debut a real sport family affair. Their race had gone right down to the last runs.
Mentel-Spee spoke of life as a Paralympic champion: "It's funny how that works, when you win a gold medal, how people look at you differently," she said. "It's really funny. Especially being a bit older I realise a little bit more that's how it works."
But the Dutchwoman's commitment to the sport is unwavering and its exposure through Sochi has means that increasing numbers of people are taking it up. Through her very own Mentelity Foundation, which aims to give young people with impairments more opportunities to try sport, Mentel-Spee has noticed a fundamental shift in pace.
"I've got at least 10-20 new people who have started snowboarding since they saw it in Sochi," she said. "I think there's a big group who would love to try snowboarding and hopefully they will start doing competitions. I think our sport will progress a lot in the next four years."
That progress is not just in the growing pool of potential talent. In 2014-15, banked slalom has been added and a change in format for snowboard cross will see riders race head-to-head after an initial qualification round.
Both of these modifications will feature at the 2015 IPC Para-Snowboard World Championships in La Molina, Spain, as well as a split in the classification for lower-limb impaired riders and medal events for those with upper-limb impairments.
"I'm really looking forward to the format of boarder cross because I really like racing against other people," Mentel-Spee said.
"For banked slalom I really enjoy the discipline and I think it's easier for other people to tune in and give it a try. It's less obstacles especially for above the knee amputees. I think banked slalom is easy to start people competing."
For now, Mentel-Spee has no plans to retire and is even looking ahead to PyeongChang 2018 "as long as her body keeps up".
Her platform for making a difference just got a whole lot bigger and the thought of taking a step back now would be completely the wrong thing to do.
"What keeps me going is progression within myself," she said,
"Besides that I hope to challenge other riders, other girls, to start riding in snowboard. I hope to inspire a lot of kids to show them that they can snowboard and it's doable. That's what inspires me and challenges me, because I love snowboard too much to quit.
"Since I hope to inspire a lot more kids out there, I figured it's better to stay active as an athlete than hide behind a desk somewhere.
"I've got more potential for now to spread the word."
La Molina 2015 will feature 80 athletes from 20 countries from 23-28 February.
Visit the IPC's Top 50 Moments of 2014 page to discover more about an incredible year of para-sport.