Imagen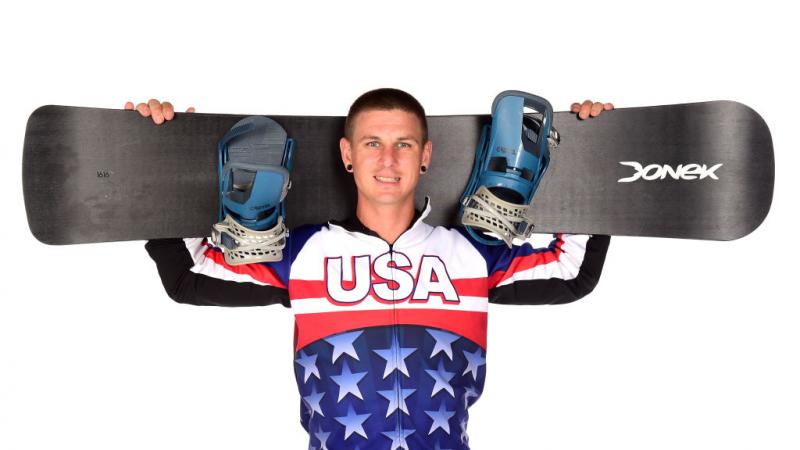 Evan Strong
Alpine Skiing | Snowboard
Evan Strong grew up in Maui, Hawaii, where the only ice is shaved and served in cones or pina coladas, and winter sports are surfing, skateboarding and swimming.
It is hard to believe that the former Hawaiian kid is now a snowboarding demon, a guy who is getting impatient for winter storms to start dumping fresh powder all over the Sierra Nevada and Rockies.
With the rising competition, Strong had to be at his best to land silver in the men's banked slalom SB-LL2 at his second Paralympic Games in PyeongChang.
Strong has a history of success in his sporting pursuits and his record in snowboard-cross is no different. He is the 2012 world champion and a serial World Cup gold medallist.
At the Sochi 2014 Paralympic Winter Games, Strong stormed to a historic gold medal on the slopes of Rosa Khutor, bagging the first ever Paralympic title on the sport's debut at a Games.
But in 2014-15, he finished sixth in the final 2014-15 IPC Para Snowboard World Cup standings. He also lost out on gold to Finland's Matti Suur-Hamari in the men's snowboard-cross SB-LL2 at the World Championships in La Molina, Spain, and to teammate Mike Shea in the banked slalom.
In 2015-16, Strong was again slower than his two main rivals, ending third in both the snowboard-cross and the banked slalom World Cups.
The 2016-17 season offered him redemption after a below-par 2015-16. Strong won the men's snowboard-cross SB-LL2 World Cup - the first crystal globe of his career - and topped the overall rankings.
At age 17, Evans was hit by a vehicle while riding a motorcycle and had to have his left leg amputated. Having never snowboarded, Strong immediately took to the sport and has not looked back since. A beneficiary of US teammate Amy Purdy's Adaptive Action Sports programme, Strong is a true success story on the snow and away from it, where he cycles, continues to skateboard and owns an organic restaurant with his wife. He also has a daughter, Indie.
Results
2015 IPCAS Para Snowboard World Championships La Molina (La Molina, Spain)

| Event | Medal | Unit | Date | Rank |
| --- | --- | --- | --- | --- |
| Men's Snowboard Cross SB-LL2 | | Race 1 | 2015-02-24 | 2 |
| Men's Banked Slalom SB-LL2 | | Race 1 | 2015-02-28 | 2 |
2017 IPC Snowboard World Championships Big White, CAN (Big White, Canada)

| Event | Medal | Unit | Date | Rank |
| --- | --- | --- | --- | --- |
| Men's Snowboard Cross SB-LL2 | | Race 1 | 2017-02-04 | 2 |
| Men's Banked Slalom SB-LL2 | | Race 1 | 2017-02-07 | 4 |
Lillehammer 2021 World Para Snow Sports Championships (Lillehammer, Norway)

| Event | Medal | Unit | Date | Rank |
| --- | --- | --- | --- | --- |
| Men's Banked Slalom SB-LL2 | | Race 2 | 2022-01-14 | 8 |
| Men's Snowboard Cross SB-LL2 | | Race 2 | 2022-01-21 | 3 |