Canada, China look for first Paralympic snowboard medals
History could be made at Beijing 2022 if this season's results are anything to go by
The USA have a strong squad featuring Paralympic medallists
Finnish, French, Japanese and Australian riders also in great form in the build-up to Beijing 2022
06 Mar 2022
Imagen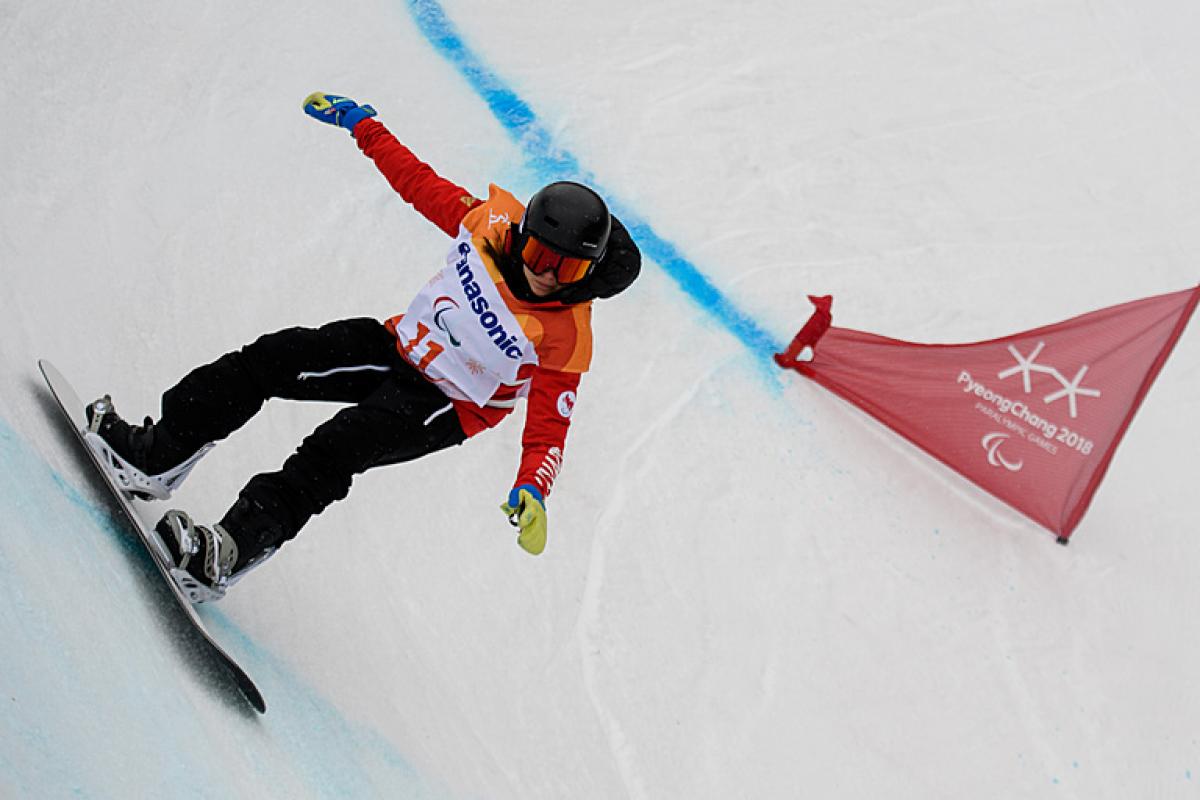 ⒸOIS Photos
By Lucy Dominy I For The IPC
With Para Snowboard entering its third Paralympic Winter Games at Beijing 2022, a number of athletes have an entry in the history books set firmly in their sights.
Riders will compete in the men's SB-LL1, SB-LL2 and SB-UL as well as the women's SB-LL2 in both snowboard-cross and banked slalom between 4-13 March.
Tyler Turner, Lisa Dejong and Sandrine Hamel look in great shape to win Canada's first Paralympic snowboard medal in the men's and women's events.
Turner, who says his No.1 life goal is to compete at the Paralympics after losing both his legs in a skydiving accident, will get his wish in Beijing.
The Canadian is the new men's SBLL-1 snowboard-cross world champion and the winner of the snowboard-cross Crystal Globe for 2021/2022.
Canada's Tyler Turner looks in good shape but faces a tough challenge from a deep field. Ⓒ Gisle Johnsen/Lillehammer 2021

But Turner will face tough competition from more established riders on the circuit. The USA's Mike Schultz is the defending title-holder in the snowboard cross and was pushing Turner all the way to the line at the recent World Championships in Lillehammer, Norway, finishing with silver.
Schultz also collected silver in the banked slalom, this time beating Turner into third.
Four-time world champion Chris Vos of the Netherlands should not be discounted in either event. Despite finishing just off the Worlds podium in fourth and fifth, Vos is still in a very good position to improve on his snowboard-cross silver from PyeongChang 2018.
In the women's SB-LL2 the rivalry between the Netherlands' Lisa Bunschoten and Canadian newcomer Lisa Dejong has seen the pair trade podium places all season long in both cross and banked slalom.
Bunschoten is the holder of a silver and bronze medal from PyeongChang 2018 whilst Dejong will head out for her first Paralympics at Beijing 2022.
The Canadian finished second to Bunschoten in the cross in Lillehammer in her debut season and has eight World Cup podiums under her belt already.
Lisa Bunschoten is a double Paralympic medallist in both snowboard-cross and banked slalom. Ⓒ Gisle Johnsen/Flickr

Dejong's teammate Sandrine Hamel completes a strong picture for the Canadians as the banked slalom 2022 Worlds bronze medallist.
The men's SBLL-2 is just as competitive with riders regularly swapping podium places.
According to the most recent results, Finland's Matti Suur-Hamari – the defending Paralympic champion from the snowboard-cross and bronze medallist in the banked slalom – looks in form. The Flying Fin took the cross world title at Lillehammer 2021.
However Australia's Ben Tudhope has really come of age since stepping onto Paralympic snow for the first time at Sochi 2014 at the tender age of 13. Tudhope has just registered his best ever Worlds performance, landing on the podium in both the cross and banked slalom. That was just before he claimed the over Crystal Globe.
Australia's Ben Tudhope has matured into a top contender. Ⓒ Anton Lernstål, Swedish Paralympic Committee

The US duo of Evan Strong and Keith Gabel – who could now qualify as old hands having helped pioneer Para Snowboard – are also still keeping the podium in their sights. Strong picked up his most recent bronze in snowboard-cross at Lillehammer 2021.
France's Maxime Montaggioni stunned the field once again in Lillehammer in the men's SB-UL, winning both banked slalom and snowboard-cross world titles as he had done at the Worlds in 2019.
China also have a maiden Para Snowboard medal hope for Beijing 2022 in the men' SB-UL, courtesy of Ji Lija. Lija was winning at World Cups in 2019 before the pandemic struck. His rivals will be watching what progress he has managed to make in the meantime.
Further flying the flag for Para sports in Asia are a strong Japanese contingent, basking in the reflective glory of hosting the summer Paralympics last year.
Masataka Oiwane, Daichi Oguri and Takahito Ichikawa only just missed out on the medals at Lillehammer 2022 in the men's SB-UL, SB-LL1 and SB-LL2, respectively. Do not be surprised if they make the top three in Beijing to add to Gurimu Narita's banked slalom gold and snowboard-cross bronze from four years ago. 
Para Snowboard gets underway with the snowboard-cross qualification on 6 March.
The complete schedule and results from Beijing 2022 are available on Paralympic.org.