Othman aiming to punch above his weight
Egyptian powerlifter Sherif Othman has vowed that he will complete the same lifts as when he competed in a higher weight category, and believes he can set the bar incredibly high at the 2014 IPC Powerlifting World Championships.
05 Apr 2014
Imagen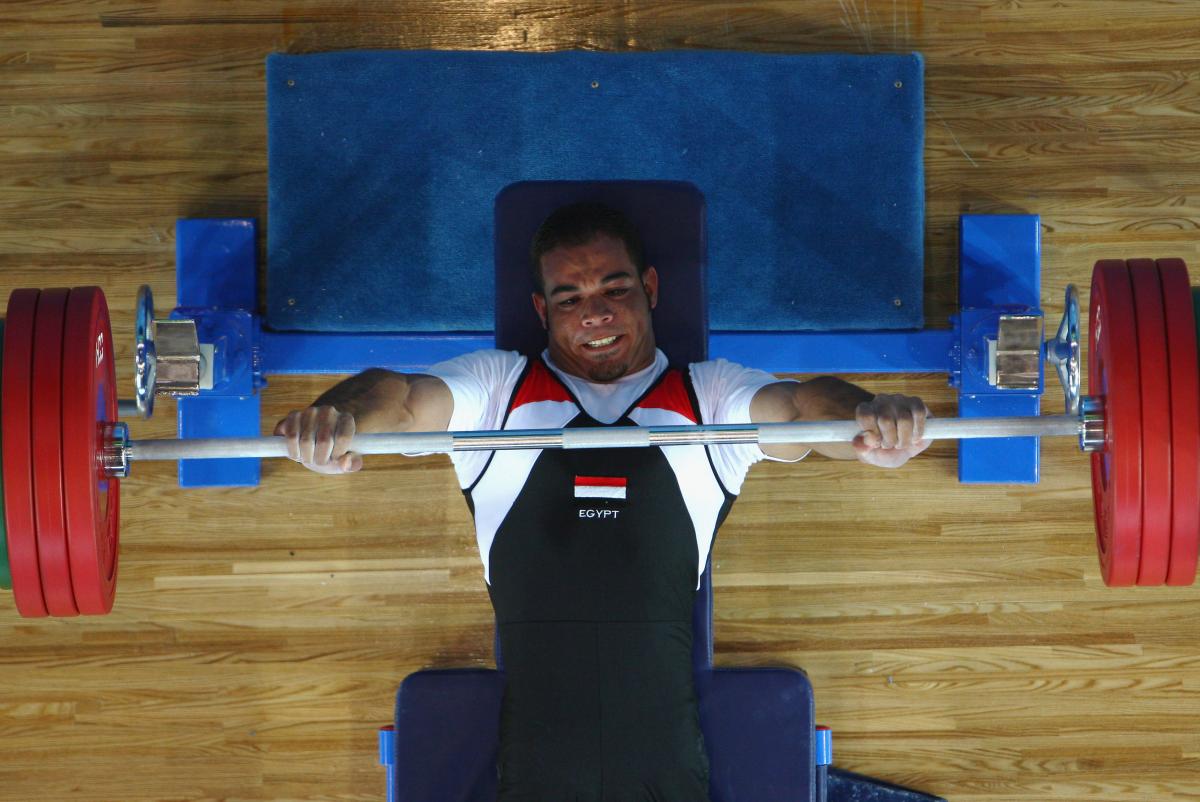 ⒸGetty Images
By IPC
"Three months before London 2012 I picked up a shoulder injury. There was nothing I could do. I got up to 197kg [in the -56kg] but it was not good enough for me."
Double Paralympic champion Sherif Othman has revealed that he is aiming to lift the same as he did before changes to weight categories in powerlifting were bought in at the beginning of 2013, leading to him changing down to a lighter category.
The 31-year-old Egyptian, who has been powerlifting since 2005 after he saw friends competing in Athens 2004, made the claim ahead of his appearance during the men's -54kg on day two of the 2014 IPC Powerlifting World Championships (6 April).
The current world record in the category above Othman is 185.5kg, with Othman the current record holder in his weight category with 181kg. Othman says he has lifted over 200kg in training:
"My target weight is more than 200kg. If it is less than 200kg I will be very sad.
"In training I have lifted 202kg, and lifted it well."
In an interview with Paralympic.org in Dubai, UAE, where the World Championships are currently taking place, Othman spoke of his journey to double gold at Beijing and London, as well as a world title:
"At the Paralympic Games in 2004, I saw my friends competing and I was inspired.
In 2005 I started powerlifting and I trained and trained and the weights that I could lift went up and up.
"At the first national competition I entered I lifted 105kg, and I was like 'woah' and all my friends encouraged me. But I knew I could do better."
The years that followed were somewhat of a whirlwind. He was selected for the Egyptian squad that travelled to Korea for the 2006 IPC Powerlifting World Championships, where he won silver, a colour evidently not good enough when only the best will do.
"After then I came back and I thought, why did the guy get gold?" He said.
"He has arms, I have arms, he has muscles, I have muscles, he has a brain, I have a brain. Why?
"So I continued to train really hard. The next big competition was Beijing 2008. The world record of 193kg was held by an Egyptian athlete and at Beijing I broke that record with a 202kg."
It is now, after the dust has settled from London 2012 where Othman won his second Paralympic gold, that he reflects on a difficult few months in the build up to the best Paralympic Games yet.
"Three months before London 2012 I picked up a shoulder injury. There was nothing I could do. I got up to 197kg [in the -56kg] but it was not good enough for me."
What he did next made no sense to anyone else but Sherif Othman. Rather than changing up when the new weight categories came into force in 2013, he decided to change down to -54kg, a decision which he admits was 'the difficult path'.
Othman is optimistic however, and confident that his training will be the difference between him reaching his target or not:
"God willing, I will break my own world record on the first attempt. Here I feel very good, my training is very good."
You can watch Sherif Othman live at Paralympic.org from 10am local time on 6 April.
The 2014 IPC Powerlifting World Championships run until 11 April and feature over 330 athletes from nearly 60 countries.
Live results and a full competition schedule are available at the Dubai 2014 website.
Related Images