Top 10 powerlifters to look out for at Dubai 2014
The 2014 IPC Powerlifting World Championships take place in Dubai, UAE, from 5-11 April, but who should you be watching?
06 Mar 2014
Imagen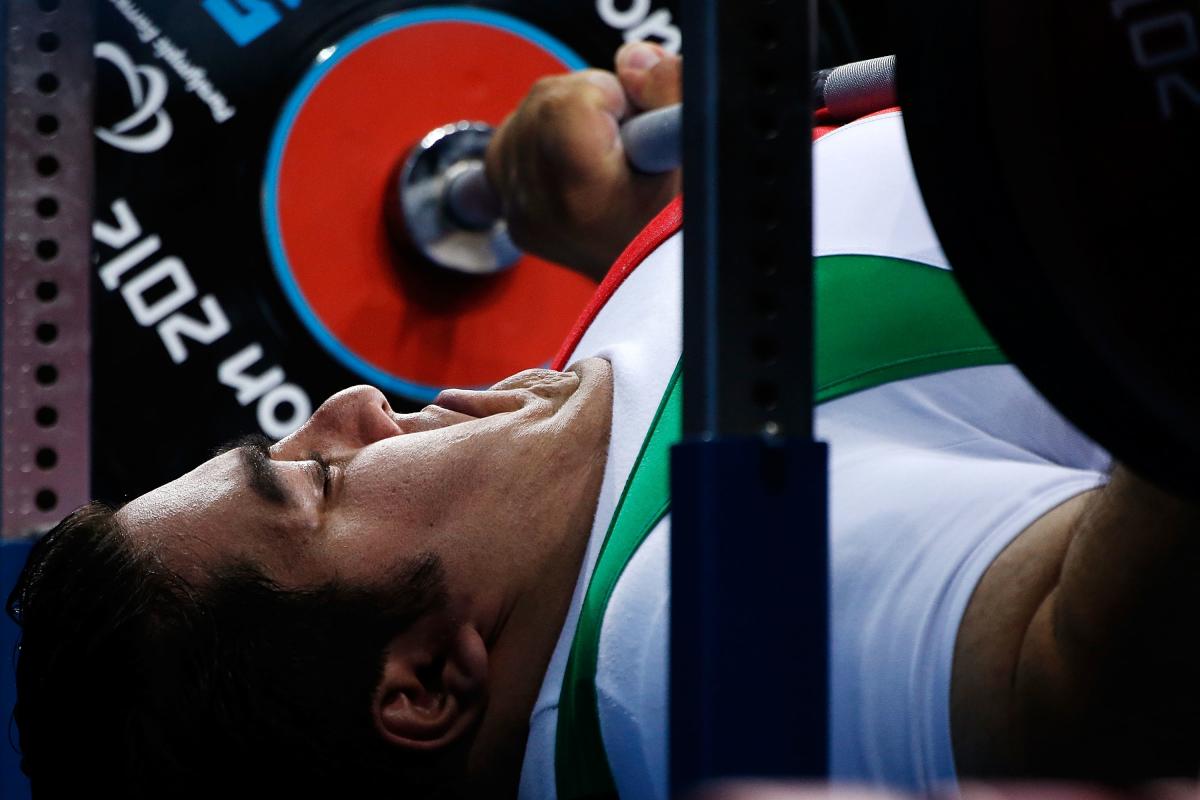 ⒸGetty
By Luke Jackson | For the IPC
Iraq's Al-Maliki is the new kid on the block in women's powerlifting.
The 2014 IPC Powerlifting World Championships are expected to attract around 300 athletes from nearly 50 countries. With powerlifters from Great Britain to Russia and Iran to Italy, there is someone for everyone to watch from 5 April.
1. Ali Jawad, Great Britain
The British powerlifter was disastrously unlucky to have missed out on a medal at the London 2012 Paralympic Games after having his two final attempts ruled out as bad lifts. However, the Leeds-based powerlifter finished 2013 on a much more positive note as he won a gold medal at the IPC Powerlfiting Asian Open Championships in Kuala Lumpur, Malaysia. His improvement in fortunes in the past year have been, in the large part, down to his coach Tom Whittaker and under his tutelage, Jawad will be considered as one of the favourites in the men's -59kg category.
2. Siamand Rahman, Iran
There is not really much more than can be said about the Iranian powerhouse. Over the last couple of years, Rahman has dominated the men's +100kg category with ease and at the London Paralympics he destroyed the rest of his field to take a gold medal and break the world record whilst doing so. With that being said, at the last World Championships in Kuala Lumpur, the 25 year old had to settle for a silver medal and he will undoubtedly be looking to put things right in Dubai, where category changes from 2012 will see him compete in the +107kg. It is almost a certainty that Rahman will be victorious at the upcoming World Championships, the only question that remains is if he is truly able to conquer the 300kg mark, something that has thus far evaded him during his career.
3. Amalia Perez, Mexico
Perez has competed on the international powerlifting circuit since 2000 where she announced her arrival by claiming a silver medal at the Sydney Paralympics. She matched that achievement at the Athens 2004 Paralympic Games and then went on to win back to back gold medals at the Beijing 2008 Paralympics and London Paralympics respectively. However, a serious shoulder injury ruled the Mexican out for most of the 2013 season and after booking her place at Dubai she will be looking to return to the podium and cement her place as a powerlifting great in the women's -61kg.
4. Zahraa Al-Maliki, Iraq
Iraq's Al-Maliki is the new kid on the block in women's powerlifting. At last year's IPC Powerlfiting Asian Open Championships, the 16 year old won gold in the -50kg category and now she has identified herself as a force to be reckoned with amongst her senior rivals. Nevertheless, it will be interesting to see if she is able to follow up her impressive performance in Dubai as she faces the world's best in her field.
5. Esther Osa Oyema, Nigeria
Osa Oyema has been one of the most prolific powerlifters in recent times as the Nigerian has won gold medals at Paralympic, Commonwealth and Asian competitions. However, she is still clambering to complete her medal collection by becoming victoriousin the -55kg at a World Championships. Therefore, she will be doing her utmost in Dubai to ensure that she can claim the illustrious gold medal that has evaded her so far in her career.
6. Sherif Othman, Egypt
Over the last decade, Othman has been the man to beat in the -54kg category. He is a double Paralympic champion and will be looking to successfully defend his world championship in Dubai. At Kuala Lumpur in 2010, the Egyptian broke the world record by heaving an impressive 207kg. However, he could not better that at the London Paralympics and all eyes will be on him to see if he can break his own record and become a double world champion in April.
7. Mansour Pourmirzaei, Iran
Pourmirzaei has set himself up to lift the most of all powerlifters in 2014, vowing to haul over 300kg in Dubai following his world-record breaking performance in Kuala Lumpur where he lifted the equivalent of over two of Hollywood heavyweight Arnold Schwarzenegger. That lift made it to No.16 in the International Paralympic Commitee's top 50 moments of 2013 and Pourmirzaei will be in Dubai hoping to dominate the men's +107kg once again.
8. Martina Barbierato, Italy
Barbierato celebrated her 19th birthday in some fashion last year as she won two bronze medals as well as a gold at the 2013 IPC Powerlifting Open European Championships in Alexin, Russia. She quickly bewitched the Eastern European audience by breaking the junior world record in the women's -55kg category and the Italian will be eyeing up the senior world record next in Dubai.
9. Vladamir Balynetc, Russia
After having to settle for a silver medal at the London Paralympics, Balynetc is set to go head to head with Nigeria's Yakubu Adesokan once again as the two best powerlifters in the world in the men's -49kg are on a collision course for Dubai. Adesokan set a world record en route to taking the gold in London, but Balynetc bounced back from that disappointment to win gold at the 2013 IPC Powerlifting European Championships in Russia last year. Thanks to his improved form, heading in to the World Championships he will be in a confident mood when they both face up against one another.
10. Noura Baddour, Syria
Heading in to the London Paralympics, Baddour was being touted as a serious medal contender in the women's -41kg category. However, she failed to even register a clean lift after three attempts and as a result left the competition with nothing. As a result of this catastrophe, the Syrian will be looking to redeem herself at the World Championships and nothing but a medal will be suffice.
Related Images