Overseas training re-invigorates Japanese star Keiichi Kimura for Tokyo 2020
Country's top Para swimmer changed training bases and found a new coach after Rio 2016. The move helped him find new motivation for his home Games
22 Sep 2020
Imagen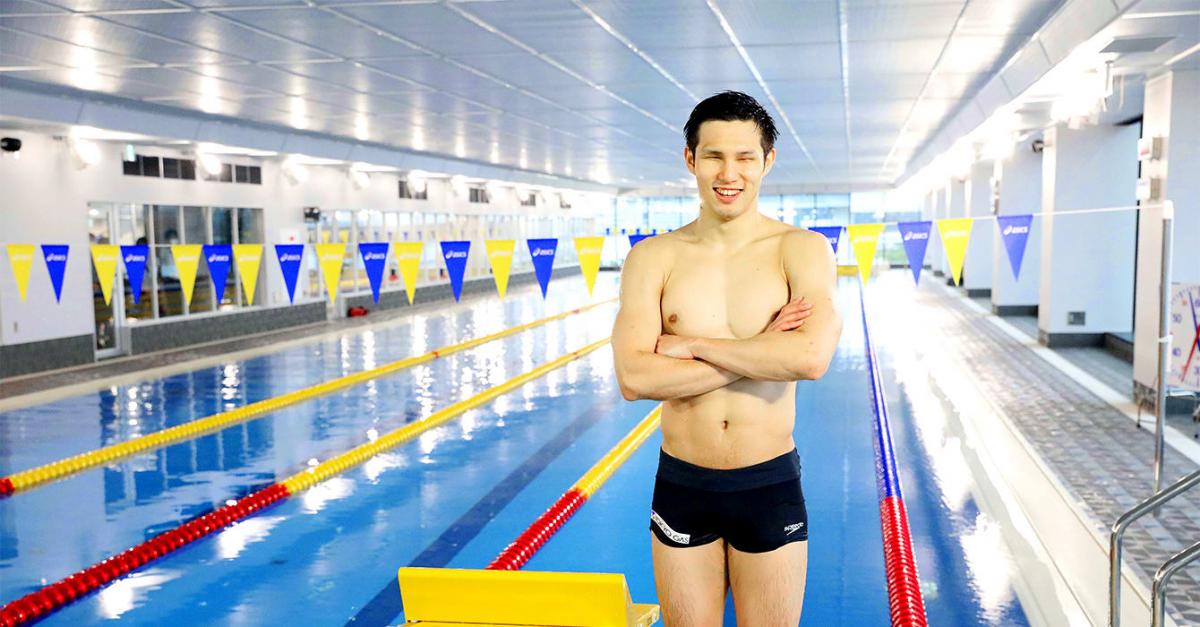 ⒸTokyo 2020
By Tokyo 2020 and the IPC
Japanese Para swimmer Keiichi Kimura looked cheerful when he turned up at the training camp venue. For him, the delay of his home Paralympics to next year meant more time to refine his skills, as well as focus on areas outside sport.
"I thought it (Tokyo 2020 postponement) was quite understandable," Kimura expressed. "Indeed, it probably wasn't the right time for such an event to be held. As a matter of fact, I felt I could use the extra year to work on my swimming.
"I still have a lot of room for improvement. The postponement would give me the time to squarely tackle the sport, and to think about other things too, so the news didn't shock me much." 
Kimura trains in the 50m swimming pool at the ASICS Sports Complex Tokyo Bay, which closely emulates the lane layout for the Tokyo 2020 Paralympic Games and simulates high-altitude training.
As of August 2020, Kimura tops the world ranking for the men's 100m butterfly S11 for athletes with a vision impairment. He has already been informally selected to compete for Japan at the Games, followed by Tomita Uchu in second place (based on the Minimum Qualification Standard Rankings).
Kimura and Tomita are mutual rivals with the same goal at Tokyo 2020, and they train alongside each other. It is a different dynamic to Kimura's usual training base in the USA. 
When the COVID-19 pandemic picked up, Kimura had to urgently return to Japan, not knowing when or if he could return to the US.  
When the Games were officially postponed in late March, Kimura received a message from US Para swimmer Bradley Snyder, who lost his eyesight during his deployment for the US Navy in Afghanistan. Snyder, who has switched to Para triathlon, topped the podium twice at London 2012 and three times at Rio 2016. He is also Kimura's long-time rival and friend, who had introduced him to his coach Brian Loeffler.
Snyder's message to him read: "I'm sorry you will have to wait one more year to win gold! But I'm sure you will next year! Let me know what your training plans are, I want to support you!"
"The way Bradley put it was really cool," Kimura laughed. "When I receive such messages from Japanese friends, they usually say something like, 'You have an extra year to train' or 'Do your best next year' so his message was special for me." 
Born in Shiga Prefecture, Kimura lost his eyesight due to a congenital disease at the age of two and was encouraged to take up swimming by his mother in his fourth year of elementary school.
He made his Paralympic debut at Beijing 2008 at the age of 17, finishing fifth. Four years later at London 2012, Kimura was the flag bearer for Japan and clinched a silver medal in the 100m breaststroke and a bronze in the 100m butterfly.
At Rio 2016, he earned two silver and two bronze medals (silvers in the 50m freestyle and 100m butterfly events, bronzes in the 100m breaststroke and 100m freestyle), the most medals among all Japanese athletes.
"London 2012 was the most memorable Games for me. It was truly gratifying to have won my first medal. It was also a moving experience to watch athletes from other countries at the award ceremony, because by that time I was able to empathise with the struggles they must have gone through," he said.
As for Rio, he said he could barely remember anything because of his disappointment for missing out on gold.
He was ranked No. 1 in the world in the 100m butterfly and was widely tipped as the favourite for the gold. But after making his signature powerful start and being in the lead after the 50m turn, Kimura lost speed and settled for second.
He was revered for winning the most medals for Team Japan, but deep down Kimura felt sad.
"I had given my absolute best over the previous four years, but that wasn't enough to win the gold medal. When the Rio 2016 Paralympic Games was over, I thought to myself, 'I wouldn't be able to win a gold medal unless I carry on doing what I've been doing or work even harder', and the mere thought of this made me feel unsure if I could put in the effort."
He realised he needed to find an inspiration other than swimming and thought training abroad would improve his motivation.
"If I'm going overseas, I should choose a place where there is a swimmer who has the same impairment as mine but is a better swimmer," he thought.
The conclusion was to go to the United States, where Snyder was. So he contacted Snyder through Facebook and asked him to introduce him to his coach Loeffler before he made the move to Baltimore in 2018.
"I knew how great of an athlete he was. He was looking to change his strategy and try something new in order to try to win gold in Tokyo. So he came here and met with me, knowing that I trained Brad and Brad had some success and I had success with other Para athletes," Loeffer said.
Kimura could neither speak English, nor read his training regimen. At first, he felt frustrated, but he studied English and his communication improved. 
He displays world-class speed in the first half of the race, but sometimes struggles to pace himself to maintain a strong finish. To overcome this, he worked on strengthening his physical endurance. All his efforts paid off and gradually reflected in his performances. He beat both his personal best times in the men's 200m individual medley and 100m breaststroke events at the 2018 Pan Pacific Para Swimming Championships and claimed gold in the 100m butterfly at the 2019 World Championships - an event he was confident in winning,
"I had basically lacked self-confidence, but I came to realise that I may be quite an extraordinary guy. My self-esteem improved. I was able to stand on the starting block, feeling more self-assured.
"During my time in the US, I kept experiencing things that didn't go as planned and issues caused by language barriers, but I somehow managed to work things out in the end. I realised that I could overcome adversities. It is this experience that helped me become more self-assured, and this mindset was also reflected in my swimming."
Just as he was welcomed in the USA, he hopes to welcome others in his home country in 2021.
"My training partner and coach are really looking forward to coming to Tokyo. Many people with disabilities will be visiting Tokyo to enjoy the Paralympics, and I'm hoping that they feel comfortable in the city. The notion that I'm an athlete and host has made me look forward even more to the Games."
At Tokyo 2020, Kimura intends to compete in the 100m butterfly, 100m breaststroke, 50m freestyle, and 200m individual medley events. The most noteworthy event is the 100m butterfly scheduled to take place on 3 September 2021 the final day of Paralympic swimming.
"First, I'm hoping to clinch the gold medal, and then I'd like to enjoy this major global event along with all the other people of Japan," Kimura said. "My coach always praises me. He only says, 'You can do it', 'I'm absolutely sure you won't lose' and 'I know for certain that you'll win'. He makes me feel I'll never lose," he laughed.