Anastasia Pagonis teaching lessons through fun
USA swimmer uses social media to educate about life being blind: 'We can do the same as anyone else, it's just that we may have to do things differently'
11 Sep 2020
Imagen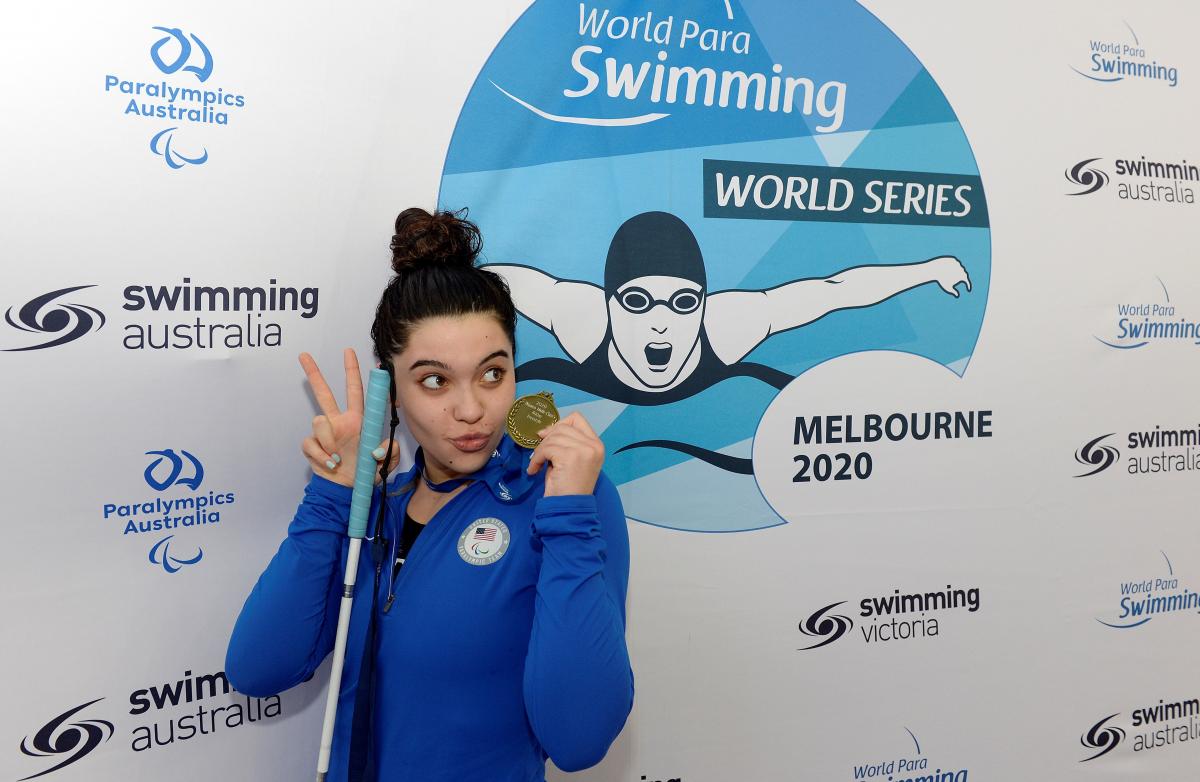 ⒸMelbourne 2020 LOC
By Mary Barber| For World Para Swimming
Anastasia Pagonis looks straight at the camera, as she demonstrates a make-up session, now viewed by over 184,000 people.
The USA Para swimmer can be seen carefully choosing each product and brush from the neat display on her dressing table. The only reason for the video to stand apart from the umpteen tutorial sessions online is there is no mirror and there are rubber bands on bottles, among other devices, to let her know which product to choose such as the colours in the eye shadow palette.
Viwers may initially not realise that the 16-year-old presenter is vision impaired and is only using touch to guide her to put her make-up on correctly. 
Pagonis cannot see the camera but knows where it is because her mother, Stacey, helps her to look in the right direction. 
The S11 star – who won two gold medals at February's Melbourne World Series in Australia – also posts videos on how she does her hair, the clothes she wears and how she uses the voice commands on her smartphone to write messages or 'like' a comment on social media.
She has also shown off her new guide dog, Radar, a two-year-old yellow Labrador, who is helping her become more independent. 
"I'm super-excited to have him," she said. "I've been working with him a lot, and it is awesome." 
The videos were made in response to the many questions Pagonis receives from her 75,000 Instagram followers about her sight loss and how it affects her life. 
They are educational and fun, but they have a serious message, too. She wants able-bodied people to stop negatively stereotyping disability and, in particular, to change the way they 'see' the vision impaired – as she proves with her own blindness, you can be cool and use a cane. 
"I feel the world sees a blind person as someone who's wearing scruffy clothes and has sunglasses on and doesn't fix themselves," she said. "But when I go out with my guide dog or with a cane, some people don't believe I'm blind because I'm wearing jeans and a crop top, and I have nice hair and wear makeup. They can be quite rude about it."
Beating the bullies
Bullies have targeted the teenager in person and online, but what upsets her most are the messages she receives from blind children who are being bullied at school for using a cane. She offers them her help and support.
"It is heartbreaking for the children," she said. "I get bullied on social media a lot. It's often due to ignorance, people just don't understand blindness. I try to teach them about it and show that we can do the same as anyone else, it's just that we may have to do things differently or need some help.
"But I also get messages all the time from people saying I helped them through things, and that's why I love doing social media."
Pagonis, popularly known as Tas, had not expected to be posting videos at home in New York at this time. She was hoping to be in Tokyo, representing her country at the Paralympic Games before they were moved to 2021 following the COVID-19 pandemic. 
At the World Series in Australia, she was the biggest winner in the US Team, coming first in the women's 400m freestyle multi-class and 200m individual medley multi-class.
The medals came just six months after she began swimming completely blind. She now only has light perception: 
"Honestly, I was shocked, as I did a lot better than I thought." 
At the 2018 World Series in Lignano Sabbiadoro, Italy, she won silver in the women's 400m freestyle and bronze in the women's 100m butterfly.
Her father, Peter, taught her to swim when she was five. But at 11, she noticed problems with her vision and was diagnosed with Stargardt's disease, which attacks cells in the retina at the back of the eye. 
Doctors said her vision would not get any worse but in November 2018 she suffered significant sight loss. The then 14-year-old was devastated to discover she also had autoimmune retinopathy, which leads to loss of eyesight.
"It was really hard for me and my family. I went through a bad depression. I suffered anxiety and post-traumatic stress and didn't eat properly for months. I stopped swimming. I didn't want to get out of bed. I was just crying." 
The love and support of her family, friends and Canadian motivational speaker Molly Burke, who is also blind, helped to pull her through.
 
But it was swimming, she said, that set her free, thanks in no small part to the dedication of her coach, Marc Danin, at Islanders Aquatics in Suffolk County. 
"Swimming was the thing that set me free and that helped me with my anxiety and depression after the trauma of losing my sight," she said.
Marc was absolutely amazing. He changed the sport for me and made me love it again. He blacked out his swimming goggles and got into the water to see how it was for me. The pool is the only place where nothing holds me back, where I don't need to use my cane or a guide. When I dive in it's just me and the water."
New routine
Before the lockdown, her parents would drive her to the pool, 90 minutes away, for the training sessions with Danin. 
Since then she moved her practises to Danin's home pool. He padded the sides with sponge 'noodles' so that she did not crash into them. 
To keep up her fitness levels, the swimmer did work out at home and went for tandem bike rides with her father, who runs the family restaurant. 
On Instagram, Pagonis has encouraged her followers to keep active for their mental and physical wellbeing and to keep in touch with family and friends.
"It's about supporting each other," she said. "The pandemic hit New York badly and my dad supplied food from his restaurant to hospitals for the nurses and staff."
Pagonis is also being kept busy being homeschooled by her mother and learning Braille. 
"It [Braille] was harder than I thought," she admits, "But I am getting it down." 
She will now continue her education and training at the USA Olympic and Paralympic Training Center in Colorado Springs where she will stay until Tokyo 2020 next year. 
It also means she will be in her favourite environment. 
At just 16, Pagonis already inspires so many people but among the people she most admires are Para swimmers.
"Every single Para swimmer from every country is incredible. I think they are all unstoppable. We are amazing fighters."