Taka Suzuki keen to pull right 'strings' for home glory
'I hope the Paralympic Games in 2021 are ones where people really feel they have got their lives back'
08 May 2020
Imagen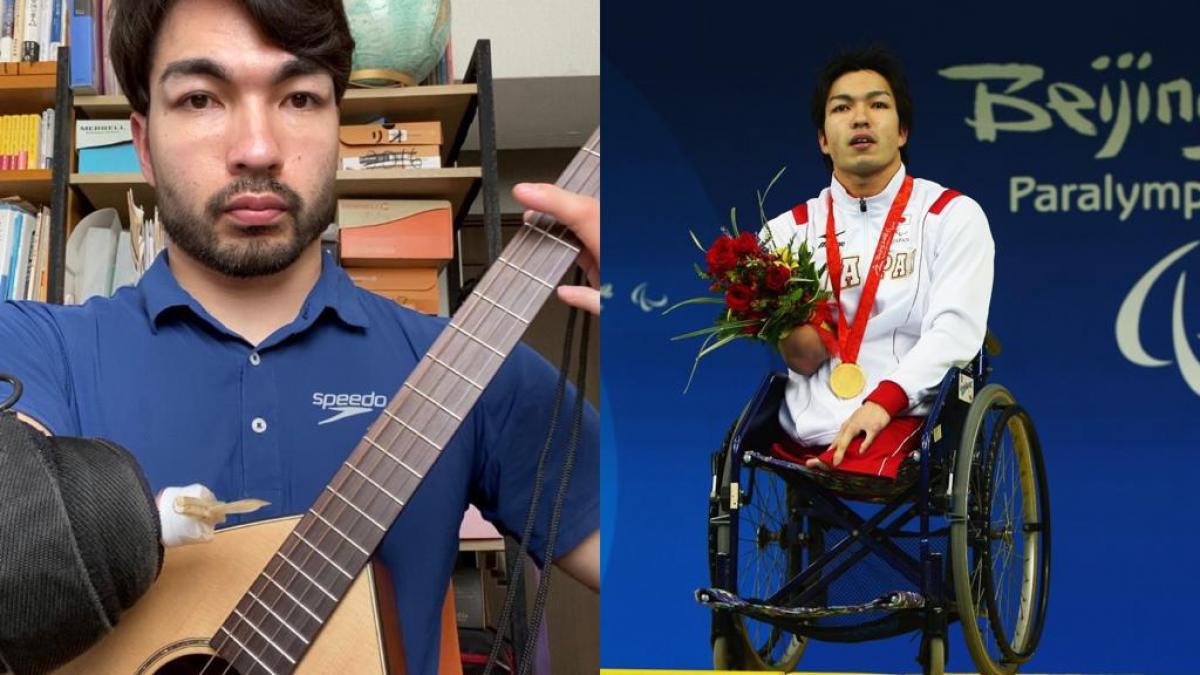 ⒸTakayuki Suzuki Official Website & Getty Images
By Mary Barber | For World Para Swimming
The beautiful sound of the Ichigo-ichie fills Takayuki 'Taka' Suzuki's home as he learns how to play the musical instrument.
Japan's elite Para swimmer holds the neck of the four-stringed guitar in his left hand and strums the chords with the right, using a pick. It is not easy, but with practice he is determined to get it right. 
His right arm ends at the elbow, so he created a device that would enable him to learn the wooden instrument, which combines features of a Japanese sanshin with a guitar. 
"I eventually found the way to hold a pick after repeated trial and error. I would now like to play lots of songs on the Ichigo-ichie," said the Paralympic champion, who has overcome many obstacles in his life.
Suzuki stuck the pick on the cap of a plastic bottle, he then cut off the top part of the bottle and put it over his arm and strapped it on.
He bought the Ichigo-ichie, created by Japanese band Begin in 2003, as a way to enjoy the weeks spent at home in Tokyo following the COVID-19 pandemic. 
"It is important to think positively by finding out what you can do in quarantine."
Keeping fit
This also includes exercise to stay healthy: "I need to keep fit so that I can get my physical strength back as soon as I resume training. It is also important for people to keep their immune strength high."
The 32-year-old was born with a congenital limb deficiency, which means he also does not have a right leg, and his left leg is missing from mid-thigh. 
Among the strenuous exercises he does every day is lifting several two litre water bottles diagonally across his body. Another called 'rolling' strengthens core muscles and for upper body training he does handstand push-ups. 
Each activity happens at a given moment. The word 'Ichigo-ichie', as well as being a musical instrument, is also a Japanese phrase which means 'treasure the moment'. And Suzuki knows how to do that. 
His abiding memory of winning gold in the 50m breaststroke SB3 at the Beijing 2008 Paralympics is his view from the top of the podium. 
"I cannot forget that view," he said. "The ceremony is the most memorable moment for me."
After the gold medal was placed around his neck, Suzuki watched with pride as his country's flag was elevated above the spectators in the arena as the national anthem played.
Suzuki had hoped to repeat the experience in front of a home crowd at Tokyo 2020 this summer but due to the pandemic, the Paralympics was postponed to next year. He was an ambassador in Tokyo 2020's bid promotion team. 
It would have been his fifth Paralympics, he also won a bronze in Beijing, a silver at Athens 2004, two bronze at London 2012 and also figured at Rio 2016.
"As an athlete, I was shocked it was postponed. However, I felt it was not the best time to hold it because people around the world had to think about how to survive the virus," he said. 
"I hope the Olympic and Paralympic Games in 2021 are ones where people really feel they have got their lives back by supporting, participating, competing, watching and cheering."
The year's delay will not stop him dreaming of being on top of the podium again next year, but he is concerned about his fitness levels if the lockdown goes on for a prolonged period. 
"I was anxious about how long it would continue and how I could recover my physical condition after the coronavirus calmed down.
"At home I am doing the same routine that I would normally do before swimming. But it is hard to keep the same fitness levels because I am not able to swim as the training centre is closed."
Missing the pool
Suzuki trains at Northumbria University in Newcastle, Great Britain where he is studying international sports management. He flew back to Japan in March when the pool was closed as part of measures to contain the coronavirus. 
The last time he was in a pool was on 8 April in Tokyo. He jokingly said his first 'swim' session following Japan's nationwide state of emergency was in his bath. Although he admits it was too small to swim.
But despite the disruption to his training schedule, he is determined to carry on as best he can. 
"What I am doing is keeping to the rhythm of life that I had before being in quarantine. I secure time for exercise to keep healthy as well as time to refresh my mind."
As well as learning the Ichigo-ichie he also enjoys playing online Shogi, or Japanese chess. 
Suzuki, who learnt to swim when he was about four, also makes time for video calls with his friends and family, including his foster mother Yo Komatsu. She cared for him after he was left in the hospital by his biological parents when he was born. 
"I have not seen my foster mother as she lives a bit far from where I am staying. It is my biggest concern that I cannot see her face to face. However, I have a chat with her as well as my friends through social media. It makes me feel close to them despite physical distances."
He also keeps in regular touch with his coach in Great Britain as well as his Japanese national team trainer. He will return to Newcastle once the lockdown is lifted. 
In the meantime, he tries to stay safe and healthy during the pandemic: "I wash my hands and gargle with water as well as change my clothes as soon as I come in from outside."
He encourages other people to do the same as well as follow the government guidelines for their country: "This situation must not continue forever. I really hope our lives return to normal as soon as possible."