Simone Barlaam drawing inspiration from Da Vinci
'As I now have a lot of free time, I'm using my energy to let my other passions grow'
25 Apr 2020
Imagen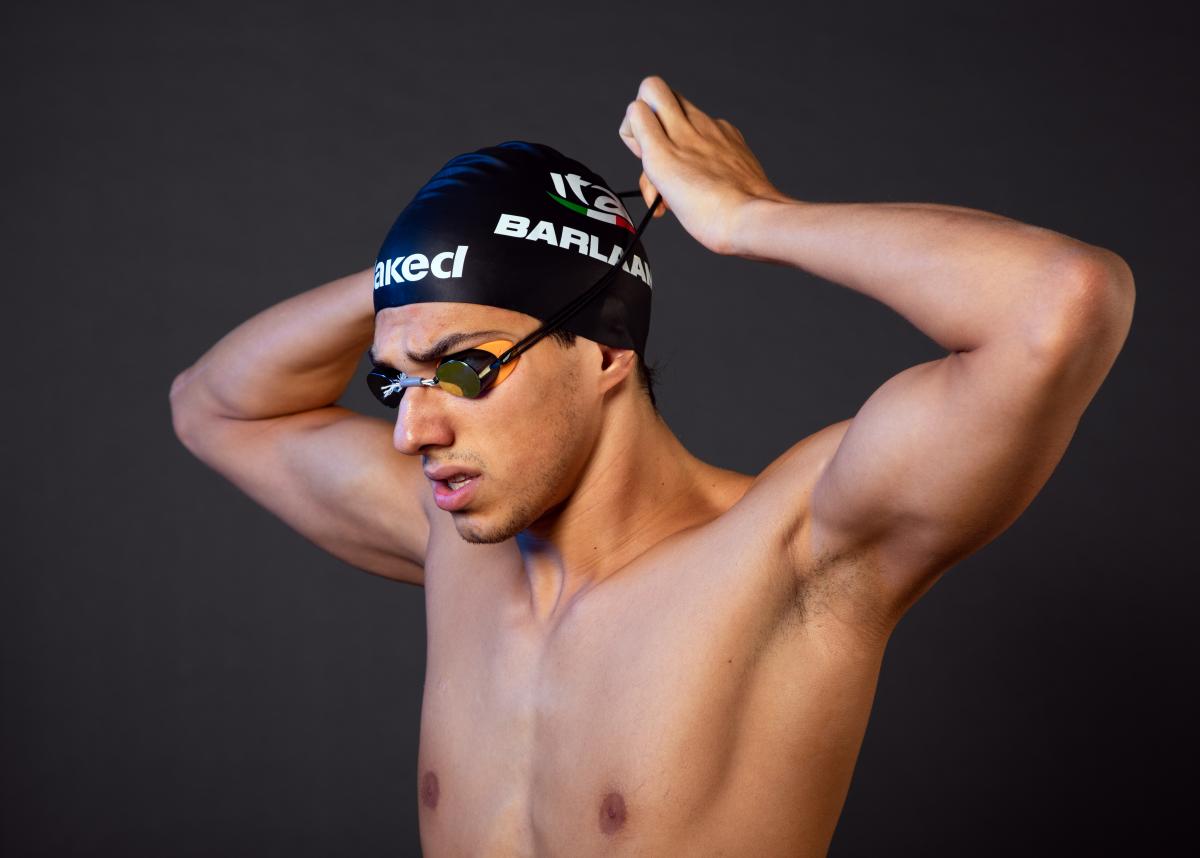 ⒸPaul Gregory/World Para Swimming
By Mary Barber | For World Para Swimming
A sketch pad, pencils and inspiration from Renaissance artist Leonardo da Vinci are helping Simone Barlaam to occupy his time during the COVID-19 lockdown.
With his training on hold, the Para swimming superstar has been creating pencil drawings of the human anatomy after reading a book about the 16th century Italian master. The Vitruvian Man, which is a pen and ink drawing of a male, is among his best-known works, along with the Mona Lisa. 
As a talented artist, Barlaam has been indulging his love of art and reading for about the last month. His sketch book also contains drawings of dinosaurs, eagles and reptiles.
"As I now have a lot of free time, I'm using my energy to let my other passions grow," said Barlaam, who is studying mechanical engineering at university in his home city, Milan.
"I read quite a lot and I'm also interested in drawing, especially the human anatomy. I like to take inspiration from Leonardo da Vinci sketches. I used to use black ink pen, but now I'm starting to draw more with pencil and sometimes water colours. I'm also learning how to use digital art."
Prior to the lockdown, the seven-time World Para swimming champion, four-time European champion and world record holder in the 50m and 100m freestyle and 100m backstroke in the S9 class, was in training for the Tokyo 2020 Paralympic Games.
Last month the pool and gym where he trains in Milan were closed as part of the Italian government's nationwide move to contain the coronavirus. The pandemic led to the Paralympics being postponed to 2021. Despite delaying his Paralympic dream, the 19-year-old admitted he felt "very relieved" when he heard the news. 
"The situation is bigger than sport" he said. "The virus also wasn't spreading equally across all countries so it would have been unfair on athletes' preparation. We now have to reset before we start to focus on Tokyo again."
With his training abruptly halted, Barlaam flew to Great Britain to stay with Alice Tai, who is also a seven-time World champion. The 21-year-old S8 star won all her gold medals at last year's World Championships in London. Barlaam won five there – he also won two in Mexico City in 2017.
A fact not lost on Barlaam, as he joked: "Yes, she did better than me in London by getting two more golds, but I got more world records there, so in Tokyo we will see."
His five gold medals from his six races – he also won a silver - helped Italy to the top of the medals table ahead of Great Britain and Russia. In the 100m butterfly S9 he was joint first with his teammate Federico Morlacchi, 26. The friends were both born with an under-developed leg, known as congenital hypoplasia of the femur. 
The 100m butterfly S9 finish will be relived together will all the action from London 2019 day three on Saturday (25 April) on World Para Swimming Facebook page.
Tai time
Barlaam and Tai first met at the Dublin 2018 European Championships and now had the chance to enjoy some unexpected time together at Tai's home in Bournemouth, England. 
The university student, who usually lives in London, moved back at the start of the lockdown to be with her father Steve, her mother Angela and her younger brother Christian. 
When weather allowed, Barlaam sat in the back garden with his sketch pad or caught up on his studies. As now, back in Italy, he does daily exercises, but admits: "I'm doing workouts but I'm not going crazy with it." 
There's also the occasional online challenge: "I tried to put on a T-shirt while doing a handstand but failed miserably at it." 
Keeping occupied is an important factor for mental and physical health, he said: "It is about setting daily goals and having a routine such as exercise or doing a hobby or learning something new as well as keeping in touch with family and friends. You might be in isolation, but it doesn't mean you have to be alone."
He keeps in regular contact with his coach and teammates as well as his father Riccardo and mother Claudia, who are in Cassinetta di Lugagnano, near Milan, and younger sister Alice, who is at high school in Canada. Barlaam, who was awarded Milan's highest honour, Ambrogino d'Oro, last year, spent a year at high school in Australia.
His father, a journalist at Il Sole 24 Ore in New York, made an acclaimed documentary, I Pesci Combattenti (The Fighting Fish), about the Italian Para swimming team preparing for the Rio 2016 Paralympics. It showcased the elite athletes' talent and dedication to their sport. 
Before his extraordinary success in Para swimming, Barlaam spent much of his childhood in hospital following complications with his leg. It is why he is now urging everyone to help doctors and nurses as they battle COVID-19. 
"I saw the amazing work that they do, so please help them by staying at home and wash your hands to stop the spread of the virus."
While in hospital he began swimming to help strengthen his leg and loved it. 
"I like the feeling water gives me. With a disability, when someone has to rely on a wheelchair, or like myself a prosthetic to walk, being in the water it is just you and your body moving. It is a kind of freedom."
And now several weeks into the lockdown, he admits: 
"I'm missing it a lot. Training can sometimes get boring and you start to hate it because it is so repetitive and tough. But once you stop for just a couple of days you start to miss it. When all this is over, I will be training hard again for Tokyo."