Ibrahim Al-Hussein leading refugee push for Paralympics
Flag bearer at Rio 2016 Games, swimmer wants to channel his efforts into helping other refugee athletes onto the highest stage in sport
22 Jan 2020
Imagen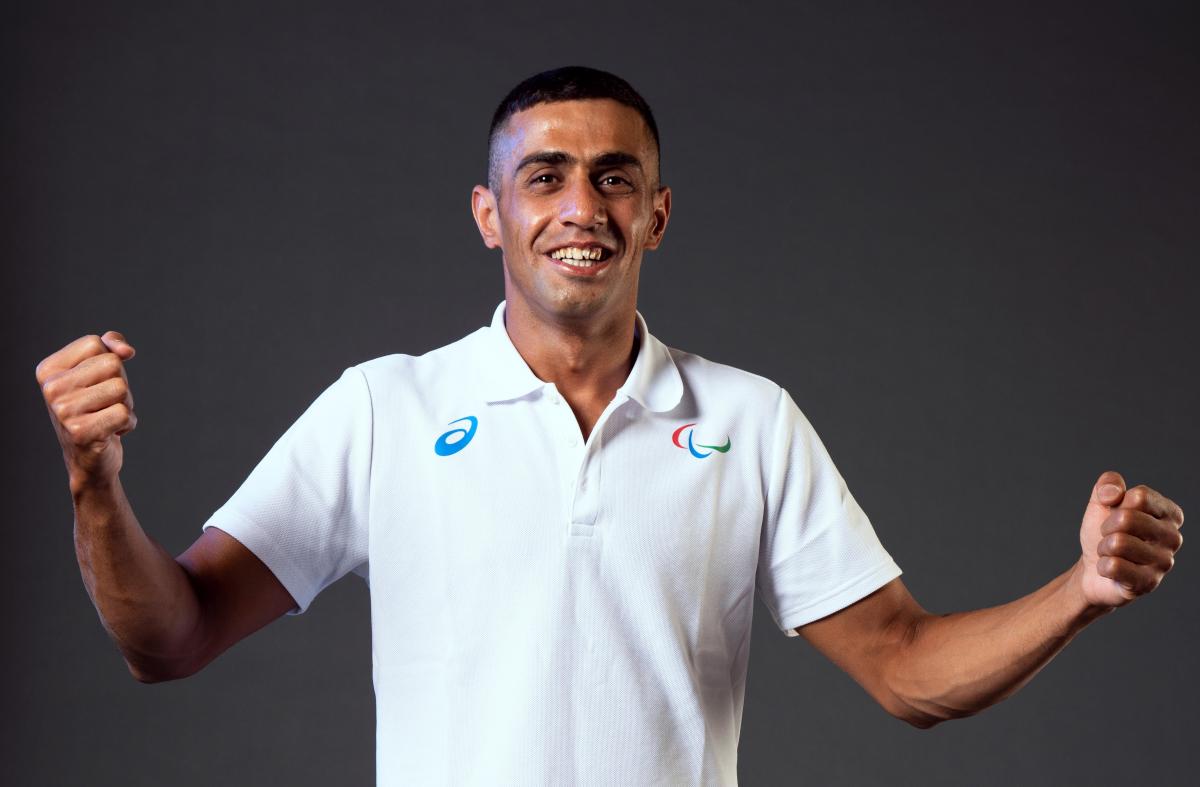 ⒸPaul Gregory for World Para Swimming
By Amp Media | For World Para Swimming
Syrian Para swimmer Ibrahim Al-Hussein was sheltering at home in 2012 when he received a phone call that would change the course of his life. 
The call came from a desperate friend who had been injured in the civil war ravaging their hometown of Deir ez-Zur, situated on the banks of the Euphrates River around 100km from Iraq. 
Despite the threat to his own safety, Al-Hussein said he had "no second thoughts" about stepping into the firing line to help.
"I knew the risk that I might not be coming back home alive," he said. "But I told myself, 'I have to go, because if something happens to him and I have done nothing, I cannot live anyway with this thought in my mind'."
Al-Hussein rallied three of his other lifelong friends from the neighbourhood and together they set out on foot to find a car that would take them all to hospital. They had not gone far when disaster struck. 
"We were walking towards an intersection when a tank shell exploded in front of us," he said.
"Every single one of us lost something. I lost my right leg, and I also needed metal plates in my left leg, my nose and my left eye socket. One of my friends lost a leg, one of them his right hand; everybody was a casualty." 
Although all of them survived the blast, the impact on Al-Hussein's life was stark. He had been an active swimmer since the age of five while also practising judo, but with his sporting dreams seemingly in tatters, he sank into depression. 
"After the accident there was a period when I was very down but after that I realised that I cannot continue like this," he said. "I told myself that I don't want to stop doing what I was doing before the accident."
MOVING ABROAD
In 2013 Al-Hussein left Syria and travelled to Turkey to find help for his rehabilitation. Unsuccessful, he moved the following year to Greece. 
"It was very difficult in the beginning in Greece because I didn't speak the language and I had nobody, but eventually I found a doctor in Athens who helped me," he said. 
Dr Angelos Chronopoulos of the Rehabline company used his specialist skills in prosthetic orthotics to produce a new plastic right leg for Al-Hussein. 
"He is like a brother to me - the leg would normally cost 12,000 euros but he made it, did not charge me for it and any maintenance is free," Al-Hussein said. 
"After that I said this is the place where I would like to live. I'm happy in Greece. I even learned to speak Greek because I love the country and the people so much." 
With his ability to walk unaided restored, Al-Hussein slowly began to rebuild his life, re-entering a swimming pool for the first time in 2016.
"I saw it as a way out of my depression," he said. "When I am training, I stop thinking that I have an impairment and it feels like before. 
"It is difficult to go from able-bodied to Para swimming, but no matter what happens in your life, you need to keep doing the things you love."
To help with the transition, Al-Hussein enlisted the support of Alexandros Tsoltos, a freestyle specialist who competed on the Greek 4 x 100m relay team at the Athens 2004 Olympic Games. 
"I coach a group of swimmers in the Olympic complex in Athens and one day he spotted us," Tsoltos said. 
"We started talking and said 'Ok, maybe you work with us'. He is very passionate about swimming. He wants to swim too much; he wants to compete in Tokyo too much - all of his day is centred on swimming."
NEWLY-FOUND PASSION
That passion propelled Al-Hussein to the Rio 2016 Paralympics as the flag bearer of the first Independent Paralympic Team to take part in the Games. In Brazil, he competed in the 50m and 100m freestyle S9 finishing sixth and seventh, respectively, in his heats.
One year later, the swimmer made his World Championships debut in Mexico City followed by a second World Championships appearance in London in September 2019. Now, his focus is on Japan. 
"I hope I am at the Tokyo Games and I hope the team is announced early so that I can be more relaxed in practise if I qualify, but I can't think about it because it goes by itself," the 31-year-old said.
If Al-Hussein falls short in his bid, he intends to re-channel his efforts into helping other refugee athletes onto the highest stage in sport – he currently supports a refugee wheelchair basketball team in Greece. 
"In three or four years I will probably stop being an elite athlete so after that I would like to focus on delivering what is possible for other refugees," he said. "It's a team effort not an individual one. I want every refugee to have opportunities in sport." 
Al-Hussein is, of course, no stranger to helping others, even when the cost to himself is high.
"I was a little bit depressed and sad about losing my leg, but my friend survived and now has three children," he said. "He is happy right now and I can live because of that."