Barlaams bring out their best for the Fighting Fish
Voted top male swimmer from the London 2019 World Championships, Simone Barlaam shares with his father Italy's success in the pool
18 Oct 2019
Imagen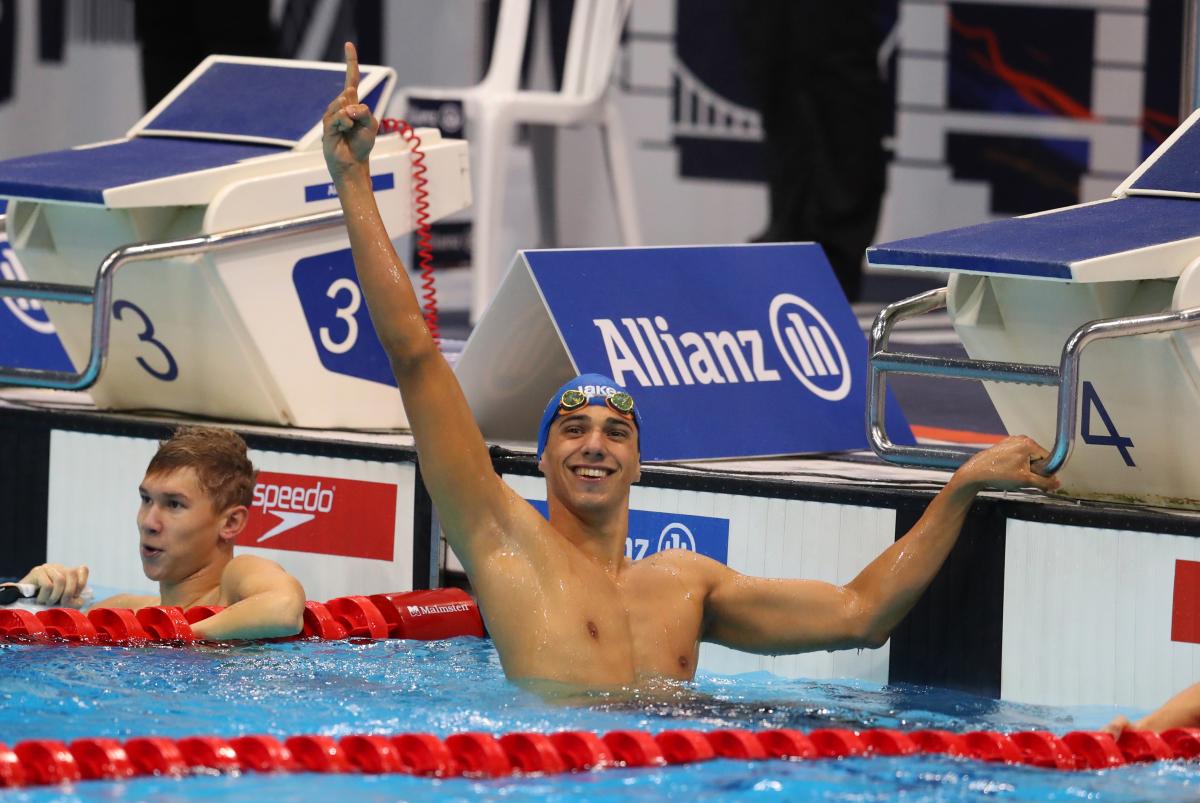 ⒸGetty Images
By Amp Media | For World Para Swimming
Fresh from being voted the best male swimmer of the London 2019 World Para Swimming Allianz Championships – after leading Italy to the top of the medals table – , Simone Barlaam knows the creativity of his father is also key to the team's current wave of success.
Riccardo Barlaam is presently based 6,500 kilometres away from the family home in Milan as the New York correspondent of Il Sole 24 Ore, an Italian national business newspaper.  
Even with a busy work schedule, Simone says his father has always taken a keen interest in the favourite pastime of his son. 
"When I started swimming with my team in 2014, my dad was amazed by how fast my Paralympic teammates were," Simone said. 
"Once he was swimming against Arjola Trimi, an Italian S4. She basically doesn't move her whole lower body and one arm very well, but my father said he tried to keep up with her in the next lane and he felt like the one with the disability because he couldn't go that fast."
Five years on, Trimi is still a swimmer the others are trying to catch. Speaking at the World Championships in London, where she won two medals of each colour, Trimi could easily recall the encounter with Barlaam's father. 
"He swam with me while I was training and he loved the way I moved in the water," she said. "Then one day I made a world record but the press in Italy did not report it, and he asked why." 
I Pesci Combattenti 
Simone said it was at this point that his father resolved to directly address the imbalance. 
"He was really amazed and annoyed about how there was not so much attention given by the media in Italy to Paralympic sport, so he said, 'Alright, if my colleagues won't cover it, I'll do a movie about it'."
For the name of his film, Riccardo again sought inspiration from among the Italian team, settling upon 'I Pesci Combattenti' ('The Fighting Fish').  
"The name came from a tattoo that one of my teammates, Arianna Talamona, has on her left shoulder," Simone said. 
"She has this fighting fish and of course it was the perfect name because we basically live in the water and we fight for the times with each other." 
Although his son was already showing promise as a swimmer, Riccardo left him out of the final film, choosing to focus instead on the seven-strong Italian team as they prepared in Milan for the 2016 Paralympic Games in Rio de Janeiro. 
The end product released in the weeks leading up to the Games was a 45-minute film documentary, including a version with English subtitles. 
"It was a big success," Simone said. "It worked to shine a light on the Paralympic Movement and show that Para athletes are no different, that they work their asses off 24/7 and they stay fit properly and do everything the other athletes do. There is nothing to make them less important than Olympic athletes." 
Barlaam had an incredible Worlds in London, winning five gold medals including three in world record times in his S9 class, and helping Italy into first place in the overall medal count. 
Paralympic debut
His performance helped him winning the voting for the best male swimmer from London 2019 on World Para Swimming social media pages.
The 19-year-old is now turning his attention towards a Paralympic Games debut in Japan next summer, when his graduation to the ranks of the Fighting Fish will be made complete. 
"I hope that Tokyo is going to be the beginning and not the end of my story, because it is an amazing story that not even my father could imagine in the final scenes of a fantasy film," he said.
And is his father already working on a film sequel for Tokyo 2020, this time featuring his son?
"It would be lovely, and I did ask him, but I don't think my dad personally has any plans," Barlaam said. 
"The Fighting Fish film got a lot of people to know these guys - and now I am one of them, too."