2019 Top Moments - No. 3: Barlaam, Morlacchi share pool honours
'Sharing the podium is one thing but sharing first place is everything. It's so special'
29 Dec 2019
Imagen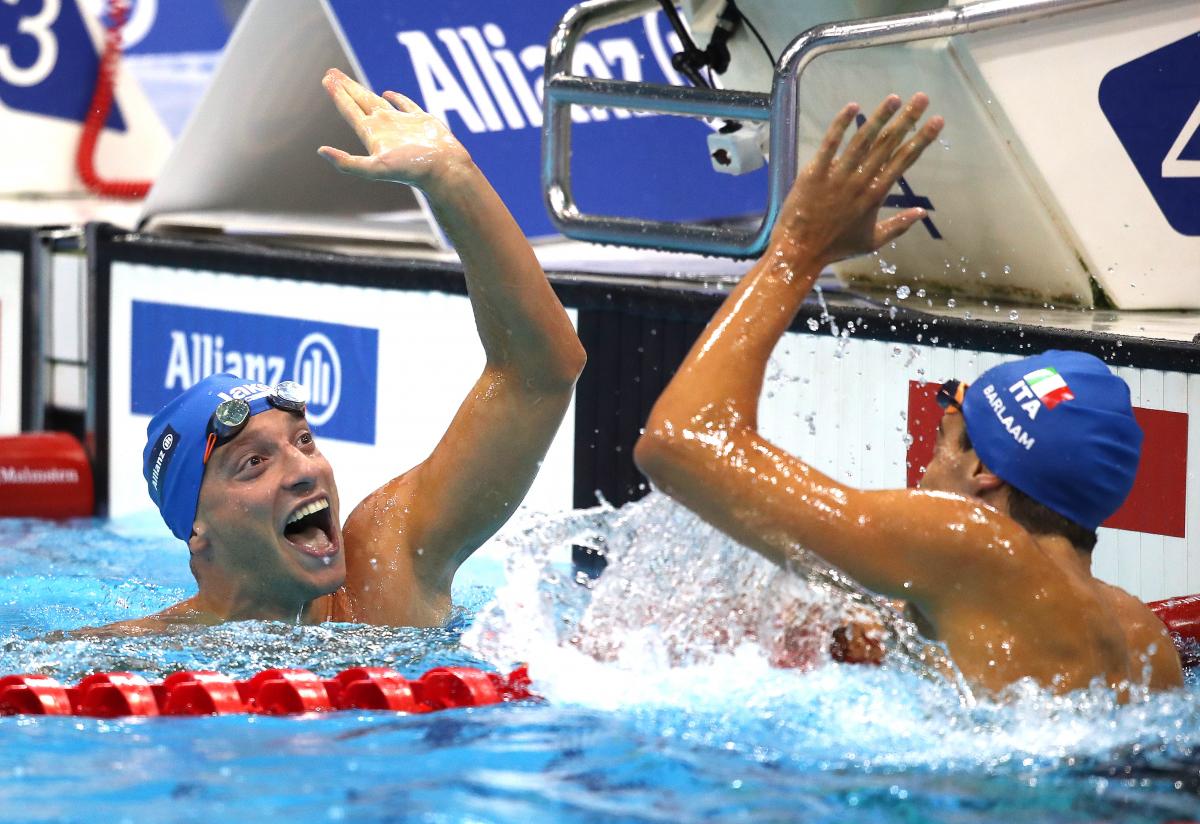 ⒸGetty Images
By Teddy Katz | For the IPC
Teammates may dream of sharing the podium, but Simone Barlaam and Federico Morlacchi took that to new extremes at the London 2019 World Para Swimming Allianz Championships.
The Italians finishing in a dead heat to grab double gold comes in at No. 3 in the International Paralympic Committee's (IPC's) Top 10 Moments of 2019.
Barlaam and Morlacchi had a race for the ages swimming right beside one another in the middle lanes of the pool.
They thrilled the crowd packed into the London Aquatics Centre, the site of the London 2012 Paralympic Games.
In one of the most dramatic finishes ever at a World Championships, the two touched the wall at the same time (1:00.36) sharing gold in the 100m butterfly S9.
Barlaam is only 19 and in London he showed he is one of the sports' rising stars who has learned a thing or two from his veteran teammate and Paralympic champion Morlacchi, who is 26.
Barlaam was voted the best male swimmer at the Championships. He won gold in all of his individual events and set four new World records. Then he helped Italy to gold in the relay.
When both of their times flashed onto the big screen after the butterfly final, the two high fived one other astonished that they had tied.  
Barlaam immediately cupped his hands over his mouth as if in shock. Morlacchi could hardly believe what had just happened with his training partner and friend.
"We both just touched home and said to each other, 'I lost', but we had both won," Morlacchi said about the joint gold.
He added what made it even more strange is they had talked about something like this happening leading up to the World Championships.
"It's crazy. In training in the past months, we have said, 'Imagine if we tied for the gold?' and it's happened."
But it didn't look it was going to happen.
Barlaam had more than a half a second lead at the final turn. Morlacchi, who is the world record holder over the distance, was back in sixth place.
While Barlaam had a great start, Morlacchi had a better finish, turning on the jets to catch his countryman at the line. Barlaam said it was an incredible race to enjoy with his training partner.
"It's always the same when I go fast in the first 50, I die on the way back and he does the opposite," Barlaam said.
"Sharing the podium is one thing but sharing first place is everything. It's so special - I'm speechless."
That kind of drama made this a night swimming fans won't soon forget.