Tokyo 2020: Nadia Baez hungry for glory
Argentinian Para swimmer targets best performance ever at 2020 Paralympic Games
19 Nov 2019
Imagen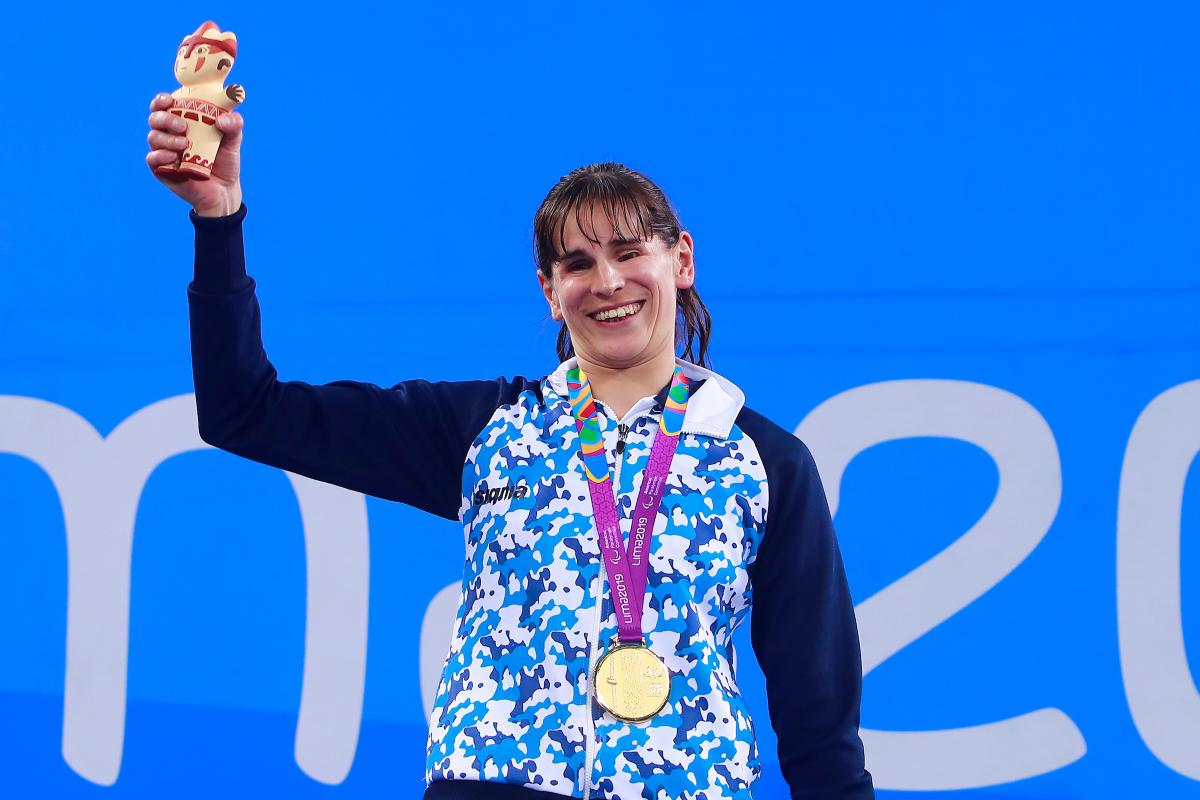 ⒸLima 2019
By Franco Nieva | For World Para Swimming
Nadia Baez will remember 2019 as one of the best years of her career.
In August, she was one of Argentina's biggest stars at the Lima 2019 Parapan American Games. A month later, he reached a much-celebrated fifth place at the London 2019 World Para Swimming Allianz Championships.
The 30-year-old Para swimmer confessed that she is both happy and surprised by these results. In the Peruvian capital city, Baez won golds in the 50m freestyle S11 and 100m breaststroke SB11, as well as bronze in the 100m and 400m freestyle S11.
"It was such a good feeling to climb onto the podium to receive the gold medal for the 50m freestyle as it was my first title on the international level over 12 years of career," she said. 
The Argentinean, who was diagnosed with bilateral retinoblastoma at eight months-old, also vividly remembered the 100m breaststroke final, where she crossed to another lane while underwater. In these cases, she will not be disqualified as long as she does not disturb the other swimmer. 
"In recent months we had made some changes to my underwater swimming and sometimes accidentally changed lanes. So during the race, when I came to the surface I thought I may have done it again.
"The whole race I had the uncertainty of having stayed in my lane or not. After touching in, I waited for the other swimmers to finish and then waited for the result." Luckily for Baez, she was then confirmed as the winner.
LITTLE TIME TO RELAX
As soon as he returned to Argentina, Baez reunited with her family. But she quickly had to pack again as two days later she had to travel to London for the World Championships.
On British soil, she competed in his favourite race, the 100m breaststroke SB11, ending in fifth place with a time of 1:30.77.
Happy but far from feeling satisfied, Baez has already set her sights on the world's biggest sporting event: Tokyo 2020. She 'only' holds a bronze from London 2012.
Boosted by her recent magnificent performances, Baez is hungry for more glory. "I want to qualify for the finals in the 50m freestyle, 100m breaststroke and 200m medley. And hopefully also compete in the 100m freestyle".