Lima 2019: Marco Dispaltro takes boccia gold
Paralympic bronze medallist celebrates on Peruvian soil
01 Sep 2019
Imagen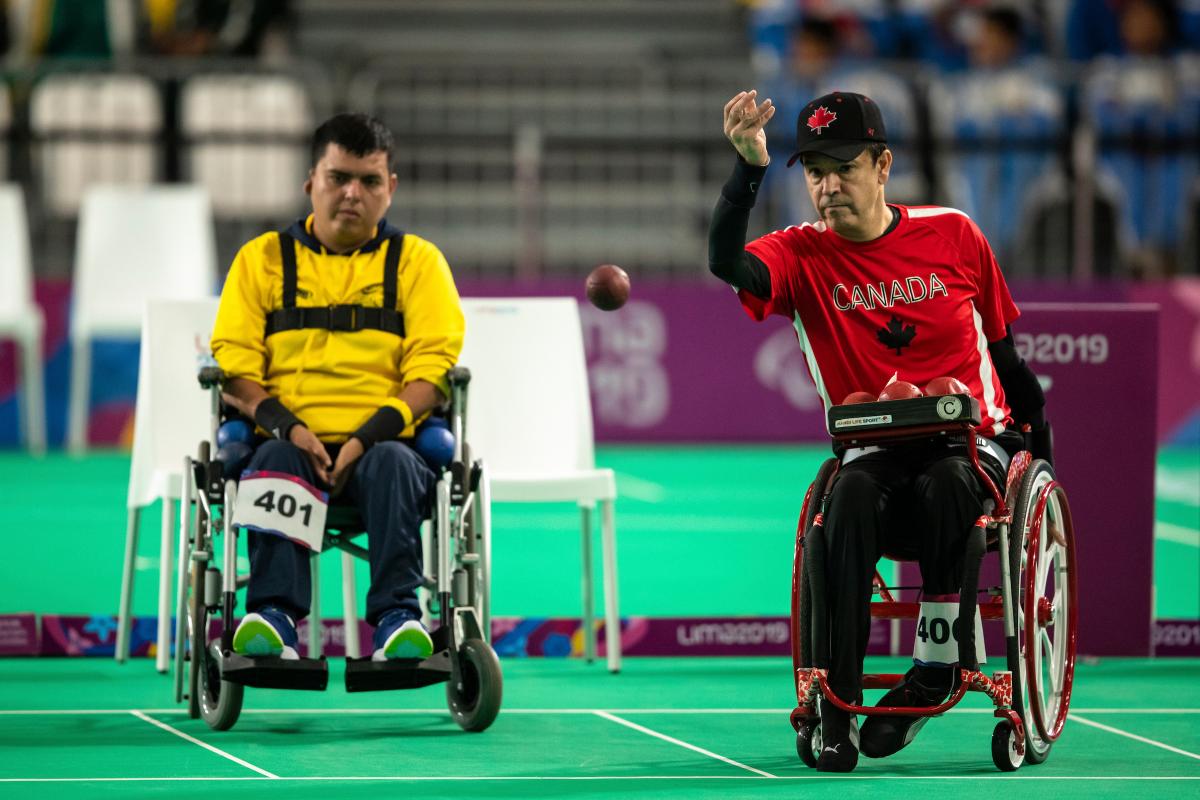 ⒸLima 2019
By NSLima2019 and APC
Canadian Marco Dispaltro drew on the spirit of a cool ice hockey legend, the warmth of a battery powered glove and a secret jetlag busting routine to win the first boccia gold medal of the Lima 2019 Parapan American Games on Saturday.

His emphatic 11-2 win over Colombia's Euclides Grisales in the individual BC4 final delivered breakthrough gold after the London 2012 Paralympic Games bronze medallist had taken individual silver at the Guadalajara 2011 Parapan and pairs silver at Toronto 2015.

"It's pretty wonderful, I've been waiting for this for a long time," said Dispaltro, who likes to think of himself as the wheelchair sports equivalent of Canadian ice hockey legend Gordie Howe. 

"But this Gordie is not set to retire just yet."

Dispaltro said the gold medal was just reward for the homework he and his coaching staff had put in on Grisales over the past year.

"We do a lot of scouting, so we knew this guy was very comfortable within five meters, and we knew if we could move him out of his comfort zone it would pay dividends, which it did," he said.

"To have a Parapan Am's gold is fantastic and it builds confidence for Canadian success next year at [the] Tokyo 2010 [Paralympic Games].

Dispaltro is an avowed fan of new technologies, something he demonstrated by playing with a heating glove on his right throwing hand. "I bought a heat glove and a heated jacket for cooler playing conditions like these.

"With boccia, the main weapon is your hand, so this glove keeps me nice and warm when I play."

He also added he never gets tired of travelling with sports. "The travel for me is fantastic. Before I was in a wheelchair I almost never travelled, and since I've been in the wheelchair I travel all over the world.

"I think our team has also found a way to control jetlag, so we haven't had jetlag for a couple of years."

USA turn the tables

Following the defeat in the women's final the day before, USA evened the score against Canada by winning the men's wheelchair basketball final 76-43.

US player Steve Serio said: "It feels awesome. We play as a team and we win as a team. This is just a really satisfying feeling.

"Canada is super talented. They have a lot of experience and a lot of talent with gold medals on that team. We knew that it was going to be a battle but we knew that if we played our game and did it together we were going to be successful."

On losing a tough final against the defending champions, Canadian Patrick Anderson added: "It was kind of what we expected. They bring a level of athleticism and skill that you don't see every day.

"It's tough to prepare for. You've got to adjust on the fly, and there were a few moments where we thought we were starting to figure it out, but we made some mistakes late in the first half and that was sort of it. We had a chance."

Magnificent Medell

US taekwondo fighter Evan Medell won the men´s +75kg K44 following a 22-16 victory over Mexican Francisco Pedroza in the final.

It was not easy to reach top form ahead of Lima 2019, though, since Medell combines his daily taekwondo training with his studies in business management.

"If you combine taekwondo training, work and school, I work about 80 hours each week. It keeps me really busy, but this medal shows me it's worth it. This is a big win for me," he said.

Historic badminton day for Peru and Guatemala

In front of a huge crowd and Peruvian President Martin Vizcarra, Pedro Pablo de Vinatea took badminton gold in the men's singles SL3 after defeating Brazilian Zuffo 21-11, 21-3.

"These Games have been very emotional with the public and the noise and all that, but I have had to remain calm and focused to win every match," said de Vinatea.

Guatemala won their first medal at Lima 2019, gold through Raul Anguiano, who was crowned men's singles SL4 champion after beating Brazilian Oliveira 21-16, 21-12.

"To win this gold medal was my goal, but I had to go step by step," said Anguiano. "It is so important and now I want to celebrate with my people and my family who came from Guatemala."

Brazil defeat Argentina…again

One day after the football 5-a-side victory, Brazil again beat Argentina 5-3 in the football 7 final.

Uribajara Da Silva, who scored a hat-trick, said: "This is every kid's dream. In Brazil we have the School Paralympics, so since you are very little you start playing."

Brazil also celebrated in goalball with victories in the men's and women's finals, both against the USA.

The Lima 2019 Parapan American Games will end on Sunday with badminton, boccia and road cycling finals, as well as the Closing Ceremony at the Athletics Stadium.

The schedule and full results are available on the Lima 2019 website.