Mateus Angula beats bullies to walk tall to Tokyo
Namibian swimmer aims high following London 2019 World Championships participation
13 Dec 2019
Imagen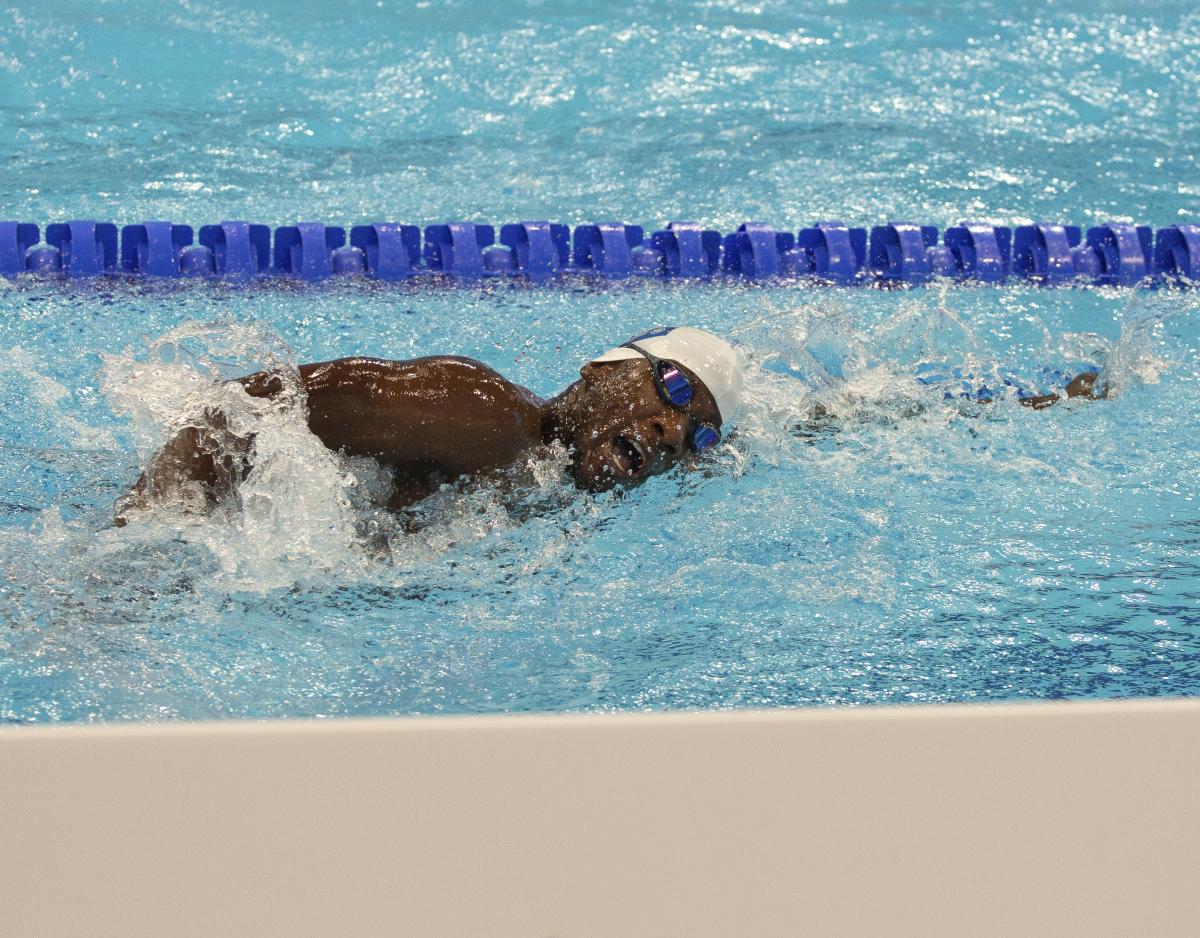 ⒸAgitos Foundation
By World Para Swimming
For Para swimmer Mateus Angula, the long road to the Tokyo 2020 Paralympic Games began over two decades ago with an arduous daily journey of only a few hundred metres through his home village in Namibia.  
 
Angula was born without legs and raised by one of his uncles in Elambo in Oshikoto region, around 600km north of the Namibian capital, Windhoek.
Since his family was unable to afford a wheelchair, his every move required immense effort. 
 
"I was going to kindergarten on my bare hands," Angula said. "It was about 1.5km and the backs of my hands would burn because of the sun."
 
Angula never considered himself to be different and was always an active child, helping his uncle to herd cattle and goats while his mother worked to raise the funds for his education.
Although he finally received his first wheelchair at the age of eight, his life challenges did not end there as he began to encounter prejudice for the first time. 
 
"Kids were teasing me, but they never changed me and I didn't give up going to school," he said. "I didn't say bad words back to them and I wouldn't take any revenge on them now. I just wish them luck in their lives."
SPORTING CAREER
 
Angula began throwing javelin and was on a trip to South Africa in 2016 when it was suggested to him that he should try utilising his upper body strength in the swimming pool. 
 
"It was my first time getting in the pool," he said. "It was a bit challenging because I didn't know how to do the start very well and also the strokes, but slowly I have got to know the skills of swimming." 
Angula has earned himself a nickname for another skill honed along the way.
 
"My teammates call me Spiderman," he said. "The name came from when we used to travel on the bus from Namibia to South Africa and I used to jump from one chair to another using the rails of the luggage rack. I was just having fun during the journey."
The long bus trips to South Africa were necessary for Angula to compete at an elite level in a region where the facilities and competitions are lacking. His own training base is an outdoor pool in Namibia, although his coach, Sonia Lindemeier, is eager to find an alternative. 
"It's quite difficult for us because when it's winter, it's ten degrees (Celsius) and we cannot go in, so we have to try and give him some other exercises," Lindemeier – the mother of Namibian international swimmer Daniela Lindemeier – said. 
In 2019, the annual temperature drop in Namibia coincided with the build up to the World Para Swimming Championships in London, when Angula made his debut on the world stage. 
"Before the World Championships we couldn't train for two months because the pool was really too cold," Lindemeier said. "Warm pools are very hard to get. I struggled to get a pool and at last a gym club said to us 'Ok, come on let's go, we'll give you a pool'."
Even after overcoming the disruption to his preparation, Angula still needed funding and was able to compete at London 2019 thanks to the Agitos Foundation, the development arm of the International Paralympic Committee (IPC). 
Angula knows that with the necessary support and Lindemeier's coaching, he can improve on his performances in London, where he clocked 51.59 seconds in the men's 50m freestyle but faded out to 2:01.28 in the 100m event after hitting the turn in 48.42. 
"I found it more difficult (than in qualifying)," he said. "I went out too fast in the first 50m and so I slowed down in the second. I knew I was going too fast."
 
The focus for Angula and Lindemeier will now shift to the Tokyo 2020 Paralympic Games. 
 
"I hope to make Tokyo as I want to represent my country and wear my flag to make Namibia well known worldwide," Angula said.
"It would mean a lot to me, as I never dreamt I could go to the Paralympics. If I happen to go then I'll thank God for it."