Ann Wacuka swimming to change attitudes in athletics-mad country
'Swimming as my career is a dream come true. It has opened doors that I had previously never thought about,' says Kenyan world medallist
18 Aug 2020
Imagen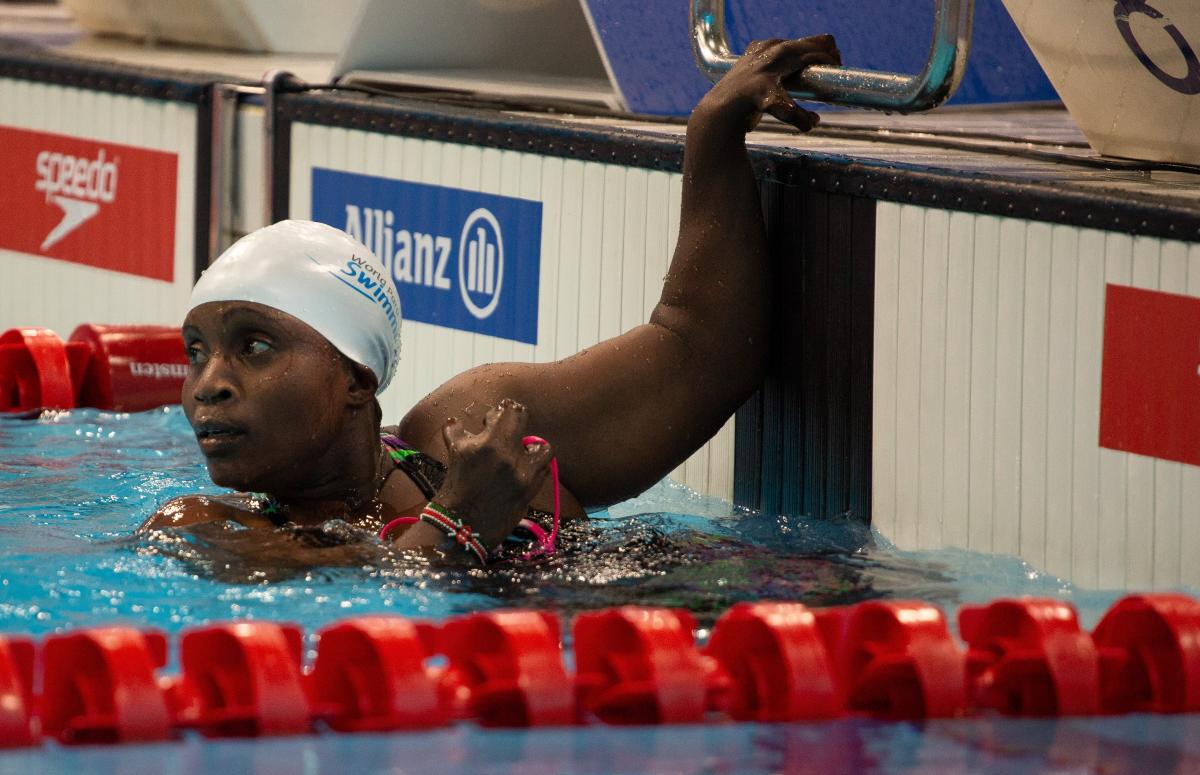 ⒸPaul Gregory for the Agitos Foundation
By Mary Barber | For World Para Swimming
When Ann Wacuka makes sporting history for Kenya her achievements have an impact far beyond the record books.
She has numerous firsts to her name: from winning a medal at the swimming World Championships to being the only person from her country to ever qualify in her sport for the Paralympic Games*. At 37, the double amputee was all set to represent Kenya at Tokyo 2020.
Wacuka, who is often the sole member of the national squad in international competitions, is setting an example for others to follow. This is not easy in a country where athletics dominates.
"Para swimming has changed people's way of thinking towards disability," she said. "I started swimming at school when I was six years old and I loved it. Swimming as my career is a dream come true. It has opened doors that I had previously never thought about."
"Apart from it adding to my self-esteem, self-worth, and confidence, it has also built an image in society that disability is not inability. This has also helped me to make meaningful friends countrywide. Disability should not hinder anyone from pursuing his or her talent," she added.
Wacuka suffered a life-changing trauma as a child when she lost her legs and endured years of discrimination, but she never lost sight of her goal to become a Paralympian, an achievement few Para swimmers from Africa have attained. 
"I am really thankful to God for giving me this chance," she said. "I am now the first Kenyan Para swimmer to qualify and represent my country at a Paralympic Games."
History-maker 
The dream will have to wait another year as the Games have been postponed following the COVID-19 outbreak. Wacuka admits the news hit her hard. 
"The postponement has affected me very much," she said, but quickly added: "The Games in 2021 will be very special."
Wacuka also made sporting history when she won Kenya's first world Para swimming medal – a bronze – in the women's 50m freestyle S8 at the Mexico City 2017 Worlds. 
 
World Para Swimming put her accomplishment in the top five moments of Mexico City 2017. It was the first time that Kenya had competed in such an event. 
"Getting that medal felt so good, it was the best competition I'd ever been in," revealed Wacuka. 
She was also the only Kenyan Para swimmer at the All-Africa Games in Maputo, Mozambique 2011 and has competed in three editions of the Commonwealth Games (Delhi 2010, Glasgow 2014 and Gold Coast 2018). 
Her achievements in Para swimming and other sports – she has also represented Kenya in javelin in 2016 and in wheelchair fencing in 2011 – have led to various accolades. She won a Sports Personality of the Year Award in Kenya in 2015.
But her success is hard-earned. Wacuka was born with a congenital weakness in her arms, hands and legs, called Syndactyly. 
It is a condition that causes webbed or fused fingers, toes and legs. When she was nine, she was due to have her right leg amputated because a large wound would not heal when they were separated in a previous surgery. 
During the second operation, her left leg was mistakenly removed. Once the error was realised the right leg was amputated. It meant she lost both legs. She had to learn to use prosthetics and crutches and was left mentally and physically scarred. 
"It was a very difficult time," Wacuka said. 
Both she and her mother, Mary Njeri, who also has Syndactyly, were already suffering prejudice from the community when she lost her legs. In 2018 Wacuka had a daughter, Shekaina, who also has the condition. 
The elite Para swimmer cannot afford the corrective surgery for her daughter, so she is saving her race prize money to go towards the fee. A charity, BethanyKids, is also fund-raising for her.
"Growing up in Kenya with a disability is not easy," said Wacuka, who was born and still lives in Gatundu North, which is a large neighbourhood about 50km from the capital Nairobi.
"The Government gives support to physically challenged citizens, but it rarely gets to them." 
Plans for the future
At home she earns an income through computer work, beadwork, rearing chickens and dressmaking. 
"My mother sacrificed a lot for my success. Except for family members, the community is not very supportive. There is a lot of discrimination, which can sometimes make a person feel bad. It has had a negative impact, but we get used to it. Self-acceptance and self-esteem have helped me to cope. 
"But attitudes towards my disability have changed over the years. In Kenya people have learnt to embrace everyone irrespective of age and disabilities."
Wacuka's recovery was initially helped by other pupils at Joytown Primary, which is a school for children with disabilities. After secondary school, she went to college and received a catering diploma.
A lack of swimming facilities meant she did not start competing until 2010 when she was 27. 
"Swimming pools are not common in my area. My first race in Kasarani Aquatic Stadium was against able-bodied swimmers, and I came fifth," she recalled. 
Her talent was spotted, and she was soon invited to join the national Para swimming team.
Before sports facilities were closed in March following the pandemic, Wacuka travelled 50km twice a week to the pool to train with her coach Jennifer Kamande.
"Compared to athletics, swimming is quite difficult because of the inadequacy of facilities," she said. 
Since the lockdown, Wacuka has made do with a makeshift gym at home where she trains alone. 
"I really miss swimming and hope the pandemic ends soon."
At some point in the future, the S7 star would like to become a coach, but not just yet. She wants to keep her Paralympic dream alive beyond Tokyo 2020.
"I feel energetic," she said. "I can still compete in more Paralympic Games over the next few years."
*British-born athlete John Britton won Kenya's first and only Para swimming medal at the Heidelberg 1972 Paralympic Games, a gold in the men's 25m freestyle 2. He had represented Great Britain at Tel Aviv 1968 and emigrated to Kenya.