Tokyo 2020: Teresa Perales wants to win medals for her son
Spain's most decorated Paralympian is hoping to add to her 26 medal haul
19 Jun 2020
Imagen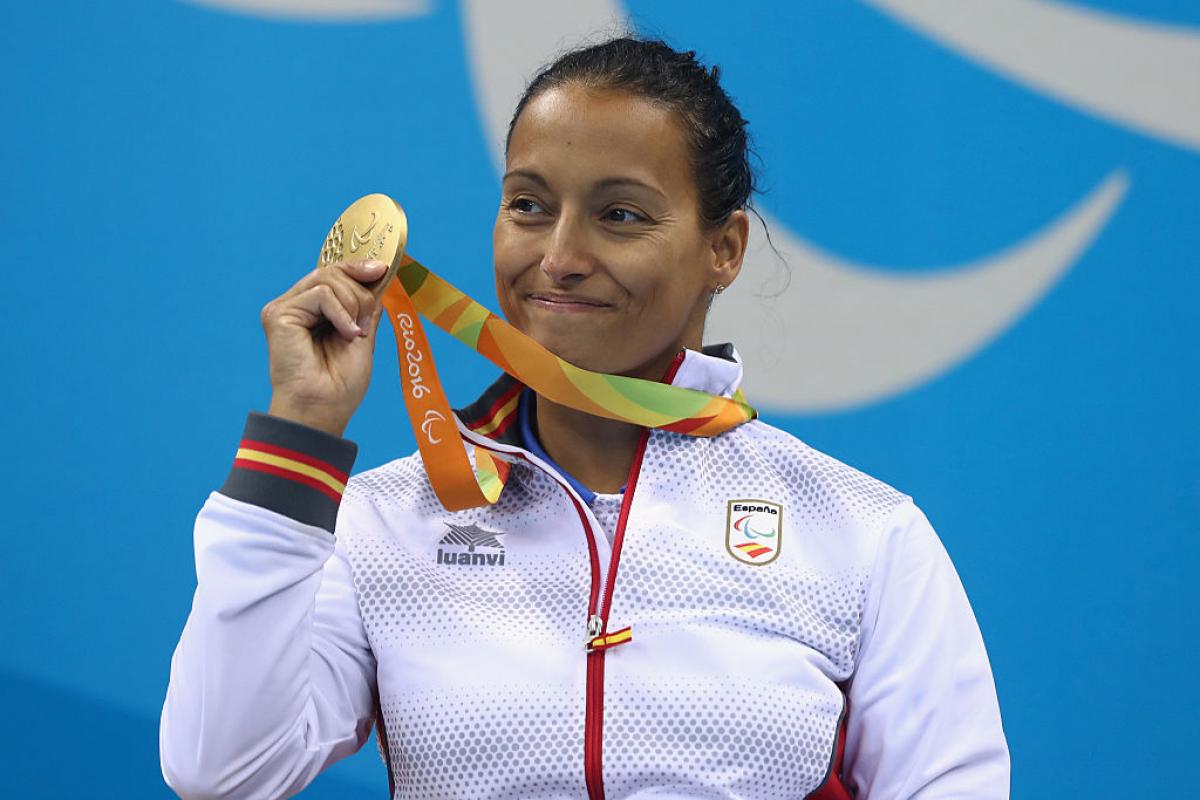 ⒸGetty Images
By Tokyo 2020
It's almost impossible to sum up the career of an athlete like Teresa Perales and do it justice.
Tokyo 2020 will be the Spanish swimmer's sixth Paralympic Games and it is a feat she never thought would've been possible when she took up the sport 25 years ago. She originally took up swimming after developing neuropathy – a disease that affects the nervous system resulting in the loss of the use of her legs within three months.
"I had always practised other sports like karate, I didn't learn swimming when I was a child," the Zaragoza-born athlete told Tokyo 2020.
"So, you can imagine how I was at the very beginning. But after a few days I enjoyed it so much and realised I wanted to swim every day of my life.
"What I didn't know was that I was going to [go to the Paralympic Games] six times."
Now 44, Perales, who is Spain's most decorated Paralympian with 26 Paralympic medals, continues to have the goal of bringing home medals but she wants to win them for a much different reason.
"I want to win some medals to give as a present to my son. He deserves it," she said. "No matter when it happens, this is still my biggest dream."
Equalling an Olympic greats record
There are two special moments that come to Perales mind when she is asked about her proudest moments as a Paralympian. The first was when she entered the London Olympic Stadium for the London 2012 Paralympic Games Opening Ceremony. The then 36-year-old was the flag bearer for Spain.
"I remember the lights, the sounds, the athletes, the flags but, what I especially remember is the moment I saw my little two-year-old cheering for me from the crowd," Perales said.
"I cried."
However, London was also special for another reason. Perales equalled the achievement of an Olympic swimmer who is considered one of the all-time greats – Michael Phelps. The athlete won gold in the S5 100m freestyle – her third consecutive gold in the event – to win her 22nd Paralympic medal, equalling Phelps Olympic medal haul.
Her achievement made her a trending topic on Twitter. In an interview with Reuters Perales joked: "Phelps must be amazed if he sees Twitter, wondering 'who's this Teresa Perales, what has she done?'".
Back in Spain, newspapers across the country excitedly drew comparisons between the pair. It was the first time the athlete had seen her picture alongside Phelps.
However, while Phelps went on to retire after the Rio 2016 Games with 28 Olympic medals, Perales is continuing on with hopes to eclipse the most decorated Olympian in history when she takes to the pool at Tokyo 2020 next summer.
After her gold in the 50m backstroke alongside three silvers at Rio, which took her total medal tally to 26, it means Perales is just three medals shy of surpassing the Olympic great.
"I tried to repeat this again in Rio, but I couldn't. We will have to see what happens in Tokyo," the Olympic Order recipient said.
"I promise that I will try again."
Rio also marked another memorable moment for the Paralympian, and it's one that all of us can learn from. The Games in Brazil didn't get off to the best start for Perales when she failed to medal in the 50m butterfly and 50m freestyle, two events she had medalled in since her first Paralympics in Sydney.
"It was the first time that I didn't get a medal and it happened not only once, but twice," Perales said.
It was recommended that she didn't swim her next event, the 200m freestyle and to get some rest but Perales went against the advice.
"I decided that I wanted to try, because if I didn't, I would always ask myself what would have happened."
She would win silver in a tight battle with People's Republic of China Zhang Li before going on to win three more medals including a gold in the 50m backstroke – something she had never done before.
A voice for the Paralympic Movement
Aside for her athleticism, Perales has been an excellent advocate for the Paralympic Movement, speaking openly about her experiences as a Para athlete.
Over the past 22 years, she has been competing at the highest level, the swimmer has seen a number of big changes for Para athletes especially when it comes to social recognition. However, the biggest transformation came after London 2012.
"They presented us as superhumans, and I think this gave an important push to our movement," she said.
London 2012 was the largest Paralympics ever with 4,302 athletes from 164 National Paralympic Committees (NPCs) participating. Fourteen of these nations were appearing for the first time ever at Paralympics.
"The International Paralympic Committee has done an extraordinary work and our NPCs, federations and other organisations have grown. We are a strong movement that is leaving a great print into the human history."
Heading into Tokyo
Just like many athletes across the world, Perales has been affected by the COVID-19 pandemic after Spain went into lockdown on 14 March.
"It was really hard at the beginning," she explained. "We were watching on the news what was going on with People's Republic of China, Republic of Korea and Italy so when the virus came to Spain, we knew that was going to be a very difficult situation for our country too."
"Lots of people started to telework, the children had video conferences with the teachers, but was impossible for athletes to do tele swimming, tele tennis."
Perales turned her home into a makeshift gym where her son, Mariano Menor Jr, and herself have been training every day. The Spain Paralympic Committee also sent some sport equipment.
With restrictions starting to ease across the nation, it has seen the re-opening of the Centre d'Alt Rendiment (CAR), Spain's Olympic Training Centre with swimmers back in the pool after almost two months. However, for Perales she has still been unable swim with pools not expected to open until July where she is based.
She longs to get back in the pool.
"I can't wait for the moment I can jump into the pool again," she said, "I have never been out of the water this long even when I was pregnant, I continued swimming until my belly was so big that I couldn't get out of the pool by myself."
While Perales earned her qualification times for Tokyo 2020 through the World Para Swimming Rankings earlier this year, things are still up in the air. The swimmer has been training for the past three years for the 2020 Games but with the postponement and added unknown, Perales acknowledged it's hard to have a fixed plan but said being motivated will be essential.
"Being motivated and keep dreaming about the Paralympics is essential to the new plans. My focus is to stay strong. I want to compete."