Alice from Bournemouth ready to take on the world
World champion Tai using lockdown to spend rare time with family and boyfriend while making plans for Tokyo
28 May 2020
Imagen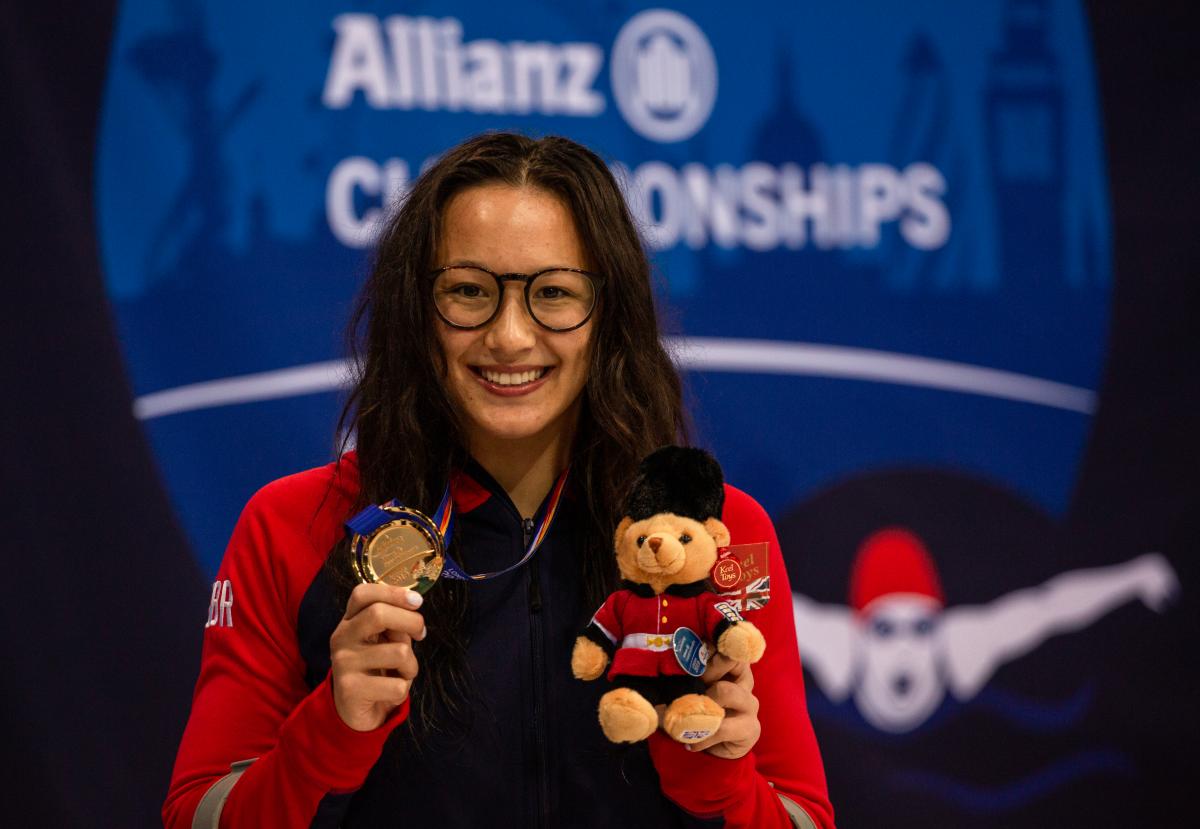 ⒸPaul Gregory for World Para Swimming
By Mary Barber | For World Para Swimming
Alice Tai was sitting outside a café with Italian swimmer Simone Barlaam in Milan when a stranger recognised her and said "hello".
The couple are Para swimming superstars, with 14 World Championship gold medals between them, but Tai was taken aback. She is rarely recognised in her own country, England, let alone in Italy. 
"I thought, perhaps, Simone knew her, but he did not", said the Paralympic champion, who lives largely out of the spotlight as a university student in London. "A guy recognised me in Starbucks, but that is been the only other case where it's happened when I am not doing an appearance at an event."
A lack of media coverage in Para sports is often the reason elite athletes can live under the radar of the wider public. A situation that may have changed for Tai this year had the Tokyo 2020 Paralympic Games not been postponed due to the COVID-19 pandemic.
The 21-year-old was already seen as a potential star of the Games, after her outstanding achievements at the World Championships in London last September. 
She won seven gold medals in 50m and 100m freestyle, 100m backstroke, 100m butterfly and 400m freestyle, all in S8 class, and 100m freestyle relay and 100m medley relay. 
Tai - who also won gold in Rio in 2016 and is a five-time European champion - went on to receive a number of prestigious awards, including British Swimming's Athlete of the Year. 
But her initial reaction when she was given the news was also surprise. 
"It was really surreal. All the awards I received off the back of that I felt like I did not deserve them. I kept thinking that is not me. It was almost like the level of my achievements hadn't sunk in," she admitted. 
"At one ceremony, I was in a room with some of the greatest sporting heroes ever, there was swimming legend Mark Spitz, and I was like what is going on? I'm just Alice from Bournemouth."
Prior to the lockdown in March, Tai was in training for qualifying events for Tokyo. All pools and gyms in her country were closed due to the coronavirus.
But the abrupt halt to her schedule brought unexpected benefits: it meant she could spend more time with her boyfriend, Barlaam. 
Seeing Simone
The couple, who were voted best female and male swimmers at the World Championships, have been dating for nearly a year but training keeps them apart.
"We do not get to see each other very often," Tai said. "Normally once or twice every couple of months for a weekend. I will either fly to Italy or Simone will fly to England, but our long-distance relationship has definitely been worth it." 
It was on one of her trips to Milan that she was recognised outside the café.
After the lockdown in Italy, Barlaam flew to Great Britain to be with Tai at her family home in Bournemouth. She studies neuroscience in London, but after the COVID-19 outbreak moved back to be with her father Steve, an IT specialist, mother, Angela, a teacher, and younger brother Christian.
 
Barlaam stayed for several weeks until he returned to Milan, where he studies mechanical engineering. 
"It was the longest time we had been together," Tai said. "We were planning to do that after Tokyo, so it was really nice to have a chunk of time now before we prepare again for the Paralympics. I cried when Simone booked his flight back to Milan." 
The couple, who met at the European Championships in Dublin in 2018, discovered during the lockdown they shared an unusual interest. 
"I found out we both ran origami clubs at school, which is just random," said Tai. 
They also learnt new skills, with some more successful than others. The former music student, who is in a band, Blush, tried to teach Barlaam the guitar. 
"He is progressing slowly," she joked. But they enjoyed cooking: "I cook a lot of Asian dishes as my dad is Chinese and Simone made us a lasagne, which was really good, and he baked biscuits with my brother." 
Rowing from home
To keep fit, Tai, who admits she is "really missed swimming", tried her dad's indoor rowing machine. She had never rowed before and contacted British rower and Paralympic champion Lauren Rowles for advice. 
"She sent me training sessions to do, which I'm loving," Tai said. 
She also does circuit training in the garden, which has included putting on a T-shirt while doing a handstand. Her daily routine has kept her physically and mentally motivated during the lockdown.
"You have got to have a routine, otherwise days will merge into one another. It is good to find a hobby or something you are interested in, as well as stay active and contact friends and family," she added 
Tai talks to her coach in Ealing every week. She also keeps regular contact with Barlaam despite being 1,400km apart. They hosted an Instagram Live Take Over on World Para Swimming during lockdown. 
They now hope to compete in the Paralympics in Tokyo next year. Tai, who began swimming as a child after multiple operations on her feet, admitted she was glad the Games were postponed. 
"The world is not in a great place to hold a massive sporting event… But next year it's going to be pretty special to be in the team in Tokyo. To have a medal would be even more special, but I would just be happy with the kit."
 
She was 15 when she won gold at the Paralympics in Rio in the 4x100m medley relay. 
"I remember the atmosphere at the Olympics and Paralympics was incredible. You see people you have idolised, and they are in the food hall next to you." 
In Tokyo next year, award-winning Para swimming champion "Alice from Bournemouth" will no doubt be recognised, too.