Canadian swimmer Katarina Roxon has entire province behind her
"Even today I'll get people just randomly calling me at home saying, 'I just wanted to say I'm really proud of you'.  It's touching."
30 May 2020
Imagen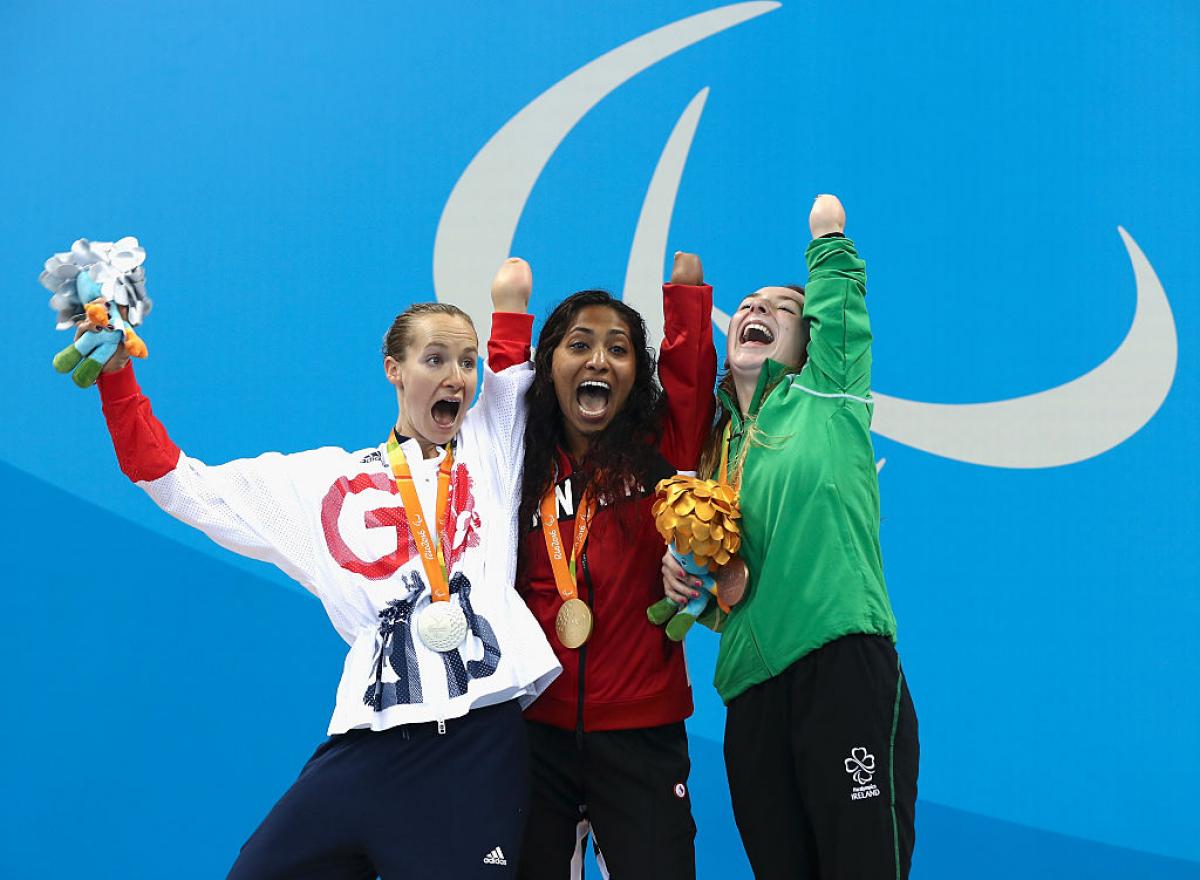 ⒸBuda Mendes/Getty Images
By Teddy Katz | For the IPC
Katarina Roxon is hoping to repeat as Paralympic champion in Tokyo in the 100m breaststroke SB8 propelled by more than the support of her family and friends to get back to the top of the podium.
Roxon is from the province of Newfoundland and Labrador, on Canada's east coast. The friendly nature and hospitality of Newfoundlanders is world renowned. It was the subject of the hit Broadway Musical 'Come From Away' when Newfoundlanders opened their arms to thousands of passengers whose planes were diverted there after the terrorist attacks on 9/11.
When Roxon won her first Paralympic medal, a gold in her third Paralympics at Rio 2016, the province's warmth and pride bubbled to the surface in new ways for her.
"The response back home was nuts," Roxon says. "I was not expecting that at all. My phone was blowing up, so I didn't even look at it because I still had a few more races to go."
When she arrived back home, the celebrations continued. "There was this huge crowd of people at the airport and I was just in awe."
Roxon is from Stephenville, a town of less than 7,000 people. The town held a victory parade and named a highway after Roxon – 'the Katarina Roxon Way'.
"It's pretty nice," she says of the road which connects her town to the Trans-Canada Highway. "I like to take that road as much as I can."
The ride to Tokyo has not always been smooth for Roxon. Her parents put Roxon and her sister into swimming lessons when they were quite young.
"They thought being on an island, it's an important life skill to have," she said.
Shortly after, her father asked a coach what the probability would be for Roxon, who was born missing her left arm below the elbow, to go to the Paralympics one day.  The coach responded that the chances weren't great.
"I have no idea why he said that. It could be because of where we live. The Atlantic Provinces are very small so I mean that could be the reason. Also, I was disabled and maybe I wasn't fast at that time." 
Undeterred, the Paralympics became her father's dream and later hers as well. Roxon was advised it would be best to move to a bigger centre in Canada to train. 
But she stayed home, trained hard and carved out her own path qualifying for the Beijing 2008 Paralympics when she was only 15.
"I didn't want to leave. I love Newfoundland. When Newfoundlanders support you, it's like your family."
Which helps explain the reaction to her gold medal performance in Rio which she said was 10 years in the making.  Before Rio, she received several text messages from complete strangers on the island wishing her well.   
"Even today, I'll get people just randomly calling me at home saying, 'I just wanted to say I'm really proud of you'.  It's touching."
Taking her gold medal and speaking to kids has also been an eye opener. 
"They were pumped about the Paralympics. The fact they were using the word Paralympics was exciting because this is the new generation coming up."
Roxon's goal is to get back on the podium at the Paralympics. But she knows she has her work cut out for her. She finished second in the 100m breaststroke at the 2019 World Championship behind Brock Whiston of Great Britain.
Whether or not she goes to Tokyo 2020 next, one thing will not change: "It's really nice to know that I have this huge support from a whole province no matter what I do."