Genesis Leal working overtime saving lives in Venezuela
"There are many people who have no knowledge whatsoever spreading messages about the coronavirus. As doctors, we know what we're dealing with, so we ask them to listen to us"
19 Jun 2020
Imagen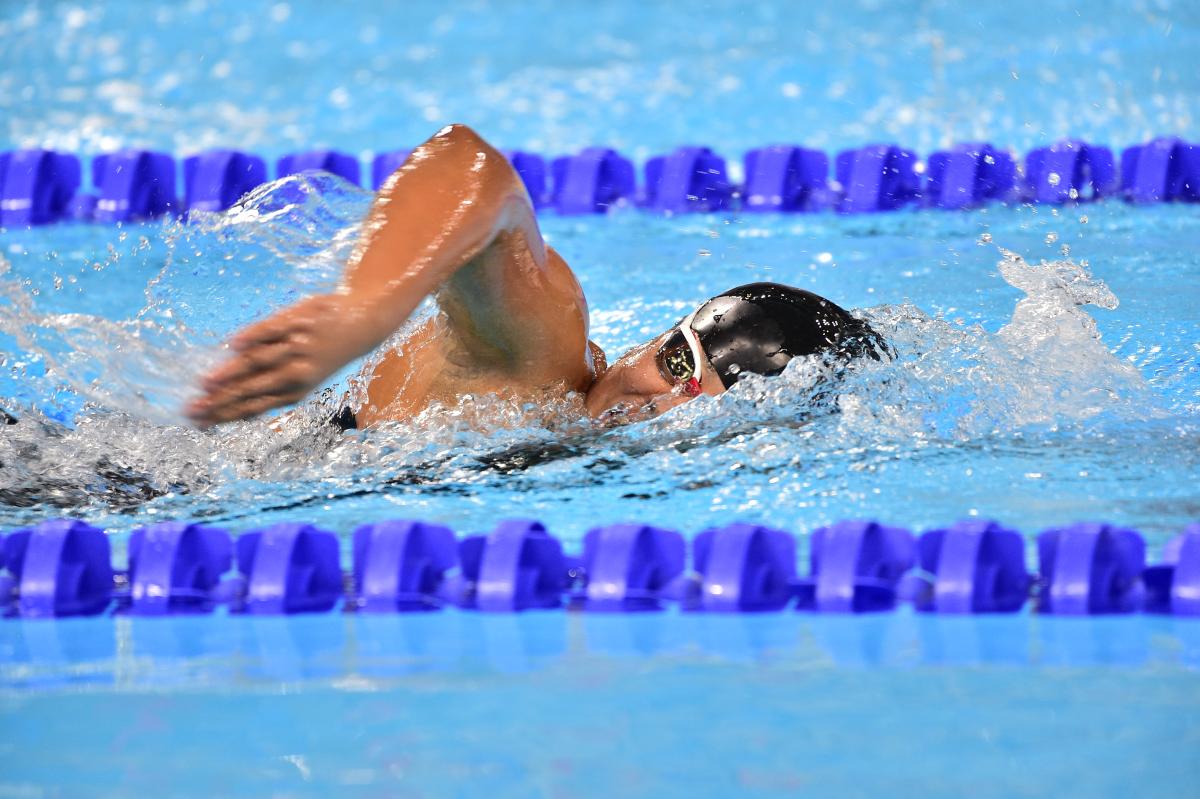 ⒸAlexandre Battibugli/Agitos Foundation
By Santiago Menichelli
Venezuelan Para swimmer Genesis Leal was all set to make her Paralympic Games debut in Tokyo this year. But that has to wait now! 
While the COVID-19 pandemic has postponed the Games, Leal is spending her time tirelessly attending to affected patients at San Jose Secure Hospital in her native Aragua. 
In the front-line against the pandemic
In early February, Leal, a doctor by profession, began working in the Traumatology and Orthopeadics department. On March 16, Venezuela decreed a lockdown in the wake of the coronavirus pandemic. 
From that moment on, working days have taken an unusual amount of energy and there is a tremendous amount of pressure to cope with due to an influx of COVID-19 patients, revealed Leal. 
"We faced this because we took an oath to do so. We have to do our best and give our heart no matter what situation we're in, to help patients," she said. "The first few days we were so scared, we didn't know what to do. We couldn't sleep even during our hours of rest.
"One day, five patients came in with fever and COVID-19 symptoms; and you just have to be there and recognise your role as a doctor to face this context," said the 27-year-old, who in 2015 participated in the 'Road to Rio 2016' initiative, implemented by the Agitos Foundation.
Although she works in the area of traumatology, her cooperation with general emergencies has increased.
"I have to cooperate with my colleagues if at that time we do not have patients in a certain area."
Despite the difficult situation, Leal recognises that "it is very gratifying to make a contribution to help patients."
She understands that her status as an athlete gives her an edge at her job. 
"Sport gave me discipline, concentration and self belief. Medicine is quite difficult, it is one of the most difficult careers.
"Swimming and open water are sports that need a lot of dedication and perseverance, and going through that helped me get that extra effort to put in to moments like this one."
Retirement (not) on sight
"There are times when I recognise that if I hadn't gone into medicine, I would have been better at sports. I could be a World Champion, but God put faith me to pursue both and that's what I decided. I may not have the best times, but I graduated when I should have and even have done both for years. A lot of people admire me for that," she confessed.
Her decision, however, did not mean that she would retire from swimming anytime soon. In fact, in 2019, while facing severe depression over the loss of her father, she managed to break through her lack of motivation, prepare on her own and qualify for the Parapan American Games in Lima. On her return to the big competitions, she was close to getting a medal in the 400m freestyle - she came fourth.
This year, before the COVID-19 outbreak, Leal was training hoping to get a ticket for her first Paralympic Games in Tokyo. 
"I was training in a 32-metre pool, in a hotel. I was training hard when the COVID-19 happened. Now the future is uncertain."
Leal was training two hours a day in a pool 18 metres shorter than those in which she had to compete for a place in Tokyo 2020. Apart from that, she was doing crossfit as long as her work at the hospital allowed. 
"I always did something to make sure there was no lack of physical preparation."
"I'm going to try it. Retiring from swimming is not inside me. It's a lifestyle matter and I, as a doctor, know how to recognise that. It's a field that de-stresses me, it's not easy to stand a 24-hour watch.
The peace of mind you get from training in a pool allows you to drain a lot of things. I see swimming like that, as a lifestyle, whether I make the marks or not," said Leal who was born with an underdeveloped right leg that had to be amputated, shortly after her birth. 
Siblings get in to the pool
Despite all odds, Leal, along with her  twin brother, Gaston, took to the waters at a very tender age and has never looked back. She could easily swim back and forth when she was five, and the Caribbean beaches of Aragua, 45 minutes away from their home, were a great incentive.
"Until then I had tried football, tennis and other activities, but because of the prosthesis it was easier for me to swim and I stayed there."
She began to compete at 12. In 2005, she participated in the first edition of the Youth Parapan American Games in Barquisimeto, Venezuela, winning five medals. Shortly after, she started shining at Paranational Games.
At 18, she travelled to Mexico to participate in her first Parapan American Games. Her experience at Guadalajara 2011 was very valuable, although she was not able to climb the podium. Three years later, she showcased the best version of herself at the Para South American Games in Santiago by claiming three medals, including a gold in the 100m freestyle S9.
Important decision
Leal had not achieved the necessary marks to qualify for the Rio 2016 Paralympic Games. She had only a few months left to lower her times, while studying to become a doctor at the University of Carabobo.
She could train hard and try to qualify at the last minute, but she chose not to. 
"I didn't make the Toronto 2015 marks. I was preparing my thesis when my tutors told me to decide whether I was going to train or pursue my thesis. It was my last year of university and I had to choose between making my way to Rio or finishing my degree, and I finally decided on medicine."
She received an honourable mention for her thesis, which was focused on the stigma suffered by HIV patients and their treatment with antiretrovirals.
Hope
"I want to continue getting results representing my country and to be able to participate in a Paralympic Games," she said. "During the quarantine I have been training at home with some equipment. I don't stop working and my physical trainer sends me training exercises."
As for medicine, she is halfway from her goal. "I fulfilled half my dream when I graduated as a doctor. I have yet to complete my specialties, which are traumatology and orthopaedics, and another complementary one of spine surgery.
"Many people ask me if having studied medicine has anything to do with my disability, but it really doesn't. It's really what I like best and what caught my attention."
Leal makes public her concern for the future of sport, but her message is also hopeful. "Sports is on hold right now due to the pandemic. We know that this situation is continuing and it will not be easy, but we must keep faith and hope."
The most important thing, she said, is "for everyone to follow the advice of the medical staff only. There are many people who have no knowledge whatsoever spreading messages about the coronavirus. As doctors, we know what we're dealing with, so we ask them to listen to us."