Para alpine skier Hilmar Orvarsson blazing path for Iceland at Winter Games
Slalom specialist in prime form to reach national milestone at Beijing 2022
05 Mar 2021
Imagen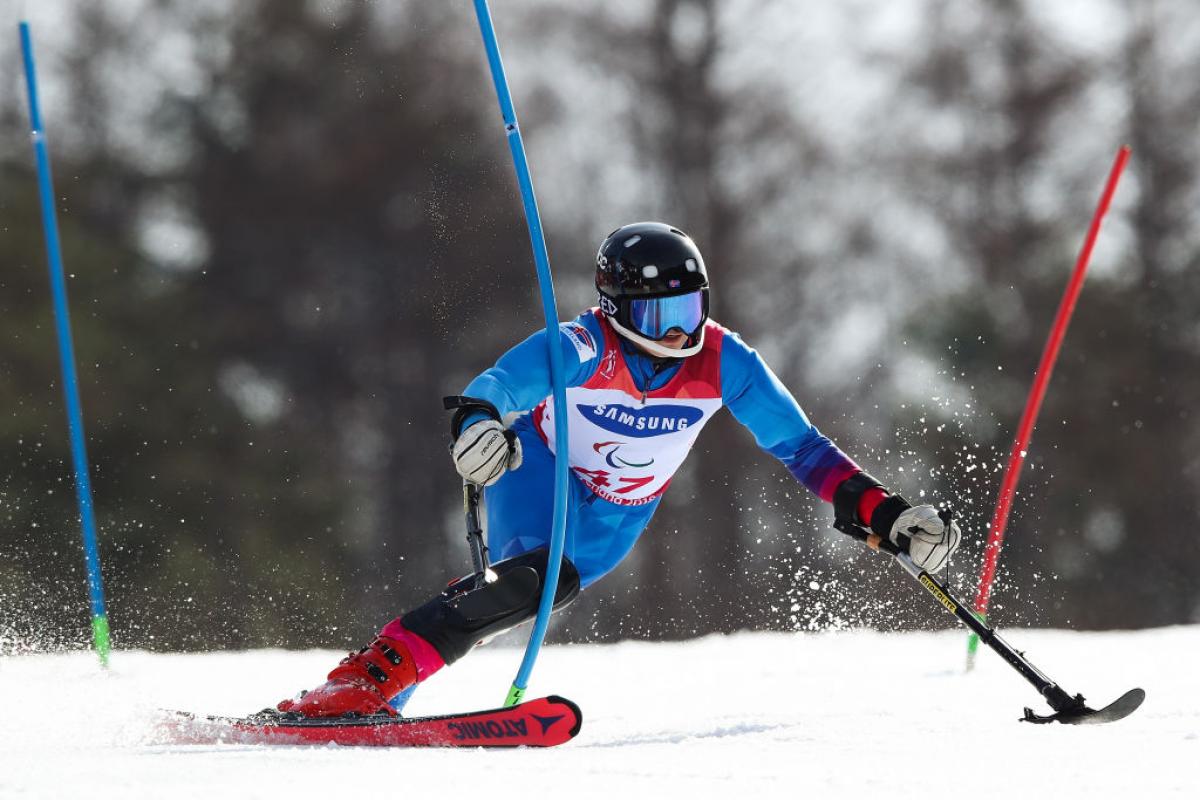 ⒸGetty Images
By Lena Smirnova | For the IPC
Three years ago, at the Paralympic Games in PyeongChang, Para alpine skier Hilmar Orvarsson spent much of the time when he was not skiing answering messages from well-wishers.
As the only athlete from Iceland, where the population is just over 350,000, and the country's flag bearer at the Opening and Closing Ceremonies, it was natural that Orvarsson was the centre of attention at his first Paralympic Games.
"It was an honour," the athlete said. "It was almost like a full-time job answering messages. I got quite a lot of attention and it was fun."
The attention was even greater owing to the fact that Iceland, despite its northern climate, has yet to win medals at the Winter Paralympic or Olympic Games.
A skilled and determined skier, Orvarsson could be the one to change that.
Winds and bruises

Orvarsson went on family ski trips to France and Austria as a child. In 2008 he was diagnosed with bone cancer and soon after underwent a surgical procedure called rotationplasty in which his left knee was removed and the ankle rotated and reattached.
Since then he had to learn the sport again, this time on one ski.
"The balance was not good," Orvarsson said of his early skiing attempts. "At the beginning it was hard, but when you get used to it, then you don't know how to ski on both legs if you had to."
The only competitive Para alpine skier in Iceland, Orvarsson now trains with the Vikingur ski club alongside 20 able-bodied athletes. The country's other competitive Para alpine skiers Johann Thor Holmgrimsson and Erna Fridriksdottir, who competed in the sitting races at the Sochi 2014 Paralympic Winter Games, have since retired.
When it comes to training, Iceland is a haven for those who like short commutes - the trip to the Blafjoll ski resort takes 30 minutes from capital Reykjavik - and mild temperatures.
But strong winds can often spoil the most perfect ski plans.
There are many days when Orvarsson cannot ski because the winds at Blafjoll are too strong. Winds reaching speeds of 54kph are common, so when the weather does cooperate, Orvarsson snatches every opportunity to train.
"[I'm at the ski resort] whenever it's open. The wind here is so strong that I have to go to training when I can," Orvarsson said. "It happens all the time because we're an island and we're near the sea."
While he is not thrilled about strong winds at his home ski resort, Orvarsson relishes the head-to-head battle with the elements during competitions. Unlike many other skiers, he is used to the worst and sees these conditions as an advantage.
"When it's bad for visualisation, when it's foggy or raining, that's good. Those conditions are good for me," Orvarsson said.
Another unique feature of training in Iceland is that the slopes there are shorter than in Europe. This is a major reason why Iceland's Para alpine skiers have only competed in technical disciplines at the Paralympic Games.
Luckily, slalom is Orvarsson's favourite discipline. On the downside, the many hours of training slalom, in which skiers zig zag through a course of shatterproof plastic poles, come with a fair share of occupational hazards.
"Fifty per cent of the time I get [a pole] in the head. I recently bought a new helmet, white, and it's like it's three years old and I only had it for six trainings," Orvarsson said.
"I had five trainings in a row and I got bruises on my leg and hands, but I also have protection on my biceps so I don't end up all black. So many bruises, I can't feel my hands anymore."
These long training hours have not been in vain. Orvarsson achieved his career's best result - a fourth place at the 2019 World Para Alpine Skiing Championships - in slalom. He missed the podium by a mere 0.28 seconds.
Last season, he also won the overall and slalom Crystal Globes at the Europa Cup, and took silver in a World Cup slalom race in Prato Nevoso, Italy. And this is just the beginning.
"It was really good," Orvarsson said of his fourth place at the 2019 Worlds. "But my main goal was to be on top of the podium that year. And it will be as well next year."
Flags and dreams

After reaching these solid results, Orvarsson is all too aware of the national significance that his equally successful runs would have at the Beijing 2022 Paralympic Winter Games.
Iceland has 61 medals from the Summer Paralympic Games, mostly in swimming and athletics, and four medals from the Summer Olympic Games. But the medal count for the Winter Paralympic and Olympic Games currently stands at zero.
Orvarsson got his first taste of what it is like to carry the weight of the nation at PyeongChang 2018. Then 17 years old, he carried the flag at both Ceremonies and finished the races 13th in slalom and 20th in giant slalom.
"I was hoping for better results, especially in the slalom. I ended up in 13th, I was expecting to be at least top 10. I did quite a mistake in the first run and lost 1.5 seconds or so," Orvarsson said. "But I learned a lot from that race, both technically and mentally."
His focus is now on Beijing 2022.
Orvarsson plans to compete as much as he can next season while balancing his studies in bio engineering. And to keep the stress levels down, he is turning his mind away from any national milestones he may achieve in the process.
"It's not something I focus on because I know that wouldn't help me in any way, but I would definitely think about it and be proud of myself afterwards," Orvarsson said.
"I don't know if anybody knows that we haven't gotten the Winter medals. I know, but I don't think people know that we haven't, but wow, if I won a medal, it would be such a dream."