Germans sweep gold in women's races in Leogang
Anna-Maria Rieder and Anna-Lena Forster golden twice in season's last World Cup in Austria
19 Feb 2021
Imagen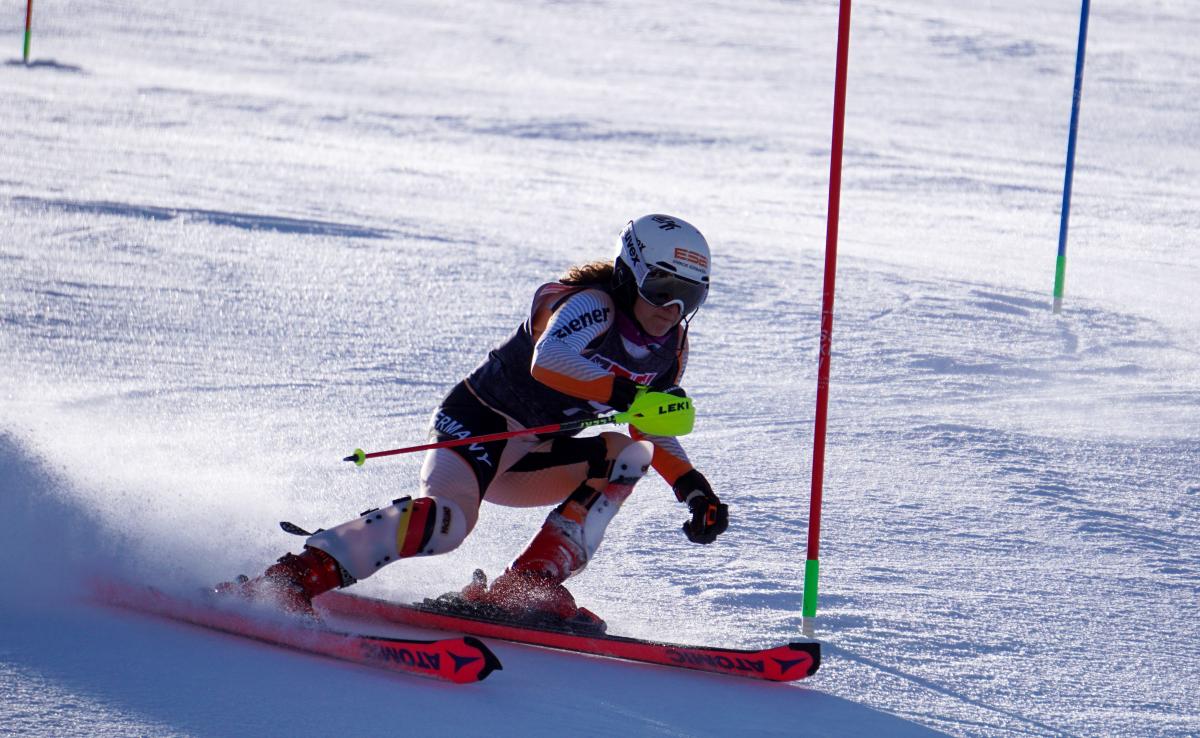 ⒸBenedikt Lex
By Lena Smirnova | For World Para Snow Sports
Germany's Anna-Maria Rieder finished the World Cup races in Leogang with a clean sweep of four gold medals to finish off the 2020-21 World Cup season on a high note. 
With her second slalom victory in the women's standing class, Rieder took Germany's count of gold in the women's races in Leogang, Austria to nine out of 12 races. 
Rieder was at least 5 seconds faster than her teammate Andrea Rothfuss in both slalom races to claim the gold. And she is eager to make even further improvements ahead of next season.
"I am happy that I won the race, but for me, my skiing wasn't the best that I can show, so I have to improve on that," Rieder said. "I am happy that I won all the races so far. It's not so easy because the other girls are all strong too and I have to show my best skiing, I have to ski fast, so that I can reach a place on the podium."
Rieder's teammate Anna-Lena Forster also won both gold medals in the women's sitting slalom.
The German duo, Noemi Ristau and guide Paula Brenzel, won one gold in the women's vision impaired races. In the first race they barely escaped a defeat to Austria's Barbara Aigner, who is making her World Cup debut at age 15, and was only 0.04 seconds behind the Germans. 
Aigner and her guide Klara Sykora took gold int he second race, while Ristau and Brenzel did not finish.
In the men's races, it was another tight battle between France's Arthur Bauchet and Russia's Aleksei Bugaev in the standing class. Bugaev, who beat Bauchet on two occasions this World Cup season, was 0.64 seconds behind in the first race and 1.30 seconds in the second race.
Overall it has been a solid World Cup season for Russia's three-time Paralympic champion. He won two gold, five silver and two bronze medals, including a medal in each of the speed races held in Saalbach, Austria earlier in February.
"I quite liked the [speed] races in Saalbach. While I'm more of a specialist in the technical disciplines, it was there that I once again felt the joy of alpine skiing, even if not all my runs were without mistakes," Bugaev said. "My goal is always the same and that is to continue to work hard and to show all that I am capable of, regardless of the discipline and the conditions."
World Cup firsts
Austria's Johannes Aigner made a stellar World Cup debut in Leogang in the men's vision impaired class after recovering from an injury. 
Barbara Aigner's twin brother went undefeated in the first eight races at the Europa Cup late in 2020. But on the morning of New Year's Eve he suffered a bad fall when he, going to feed the family chickens, fell down the stairs and broke his collarbone. 
After making his return to competition at the Europa Cup races last week and winning both races with dominant margins, Aigner followed that up with a gold in his first ever World Cup race, a giant slalom, in Leogang. 
He and his guide Matteo Fleischmann took two silver in the next slalom races, coming second to Great Britain's Neil Simpson and guide Adam Hall.
"I am pretty happy with my season," Johannes Aigner said. "It is my first World Cup season and the personal highlight was my first ever World Cup win in giant slalom. I also learned how to fight through an injury this season because I had a broken collarbone."
In the men's sitting class, it was also a competition of firsts for Ravi Drugan in his career's second World Cup season. The USA skier won his first World Cup medal, a bronze, in the first slalom race, behind Jeroen Kampschreur of the Netherlands and Jesper Pedersen of Norway. 
"It was tough course today, with lots of DNFs," Drugan said. "I had a hard time bringing what we've been working on in training into the course today and my second run was far from perfect, but I hung in there and still was able to finish and was very surprised to get on the podium.
"Winning my first World Cup medal is still a great accomplishment and goes to show if you stick in it and fight hard you can still end up with a good result. Getting on the podium with far from my best skiing is not quite the way I imagined winning my first World Cup medal but a win's a win. It's motivation to continue to work hard and be my best," he added.
Pedersen and Kampschreur split the gold in the slalom races, once again placing one and two in the technical events. Pedersen finished the season with four gold and four silver in the technical races to Kampschreur's four gold, three silver and a bronze. 
Full results from the slalom races at the World Cup in Leogang are available on the World Para Alpine Skiing website.