Andrew Kurka making the most of speed to technical switch in Leogang
Anna-Lena Forster and Arthur Bauchet's undefeated streaks in jeopardy as final World Cup runs until Friday in Austria
16 Feb 2021
Imagen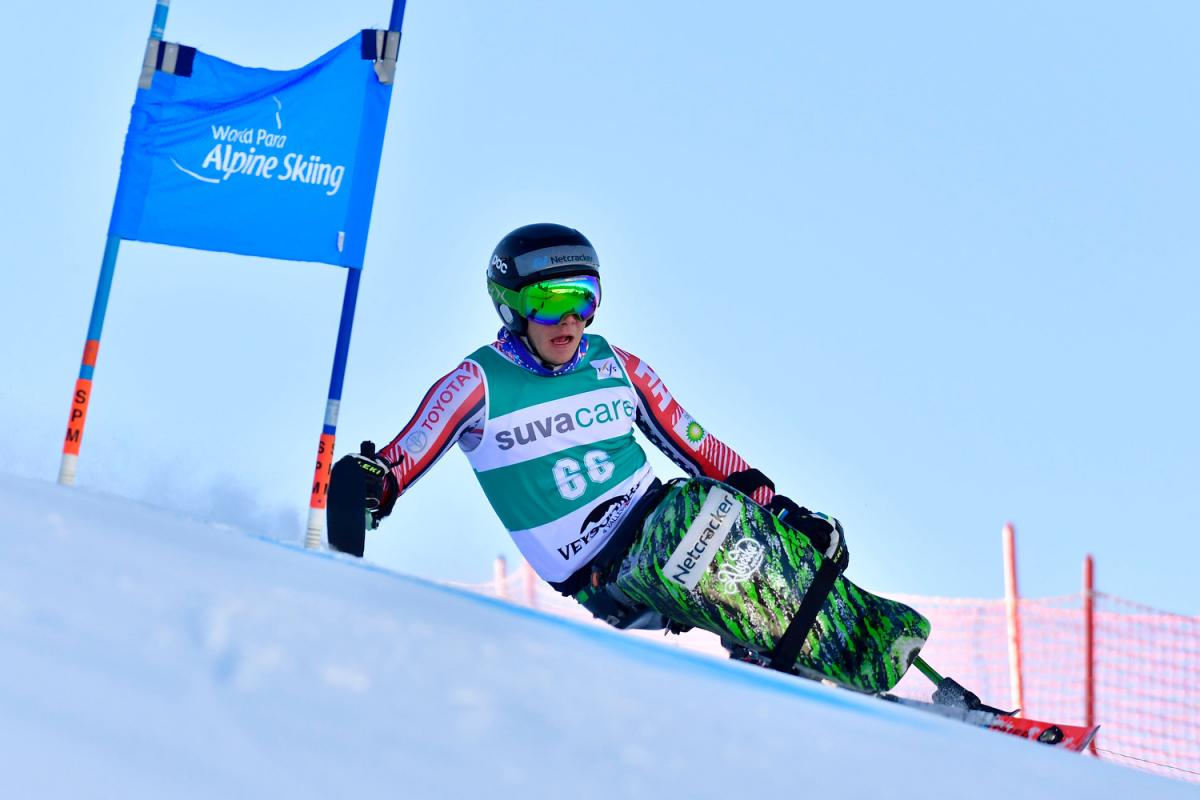 ⒸLuc Percival for World Para Snow Sports
By Lena Smirnova | For World Para Snow Sports
Technical races were not what speed specialist Andrew Kurka had in mind when he was training for the 2020-21 season, but making the most of the situation, the USA sit skier is seizing the chance to do some racing at the last World Cup of the season.
The third and final World Cup of the 2020-21 season will be held in Leogang, Austria from Tuesday to Friday (16-19 February) with two giant slalom and two slalom races on the agenda.
Finally able to travel oversees, Kurka is anxious to get racing before the season wraps up.
"That is pure motivation," Kurka said of following the earlier World Cup competitions in Europe from nine time zones away at Team USA's training ground in Winter Park, Colorado. 
"I train four to six hours a day and every ounce of me wants to keep training and do as good as I can because I know that they're racing. The most simple way to put it is races are the best training that you can ever have and I need to train 100 hours compared to one World Cup race just to even be on the same level and I'm fully aware of that."
The USA team - which is made up of four athletes at the Leogang World Cup - travelled to train on the European glaciers in October. But as the pandemic escalated and countries started to close their borders, they made the decision to return to the United States, cutting their original trip almost by half. 
Travel concerns also prevented the USA athletes from participating in earlier World Cup events.
Once cleared to travel, Kurka's initial plan was to use World Cup in Leogang as a warm-up to the speed races at the World Cup finals in Yuzhno-Sakhalinsk, Russia. But the competition in Russia was later cancelled.
This put Kurka, whose specialties are downhill and super-G, in an unexpected position of racing only in technical events at this season's World Cup. However, after training and racing only at home, Kurka is thrilled to get any international racing he can.
"I can keep gaging [my form] against the people in the United States, but no one can even get close to me, so it's really hard to gage it. Between beating someone by eight seconds and beating someone by 10 seconds, doesn't really let me know how much better I'm getting," he said. "I need to get on the World Cup scene, even if it's just for a minute, so I can gage exactly what I need."
Fierce competition
International racing experience is particularly critical for the defending Paralympic downhill champion with the Beijing 2022 Paralympic Winter Games slightly over a year away.
"Every morning I wake up and I'm like, oh, man, it's almost here," he said. "I hope to be able to defend my downhill title in Beijing."
As for the upcoming races in Leogang, Kurka is eyeing Dutch sit skier and current giant slalom leader Jeroen Kampschreur as his main competition.
"He's a very technical, sound skier," Kurka said. "He's the one person that I learn from when it comes to my technical skiing."
In addition to Kampschreur, Kurka can expect tough competition from Paralympic giant slalom champion Jesper Pedersen of Norway, Italy's Rene de Silvestro and another Dutch skier Niels de Langen. All three won medals at the earlier World Cup technical races.
Undefeated streaks in jeopardy
Like her teammate Kurka, Laurie Stephens is competing at her season's first World Cup in Leogang. The overall Crystal Globe winner in the women's sitting class last season, she will be a tough rival for Germany's Anna-Lena Forster, who remains unbeaten so far.
Forster's teammates, Anna-Maria Rieder and Andrea Rothfuss, are expected to dominate the women's standing class. 
Hyacinthe Deleplace and guide Maxime Jourdan, who surprised the field with a clean sweep in the downhill races at the World Cup in Saalbach, Austria, will be trying to repeat this success in Leogang. 
This time the French duo will race against Austria's 15-year-old Johannes Aigner and his guide Matteo Fleschmann, and Great Britain's Neil Simpson, who is skiing with new guide Lachlan Veitch instead of his long-term guide, brother Andrew.
Fellow British skier Millie Knight and her guide Brett Wild are returning to the World Cup after winning bronze in giant slalom in Veysonnaz, Switzerland. With Austria's Veronika Aigner recovering from a double knee injury, Knight's main competition will be Germany's Noemi Ristau and guide Paula Brenzel.
In the men's standing class, the races in Leogang will decide if France's Arthur Bauchet remains undefeated in the technical events this season. Switzerland's Theo Gmur, Russia's Aleksei Bugaev and Austria's Markus Salcher will be at the starting gates to try and break that winning streak. 
Live results from the World Cup races in Leogang, Austria are available on the World Para Alpine Skiing website.