Arthur Bauchet and Jeroen Kampschreur golden return to where it all started
Nine-time Paralympic champion Henrieta Farkasova makes winning comeback after serious injury
19 Dec 2020
Imagen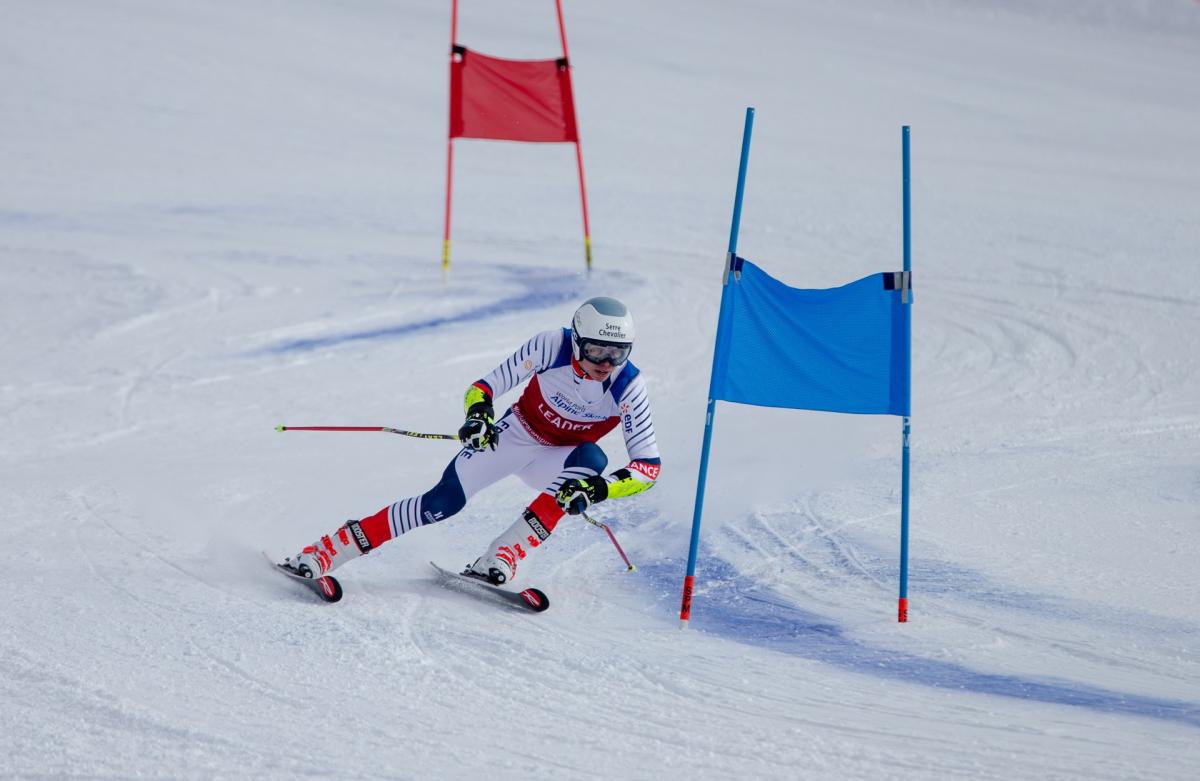 ⒸKim Yury
By Lena Smirnova | For World Para Snow Sports
Arthur Bauchet and Jeroen Kampschreur made more memories at the Swiss ski resort where they each got their first World Cup victories as they dazzled with another golden flourish following four days of Europa Cup races.
St. Moritz, Switzerland hosted the third stage of the 2020-21 Europa Cup from 16 to 19 December. Two giant slalom and two slalom races were held as part of the event.
France's Arthur Bauchet swept gold in the men's standing class in what was his first major race of the season. There was a different runner up in each of the four races - Austria's Nico Pajantschitsch and Thomas Grochar, Russia's Aleksei Bugaev and fellow Frenchman Jordan Broisin all finished within 10 seconds of last season's overall Crystal Globe winner.
"I was waiting to race since the end of last season so it was really cool to feel the race sensation again," Bauchet said. "The silver medallist was different each time and that shows the level of the competition. The rivalry is really great. It's hard, but to know that there are a lot of people who fight for the podium with only three places is great motivation to train harder and to try to stay at the top as long as possible."
Bauchet raced and won his first World Cups in St. Moritz in 2016. Another athlete with a special connection to the Swiss resort is Dutch sit skier Jeroen Kampschreur.
Kampschreur won three gold medals in the recent Europa Cup races, which as for Bauchet, were also his first major races in the 2020-21 season.
"St. Moritz is where I won my first World Cup in 2017 so it's always good to be back here," Kampschreur said. "I'm very happy with the results. When you don't race for a long time, it's always a question mark how much the other athletes improve. To be able to win two gold medals is a great feeling and a confirmation of the hard work I put into my physical and mental state this summer. And one DNF to prove that I'm always skiing on the edge!"
Kampschreur was expected to be one of this season's biggest stars with Lillehammer, Norway hosting the 2021 World Para Snow Sports Championships. The Dutch athlete would be defending five world titles at the event. However, with the championships rescheduled to early 2022 due to coronavirus, Kampschreur had to change his focus. 
"There's a lot of pressure on me since I have all five medals to defend at the World Championships," he said. "I will use this season as a god preparation year for 2022 when the World Championships and Paralympics are scheduled. That's the year where I'll have to be at my best and this keeps me motivated to keep working very hard."
Farkasova returns
Fellow five-time world champion, Marie Bochet of France, also won three gold medals in St. Moritz as well as a silver, with Germany's Anna-Maria Rieder and Andrea Rothfuss rounding off the women's standing podium on three occasions. 
Their German teammate, Anna-Lena Forster, continued her golden streak from the previous Europa Cups and now has a perfect tally of eight gold medals in eight women's sitting races.
Nine-time Paralympic champion Henrieta Farkasova of Slovakia made her return to the Para alpine circuit in St. Moritz after an almost two-year absence. Farkasova, who got a serious leg injury during the 2019 World Para Alpine Skiing Championships in February, won three gold and a silver, skiing with new guide Michal Cerven.
"I had long break from skiing and competing. For a long time I had problems with my knee. It was my first day [back] here and before the first race, I was so nervous, more than at the Paralympic Winter Games, but it is a nice feeling to be back. I am satisfied with my results here, but I need more training because I can see the strength of my rivals," Farkasova said.
"My new guide Michal was my [ski technician], and our cooperation is very good. We are still in the process of connecting, but it is going well so far. He is not as noisy as my former guide on the slope."
Their teammates, Paralympic champions Jakub Krako and guide Branislav Brozman, took one silver and two bronze medals after also stepping back from major racing since February 2019. 
Meanwhile, 15-year-old Johannes Aigner once again swept gold in the men's vision impaired to follow on his triumph at the home Europa Cup races in Resterhohe and Kaunertal, Austria.
The next Europa Cup race will take place in Veysonnaz, Switzerland. Prior to this, the athletes will race in four speed events at the season's first World Cup, to be held in Saalbach, Austria from 9 to 15 January.