Jakub Krako and the taming of the rogue guide
Slovakia's Paralympic champion teaching valuable skills to partner Branislav Brozman
13 Dec 2020
Imagen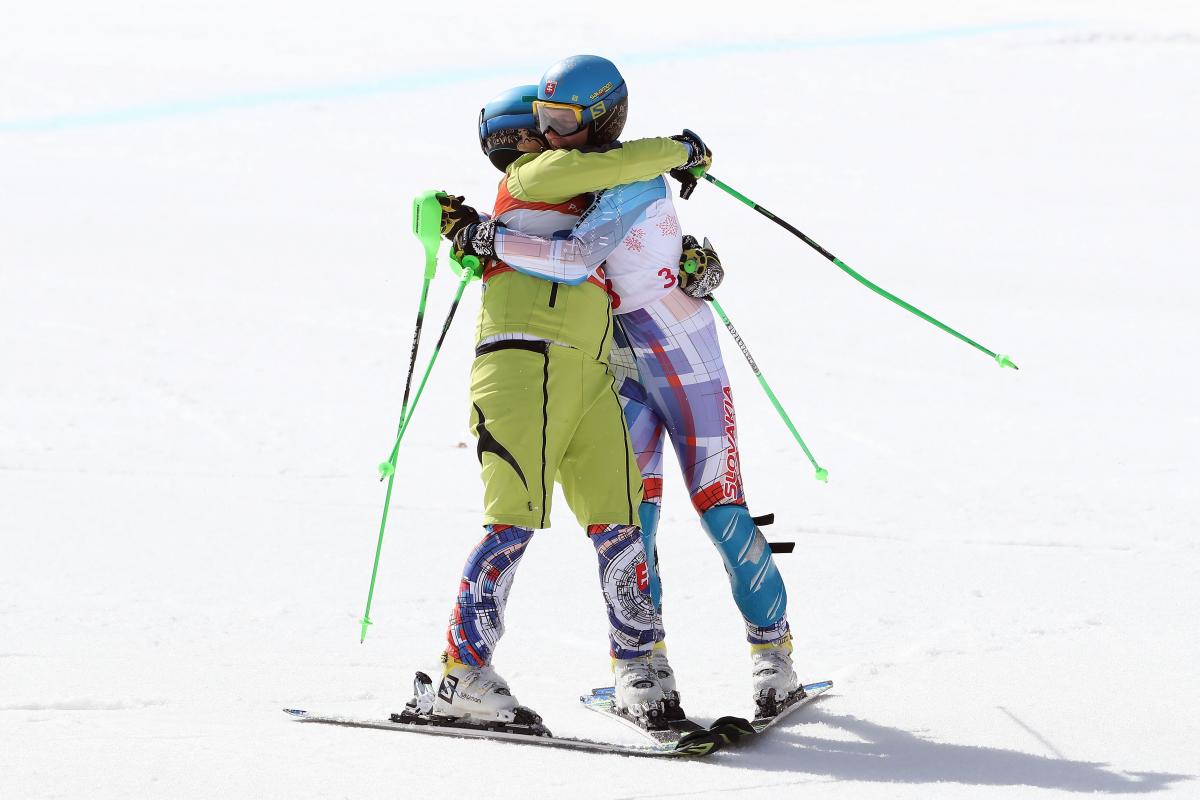 ⒸChung Sung-Jun/Getty Images
By Lena Smirnova | For World Para Snow Sports
Headstrong alpine racer Branislav Brozman had a habit of taking off all breaks when he raced down the slopes. Unfortunately for the 24-year-old Slovak athlete, this rebellious skiing style often led to him messing up and not placing well in competitions.
That is, until he started working with a much more tranquil vision impaired skier Jakub Krako. 
With 10 Paralympic medals and more than two decades of experience behind his back, not only did Krako manage to tame his daredevil guide, but also taught him a handful of valuable skills to make him a better overall skier. 
Watch where you're going
Brozman has never served as a guide to a vision impaired skier until five years ago when he teamed up with Slovakia's five-time Paralympic champion Krako. 
The partnership was a change of pace for Brozman. Now instead of going out full-speed in his races, he is forced to be more attentive to the course and its potential pitfalls. 
"It depends on the discipline," Brozman said of the details he communicates to Krako through their headsets during the race. 
"In slalom we don't have much time so one gate before the finish I say a short 'op' but in giant slalom it's 'ooooop' and in super-G and downhill, I want to describe the whole course. 'We have one gate to the jump. Three, two, one, jump.' And when he has to start the turn, 'Now turn, now go down, and now point the skis and go straight ahead,' and so on."
In addition to competing on the Para alpine circuit, Brozman continues to race in able-bodied FIS competitions. Not usually known for being cautious on the course, Brozman has noticed a welcome change to his racing since skiing with Krako. 
"He has the best race points in slalom in his life after he started skiing with me," 30-year-old Krako, who holds two world titles in the discipline, said with pride.
With a world champion on his heels, Brozman has had to improve his own skiing as well.
"I think that the guide always has to be one better than his athlete because when he does a perfect turn, you have to be faster," Brozman said. "In one second, I have to go. I can't stop him.
"When I was a racer, I would always go full gas and I made a lot of mistakes. Now I changed my mind a little bit. I do the turns better and I'm faster than [six] years ago."
Repaying in wax
Not one to stay in debt, Brozman found a unique, skiing-inspired way of repaying Krako for making him a better racer.
"He's really good at preparing skis," Krako said of his guide's regular signs of gratitude.
While Krako's routine on the night before a major race consists of eating meat and going to sleep early, Brozman's ritual includes one extra, well-ingrained activity.
"I eat, sleep and then I go to the ski room and prepare skis for another race," Brozman said.
Almost all of the guides on the Slovakian Para alpine team prepare skis for themselves and their athletes, but Brozman's craftsmanship stands out above the rest.
Having studied meticulously how Krako likes his skis, Brozman is now able to match these specifications to perfection.
"I love this job. As a racer I had to prepare my own skis, so when I became a guide, I started to do his skis and my skis," Brozman said. 
"I always prepare his skis a little bit better. I think his skis are a little bit faster," he added. "There is a difference. Jakub always has two sets of skis and I have one. One set for him is perfectly prepared, and the second he has for free skiing and inspection."
Brozman's careful preparation of the skis helped the pair to win a gold and three silver medals at the PyeongChang 2018 Paralympic Winter Games, as well as two silver and a bronze at the 2019 World Para Alpine Skiing Championships. 
And this perfect ski waxing is not knowledge that Brozman is willing to part with easily.  
"I asked him for PyeongChang if he would give the team some info about waxing and the service of the skis, and he said, 'No, those are my skis! Don't touch!'," Krako recalled with a laugh.