Elton John's classic inspires Patrick Jensen to podium
Australian Para alpine skier and former professional drummer rockets to success in his third World Cup season
24 Jul 2020
Imagen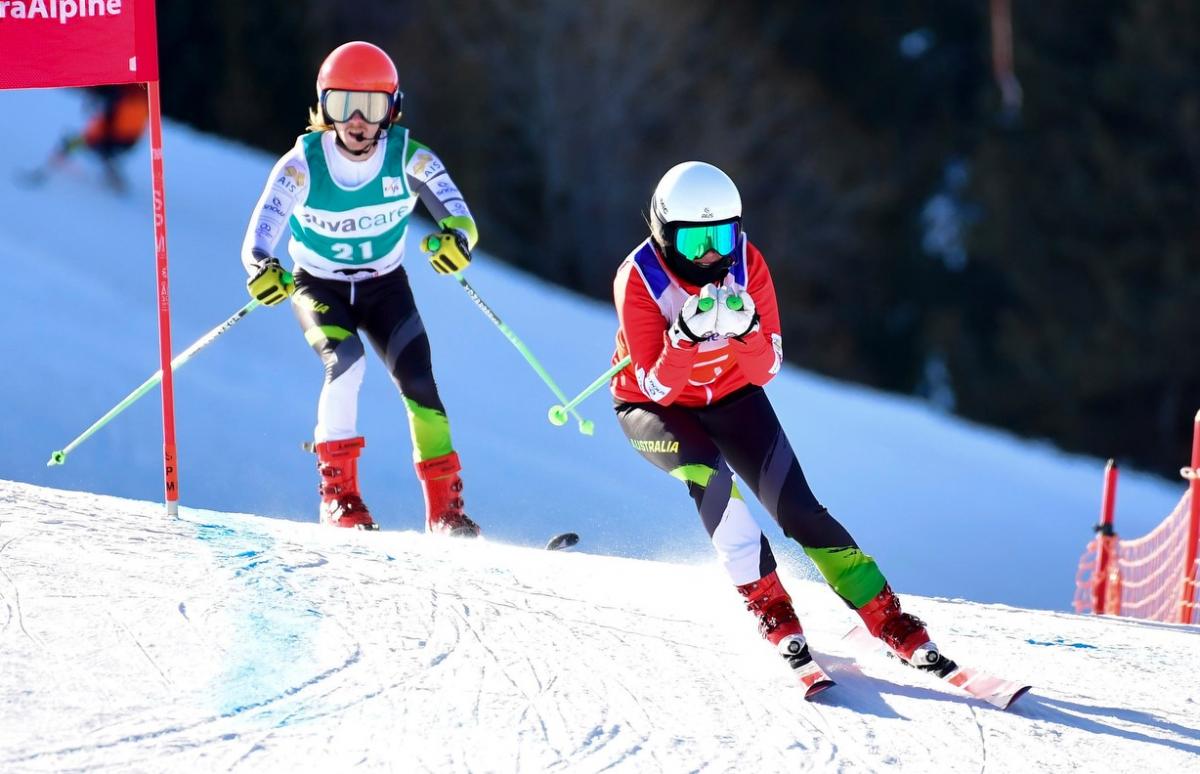 ⒸLuc Percival for World Para Snow Sports
By Lena Smirnova | For World Para Snow Sports
As the sun blazes down on Newcastle's golden beaches in eastern Australia, Patrick Jensen's family and friends gather in a local pub to watch him race down a snow-covered mountain slope halfway around the world.
Cheers and lively chatter pump up the pub's atmosphere. The scenery is a fitting one for a celebration of the 24-year-old athlete. He and his bandmates used to be a regular act at the pubs when Jensen was a full-time musician.
And while now sport is Jensen's main pursuit, music remains a big part of his life, especially on the slopes.
Across the universe
Jensen knows countless songs by heart. More than a homage to his love for music, memorisation was a necessity since he was born with a vision impairment.
"It was quite challenging for a couple of years because I can't see the sheet music. It was all by ear, and it felt like a very draining, long time to learn," he said. "With drums, I could usually listen to a song a couple of times and be OK to play it. Remembering the sections of the songs is the hard bit."
Jensen started playing drums in high school. When a group of local musicians heard he played the instrument, they invited him into their band, 'George Booth'. Their repertoire - mostly Top 40s pop rock - is etched in Jensen's memory from the band's numerous pub gigs. 
His own musical preferences have no limits. From Newcastle's own Silverchair to country music and jazz, Jensen says he will listen - and play - anything.
"I loved playing jazz music," he said. "It was very, very difficult and rhythmical. Learning it was probably the hardest genre of music I could learn, and I liked the challenge."
Much like jazz improvisation, alpine skiing came into Jensen's life in a spontaneous way. At the end of his high school studies, in 2014, he was invited to a talent identification camp at Australia's Perisher ski resort. 
Learning of the offer, his careers advisor gave him an ultimatum - go to the camp or forget graduating from school. 
"I didn't know anything about skiing, so I thought I'd try it," Jensen said. "It was kind of joke at first. I thought, 'What's the most expensive sport that I could do?' I saw skiing there and I thought, my dad loved skiing as a kid and he always told me I'd like it so I tried it and loved it straight away and haven't looked back since."
At Perisher, Jensen met the coach of the Australian team who then invited him to a training camp in Austria, this time 16,000 kilometres away from home. Three years later, the drummer made his debut on the World Para Alpine Skiing Cup circuit.
Jensen has put in extra training hours ahead of the 2019-20 season, including skiing a full month with national coach Ryan Pearl doubling as his guide. The effort paid off with Jensen winning his first World Cup medal - a bronze in the season's opening race in Veysonnaz, Switzerland.
"It was pretty exciting," Jensen said of winning a medal in the men's vision impaired Super G with new guide Amelia Hodgson. "I didn't expect that this season and hopefully there's more to come."
Rocketman
While Jensen now picks up ski poles more often than drum sticks, music is still part of his life. He plays drums whenever he is at home, and listens to music non-stop when he is on the road.
"I'm listening to music probably 10 hours of the day and then constantly listening to new music when I'm at home. All of my friends are musicians so I'm always hanging out in the music scene and constantly taking their guitars and drums, whatever I can, annoying them all," Jensen said. 
"I get GarageBand on my phone, so I'm constantly making random sounds with my phone, making songs out of it, annoying whoever I'm rooming with, which is always Sam [Tait]. He's a very patient teammate."
More than a hobby, music serves as Jensen's trusty aide when it comes to skiing. 
"It is the rhythm," he explained. "With any course, there's always a rhythm to it. Calling with my guide, there's always a rhythm to her calling. I think having the timing of growing up as a musician can definitely help."
As for many athletes, music is also part of Jensen's pre-race routine. While his race day choices depend on his mood, one track has been coming up again and again over the past season - Elton's John's upbeat classic "I'm still standing".
A major hit in the Northern and Southern hemispheres alike, the song perfectly conveys the feisty spirit of the full-time musician turned world-class athlete.
"They were a bit bewildered by it at first, but I think they've all grown to realise that's me now, that's my life," Jensen said of how his family and friends reacted to his transformation. "Whenever they can watch [a race], they watch it, cheer on at the pub. They get the projector at our local pub to put it on and have a party."