Aigner sisters make skiing family proud
Austria's Veronika and Elisabeth Aigner finish second year on World Cup circuit with perfect record
27 Jun 2020
Imagen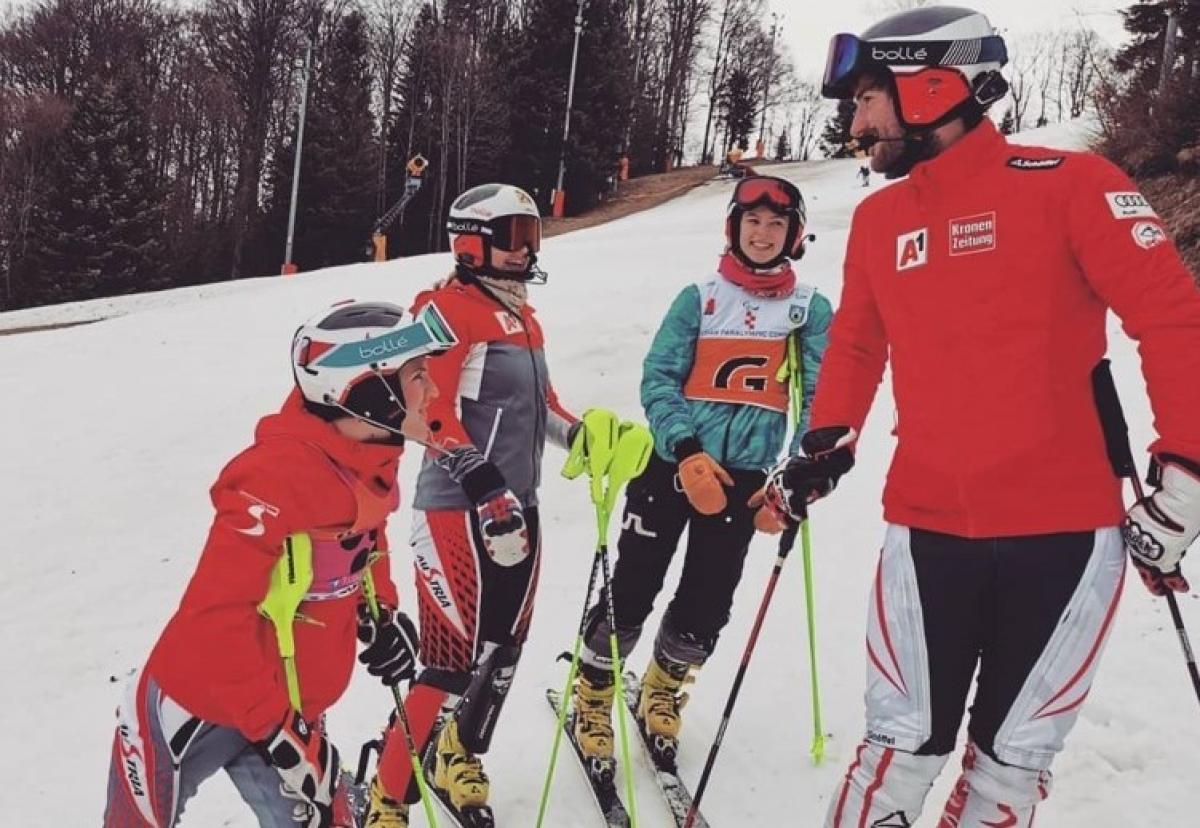 ⒸTeam Aigner Instagram
By Lena Smirnova | For World Para Snow Sports
It is hard to find a skier and guide as connected as Veronika and Elisabeth Aigner. From their matching neck warmers to their speedy skis, the Austrian sisters have caused a sensation since making their World Cup debut in the 2018-19 season.
For their second season, the sisters started off with a clean golden record in all their races and, if not for Veronika's early injury and cancelled World Cup finals, were likely to claim at least one Crystal Globe in the women's vision impaired class.
But there is more to the Aigner phenomenon than the two skiers who have taken the Para alpine circuit by storm. Veronika and Elisabeth are among five siblings, three of which have visual impairments, same as their mother. 
All five children are avid skiers and have already made a mark at national or international competitions.
Childhood on skis
The Aigner children's most cherished medals and trophies are displayed on a shelf at the family's home in Gloggnitz, a small town an hour's drive from Vienna.
The town's proximity to the mountains and the parents' passion for alpine skiing ensured that their four daughters and one son put their skies on at an early age. 
Veronika started skiing before she was 2 years old, and was competing in Para alpine races by age 9.
"I was very excited about skiing and always had fun with it," she said. "I wanted to be on the skis all the time. Little by little I got better and better, and I started racing."
At first, she skied without a guide, but as her eyesight deteriorated, Veronika turned to her older sisters for help.
"One problem was my eyes, the other was my speed," Veronika Aigner said. "As a result, I no longer recognised the gates when they came. After several failures, I noticed that a guide had a lot of positive things to offer me. I could ski faster. I wouldn't crash into people anymore and it was much more fun to ski in pairs."
Born with cataracts, Veronika relies on a guide to describe the slope and course setting to her, and to give her the line during a race.
Veronika's eldest sister Irmgard initially served as her guide. Elisabeth, who is five years older, took over after wrapping up her individual skiing career. She previously competed in FIS races for three years. 
Elisabeth completed her guide training and soon the two sisters were flying down the mountain slopes together, one calling out instructions and the other following closely behind.
"I learned it during guide training," Elisabeth said. "Afterwards I drove all the trainings with my sister, and I felt so connected to her, on pace, speed, radius and communications." 
The sisters were an immediate success from their first World Cup race in Zagreb, Croatia in January 2019.
They swept gold in the two slalom races, but could not compete at the 2019 World Para Alpine Skiing Championships, which were held the week after because 15-year-old Veronika was too young to qualify.
Undeterred, the Aigners resumed their winning ways as soon as they made their return to the World Cup circuit in March. They finished their debut season with a total of five gold medals and the overall Crystal Globe in slalom. 
"It is very relaxed between me and Lisi and if something should not fit, we tell it to ourselves," Veronika said of the pair's success. "We talk about problems together or what worries us. But in general, we are a very well-coordinated team and we will not separate so quickly."
The Aigners also started their second World Cup season in triumphant fashion, winning all of their six races. 
However, Veronika's injury in January and an abrupt end to the 2019-20 season due to the COVID-19 outbreak put an end to their hopes of getting another Crystal Globe.
"The [slalom] Crystal Globe meant a lot to us. It shows me and my sister that we have already achieved something great," Veronika said. "Unfortunately, we could not get any more this year, but we will attack again next year."
Family hearth
 
Raising five children who practise an expensive sport like alpine skiing was no easy task for their parents, Christian and Petra. 
In addition to Irmgard, Elisabeth and Veronika, the youngest of the Aigner siblings, twins Johannes and Barbara, have also competed in Para alpine races at the national level.
"They sacrificed a great deal of money, what they spent on skiing for us. With this money we could go on a trip around the world every year," Veronika said. "That's a lot of money that goes into skiing. This also costs a lot of nerves, and hours by car. 
"I am deeply grateful to them from the bottom of my heart and I love them for the fact that they are always behind us."
Aside from skiing, the family also has a passion for horses. The Aigners keep several horses at their country house and go riding together. 
Such horseback riding trips have become even more frequent for Veronika this spring with the coronavirus restricting travel and taking her school studies online.
"Sometimes we argue, but that is part of a family," Veronika said of her big clan. "When it comes down to it, the whole Aigner family stays together. But on the whole it is very funny in my family and sometimes crazy."