Two wild rides transformed Arly Velasquez's life
Mexico's sole Winter Paralympian looks back at at a ten-year career on snowy mountains
05 Jun 2020
Imagen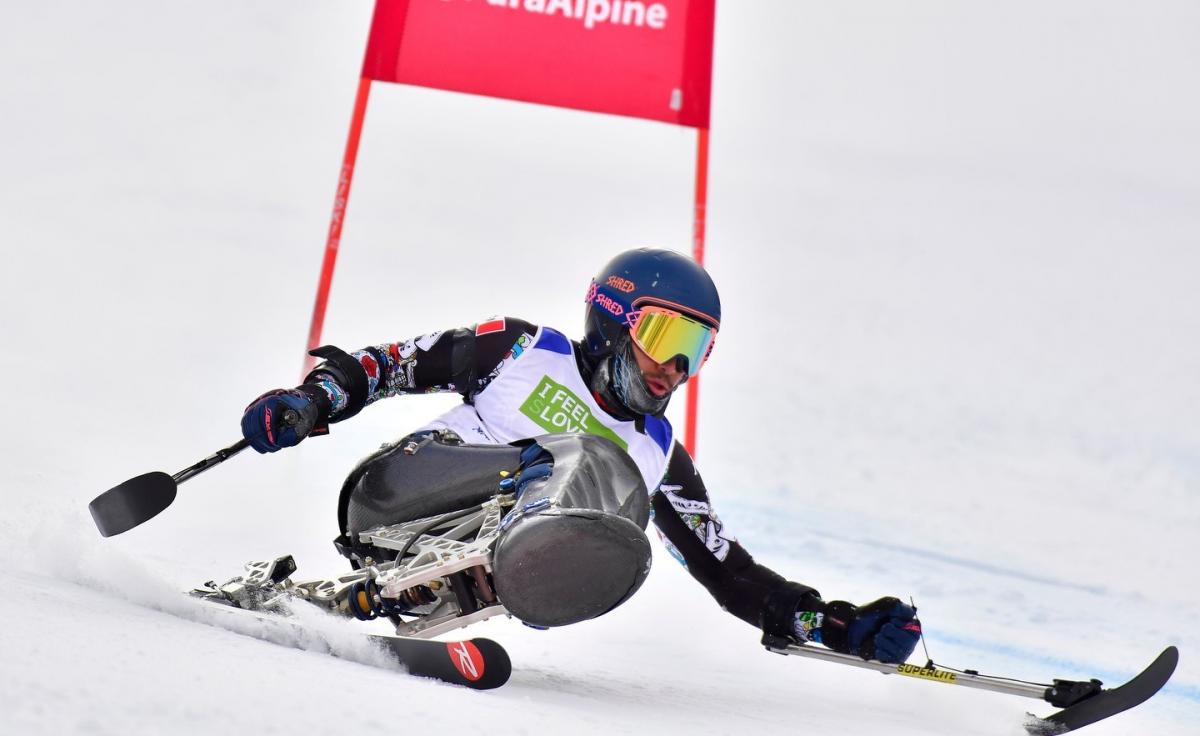 ⒸLuc Percival for World Para Snow Sports
By Lena Smirnova | For World Para Snow Sports
A truck is going down a winding road, bound for the snowy valleys of Park City, Utah in USA. 
In 14 hours, Arly Velasquez – teenage mountain bike sensation and apprentice alpine skier – will be at his destination, far from the sunny beaches of hometown Cancun. His house is a lot emptier than several weeks ago when he sold his possessions and embarked on the journey of becoming Mexico's second ever Winter Paralympian. 
In 14 months, Velasquez will be making his Paralympic debut at the Vancouver 2010 Games, with two more Paralympic appearances to follow.
Looking back on his decade in Para alpine skiing, Velasquez is still struck by the significance of that road trip undertaken in February 2009 and his first ride in a mono-ski only a month earlier. 
"For sure after 10 years I can say that I am a better man because this sport has really pulled it out of me," Velasquez said. "If I want to keep going, if I want to keep being competitive, it demands it."
Call of the wild
Born in one of the world's top beach destinations, Velasquez ended up being drawn to a different kind of scenery. Instead of Cancun's breathtaking coastline, it was the mountains that made his heart thud faster.
As a teenager, Velasquez took up mountain biking and became an instant success. At age 12, he was crowned junior champion. Even more impressive, his race time would have put him among the Top 5 of the most senior Mexican riders. 
With podiums came interest from international sponsors. The spunky teenager was hailed as the next big star, but a tumble down the mountainside in 2001, broke his back and put an end to his dazzling, two-year sports career. 
After three years of rehabilitation, Velasquez channelled his energy into a plethora of Paralympic sports, including athletics, basketball, swimming, tennis, and powerlifting, but nothing clicked. 
Until New Year's Day 2009. 
Velasquez was on vacation in Banff, Canada and vaguely recalled that there is a sport where people go down the mountain on "a kind of ski bike on snow". 
He decided to give it a try, and as fellow holidayers launched into a long night of New Year's celebrations, Velasquez made preparations for his ski training at the earliest, 9 am time spot the next morning.  
The new day - and year - began with a weather alert as temperatures dipped to -43 Celsius. Undeterred, Velasquez went to his lesson. A few hours later he was "almost crying" as he took the gondola down, his body frozen and his heart filled with joy.
"Going down the gondola I was saying, 'I think I found a place where I want to spend my life'," Velasquez said. "It's a lot to do with the mountains because the mountains are my second home. There will always be one place where we feel at home and, in some way, I feel at home on the mountains."
Velasquez's competitive spirit did not take long to kick in. The next day he switched from a dual ski to a mono-ski because he learned that the dual is not used in competitions.
His instructors cautioned that he needed at least a week on the dual ski before the switch, but Velasquez went all in and felt the full weight of their warning as he took one tumble after another.
"I didn't make it one run," Velasquez recalled with a laugh. "I was pretty much on the floor the whole time, but I was determined to learn."
When his vacation was over, Velasquez returned to Mexico, quickly sold his car and possessions, took out his savings, and headed back north. Once at the border, he bought an old truck and drove to Utah to continue his training.
Ski resorts in New Zealand and Colorado also made his long list of journeys in 2009 as Velasquez chased winter across the northern and summer hemispheres. 
"For the first two years and a half, I was pretty much on the floor. I'm not going to lie, it was tough," Velasquez said. "I was hanging on a net from a cliff. The ski patrol saved me more than two or three times. I ended up in the hospital a few times, coughing blood in the snow. A lot of things happened, but I guess that my passion was bigger than my fears."
Flashing lights
Velasquez had a clear goal in mind when he undertook this arduous journey of learning how to ski. 
"On the first day, I was like, 'hey, is this competitive?' 'No, the mono ski'. 'OK, how far can you can go?' 'The Paralympics'. 'When is that?' 'Vancouver 2010', so 14 months away. 'OK, I'm going there'. And I achieved it," Velasquez said.
He made it to the 2010 Paralympic Winter Games as a wild card and finished both races. Four years later, Velasquez donned a glittering sombrero and carried his nation's flag at the Opening Ceremony of Sochi 2014 as the sole competitor from Mexico. 

He repeated these roles, as flagbearer and sole athlete, at PyeongChang 2018. 
Velasquez faces more obstacles than most to get to competitions in which he usually features as a "one-man show". That is, he serves as his own team manager, ski technician, and coach. 
When he has more funds, Velasquez sponsors his friends to come help him with the preparations as well as to film his journey.
These videos are key. Educated in film direction, Velasquez puts a lot of effort into documenting his efforts in order to attract potential sponsors and gain visibility.
"At the beginning, for many years, a lot of people in Mexico thought that I was going for holidays. And I was like, 'I cannot show you videos or pictures, but I'm pretty sure that this is nothing like a holiday'," Velasquez said. "They didn't quite understand until [my friend] was recording and showing what is really happening." 
With his social media channels getting thousands of followers, Velasquez set up his own production company a few years ago to promote fellow athletes through similar videos and collaborations with prominent brands. 
"I am not the best athlete that Mexico has, that is for sure, but I am sure that I am the most visible athlete at this point in Mexico," the skier said. "I would love to be 50, 60 years old and say, 'I helped for the visibility of others to change'. That is my dream."