Zatovicova finds new life as a racer guiding blind skier Kubacka
Slovakian world champion pair has a strong bond on and off the snow
26 Jan 2020
Imagen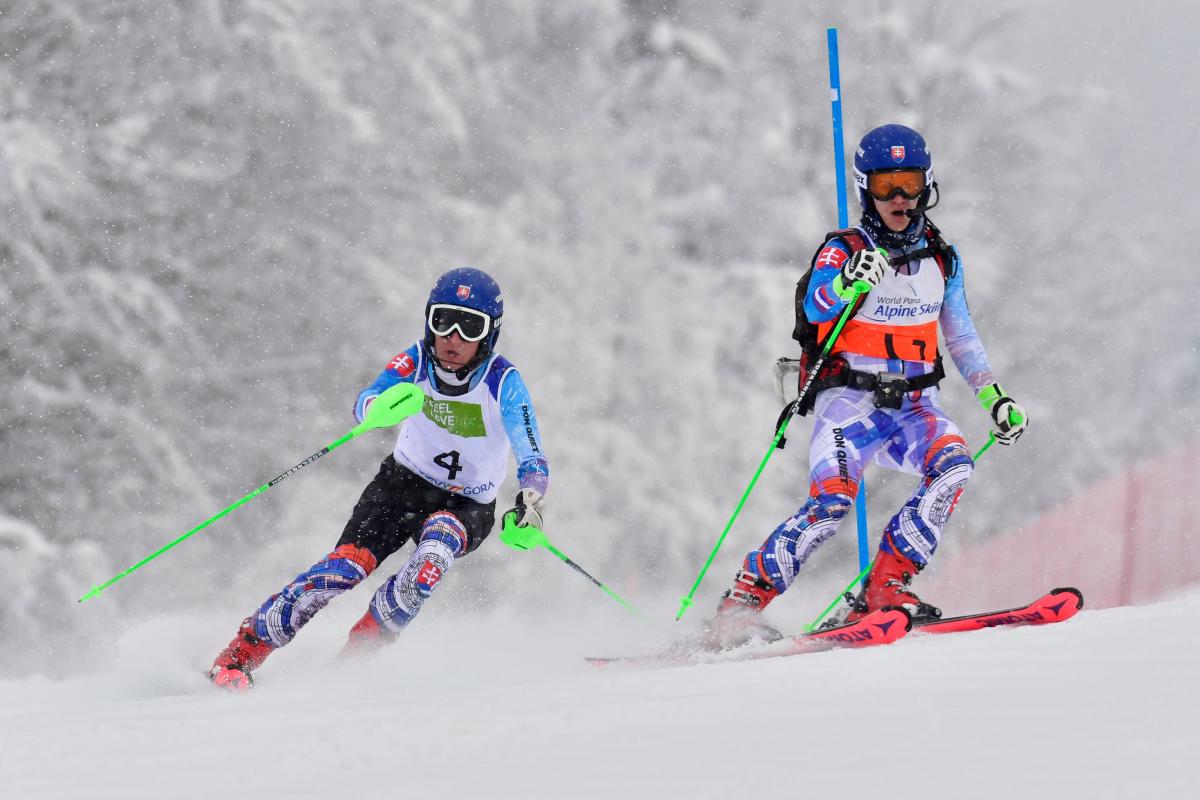 ⒸLuc Percival for World Para Snow Sports
By Lena Smirnova | For World Para Snow Sports
Maria Zatovicova makes her way down a steep run, weaving between the gates while shouting commands through a voice box attached to her back.
Her voice can be heard by every skier on the piste, sometimes to their annoyance. But that annoyance disappears when they realise that the man skiing behind her cannot see and is navigating through the course only with the help of her spoken instructions.
For the last five years Zatovicova has been a guide to world giant slalom champion and last season's giant slalom Crystal Globe winner Marek Kubacka. 
The Slovak skier was blinded at age nine when a spray can exploded in his face at a barbecue.
"I love when I can ski fast, the freedom when I am on the skis," Kubacka said. "I like the people around because they are very supportive and we are really a good group here."
Kubacka is the only male B1 skier at the World Para Alpine Skiing World Cup, unlike his fellow competitors whose vision impairments are not as severe, and it is his pairing with Zatovicova that has brought the two so much success in recent competitions.
From skier to guide
Zatovicova was a promising alpine skier as a child, even making it on Slovakia's national team. But soon the sport became too expensive for her parents to fund and she was forced to finish her competitive career.
Eager to stay in the sport she loved, Zatovicova jumped on the opportunity to become a guide for vision impaired skiers. At age 14 she began guiding Slovakia's Miroslav Haraus, the overall Crystal Globe winner from last season. 
"I could not imagine just stopping skiing because I was on the competitive circuit of racing," Zatovicova said. "I just wanted to ski and I wanted to race, but my parents did not have the money so I couldn't keep doing it."
Zatovicova continued to ski with Haraus for two seasons, but when she stepped in as a substitute for Kubacka's injured guide in 2015, the coaches immediately noticed the chemistry between them and urged them to continue skiing together.
Skiing in the dark
Kubacka skied as a child and took up the sport again less than a year after losing his sight.
Until Zatovicova herself saw Kubacka ski, she could not believe what he was doing was possible. She tried skiing with a blindfold to experience what it is like to race without sight, but even skiing on a flat slope left her shaken up.
"I tried it once. I borrowed his goggles and the guide he had before me was guiding me, but I could not make a turn. I was really afraid," she said. "He said, 'just follow my voice', and I heard his voice all around me.
"I was afraid. I did not feel comfortable when I cannot see so I admire [Marek] very, very much."
Kubacka, too, is hesitant to race some disciplines because of his condition. His signature is giant slalom and he is starting to make progress in super-G. Slalom is more challenging, however, because he needs to turn very quickly. 
"It is really hard to keep the contact between us when it is fast and straight," Zatovicova explained. "Downhill is too straight for him so he cannot hear the turns."
Guide on and off the course
Zatovicova and Kubacka are always within a gate of each other when going down the slope. Aside from giving instructions through the voice box on her back, Zatovicova regularly turns around to see how close Kubacka is. 
The pair are also nearly inseparable off the piste. Because of his lack of sight, Kubacka relies on Zatovicova's guidance in some daily activities.
"I got used to it, but at first I was very tired. Not physically, but mentally tired because I had to be with him all the time, every day, but now it is fine. We talk to each other a lot, and I tell him everything and he tells me everything. There is a trust between us which is very important for him," Zatovicova said.
Golden moment
The two ski friends celebrated the biggest victory of their careers to date a year ago in Kranjska Gora, Slovenia when Kubacka won gold in giant slalom at the 2019 World Para Alpine Skiing Championships. 
"For Marek it means all because he has been skiing for 17 years and he never had a medal, he never had a podium so this gold medal meant everything for him," said Zatovicova, who shared the joy of the world championship title. 
"I think this means more to me because we are working together and it is also mine and also his," she added about how this medal compares to those she won in her individual racing career. 
Zatovicova is working on a physiology degree when not skiing, but cannot imagine her life without the Para Alpine circuit.
"I hope I can stay here as long as I can because I love it," she said. "I do not want to be anywhere else. This is all for me."