World champion Kampschreur throttles to season's first gold on lucky hill
Last Para alpine skiing World Cup stop in January packed with personal milestones
24 Jan 2020
Imagen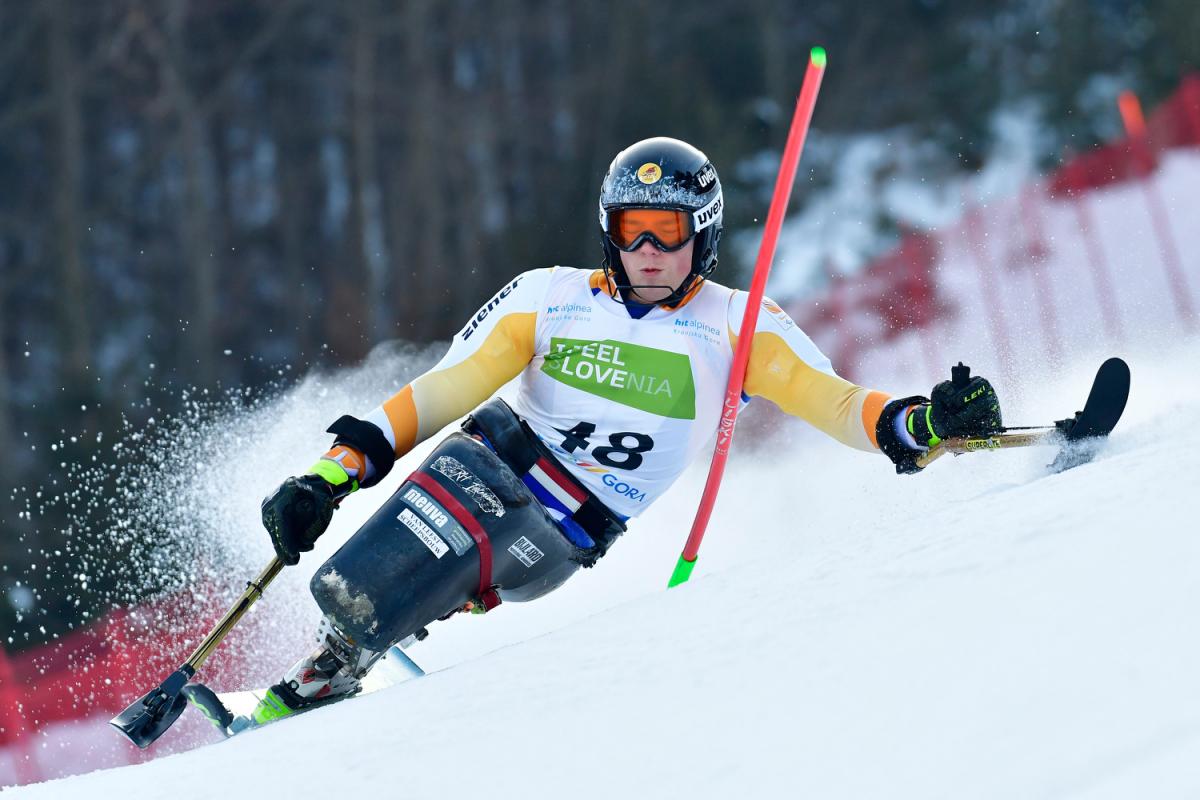 ⒸLuc Percival for World Para Snow Sports
By Lena Smirnova | For World Para Alpine Skiing
A full-throttle performance put eight-time world champion Jeroen Kampschreur back on top of the World Cup podium at Kranjska Gora, Slovenia - the same slope where the Dutch skier has enjoyed some of his career's most memorable victories.
"It was a relief. After two weeks it started to annoy me a little bit because I was skiing really well," Kampschreur said of getting three gold medals in the giant slalom and slalom events that were held in Slovenia from 20-23 January.
Kampschreur had come close to gold at the two earlier World Cups, in Veysonnaz, Switzerland and Prato Nevoso, Italy, but always fell just short. He picked up three silver and three bronze in those eight races, often behind his toughest rival, Norway's Jesper Pedersen.
"Jesper was just faster all the time, just a little bit," Kampschreur said. "Sometimes he got me with more than a second and I'm like, OK, but sometimes five-hundreds, it's so close, and then you know you're able to do it so it's a big relief to crush it here."
In his haste to get the gold, the usually consistent Kampschreur pushed the limits and sometimes went over the edge, resulting in unfinished races.
"I'm really eager to win and if sometimes I cannot do it in the style I usually do it, I'll just give some extra throttle and my times get better, but the risk of DNF'ing also gets bigger," Kampschreur said. "But I think it just makes me a better skier because I'm looking for that edge all the time and if I can make this skiing more consistent, I can be faster in general."
As often in his career, Kranjska Gora proved to be the lucky break for Kampschreur. The 20-year-old won his first World Cup medal on this slope when he was 16 and also started his gold medal sweep at the 2019 World Para Alpine Skiing Championships here.
To top it off, his ski technician, Rok Svetina, is Slovenian and knows the hill by heart.
While the steep, icy slope has caused plenty of crashes during the four-day World Cup competition, Kampschreur is still just as enamoured with it.
"It's my favourite hill," Kampschreur said. "I remember driving over here the first time and seeing that last pitch and I was like, 'oooh, that's scary', but that's my thing. I've grown a lot now so it's not scary anymore, but it's still my thing."
Kampschreur was joined on the podium by his teammate Niels de Langen with a bronze in two giant slalom races, while Pedersen picked up a gold and three silver.
Winner takes it all
Skiing's multi-tasker Ebba Aarsjoe won two gold in Kranjska Gora to add even more unpredictability to the exciting women's standing class this season.
The Swedish youngster is combining competitions on the able-bodied and Para Alpine circuits. After a shaky start to her Para Alpine season, with a DNF in the first race, Aarsjoe took two golds back-to-back in the following giant slalom events.
"This year it's mostly about trying to fit in Para and FIS," Aarsjoe said. "I've always competed in FIS my whole life, now this is kind of new. I'm planning to do both, so we'll see how that works."
Meanwhile, last season's undefeated leader, Marie Bochet of France, finished with a gold in slalom and two bronze in giant slalom.
"When you looked at our class before, Marie Bochet was winning all the time, but now it is interesting," said Russia's Varvara Voronchikhina who finished the Kranjska Gora races with two silver and one bronze.
"Now it is more interesting for the spectators and it is more interesting for us. We are motivated to win. We have the motivation to ski better and because of this all the results are very tight."
On the chase
There were quite a few shuffles in the always competitive men's standing field as well. While the overall Crystal Globe winner from last season, France's Arthur Bauchet, managed to pick up three gold medals in Slovenia, his rivals were hot on his tails.
Among them, Canada's Alexis Guimond who has emerged from a lacklustre 2018-19 season with a fresh mentality and newfound speed.
"I really wanted to come back strong this season because last season was really not my best," said Guimond, who picked up two silver and a bronze in Kranjska Gora.
"I was taking myself so seriously. I was stressing myself out every race and expecting so much and always feeling bummed out. I took it too seriously and I didn't have as much fun as I used to when I was a kid and I was racing, so I came back to the roots of just having fun and that changed the entire thing for me."
Aleksei Bugaev has also come forth a big threat to Bauchet's dominance. The Russian skier won the second race, taking advantage of Bauchet crashing out in the first run, and also got two silver medals.
"There is a lot of people who can make the podium, so it's a real battle between us, but it's so cool to have this battle," Bauchet said. "We start and we don't know who will win."
The field is also tight in the men's vision impaired class. Canada's Mac Marcoux and his guide Tristan Rodgers extended their undefeated streak to eight races in Kranjska Gora, but not without a serious challenge from their Italian rivals.
Giacomo Bertagnolli and guide Andrea Ravelli finished less than a second of the Canadians in the second and third giant slalom races.
"I got all lost in the middle and ended up having to skate a little bit off course, so from there down it just turned into a fight, trying to see if we can make up some time because I knew it was a big mistake," said Marcoux after beating the Italians by 0.13 seconds in the second race.
"I was just so stoked it actually worked out."
Slovakia's Marek Kubacka, in the meantime, was less content with his races. He got two bronze medals on the same slope where he became a world champion in giant slalom exactly a year ago.
"A couple of years ago I would be happy for third place, but the last year I won here, so I'm not as happy as I was last year," Kubacka said.
Personal milestones
Germany's Anna-Lena Forster celebrated her career's first World Cup victory in giant slalom in Kranjska Gora. Despite being one of the strongest sit skiers on the Para Alpine circuit, that victory has eluded her for years, and to make the result even sweeter she made it double gold.
"I'm not friends with giant slalom. It's crazy because I'm not that bad in giant slalom, but my training does not translate to the race," Forster said. "I had ups and downs here at the World Cup because I had a lot of DNF - that's not usual for me - but it's cool that I see the progress and that I can finally win the giant slalom."
Forster's teammates Noemi Ristau and her guide Paula Brenzel also celebrated a special gold in Slovenia - their first as a pair in a major, competitive race.
For Millie Knight and guide Brett Wild, their victory in Kranjska Gora was their first World Cup victory since 25 January, 2017. The duo have battled multiple setbacks, including Knight's recent car crash and Wild contracting norovirus, to win a full set of medals in the three giant slalom races in Slovenia.
"Just before we flew out from here I had a car crash, so I was really battling with whiplash and to come away with a bronze, silver and gold is just unbelievable," Knight said. "To me it confirmed that maybe I am good enough, that we are working to a certain level and we will get there."
The leader of the women's vision impaired class, Austria's Veronika Aigner, suffered a minor leg injury in a crash on the second day of racing and did not return to the slopes.
Full results from the World Cup in Kranjska Gora are available on the World Para Alpine Skiing's website. The World Cup continues from 9-21 February in Juzhno-Sakhalinsk, Russia.