Barbara van Bergen ends silver streak in Leogang
Dutch gold, home glory, upsets and comebacks mark two days of giant slalom racing in Austria
17 Feb 2021
Imagen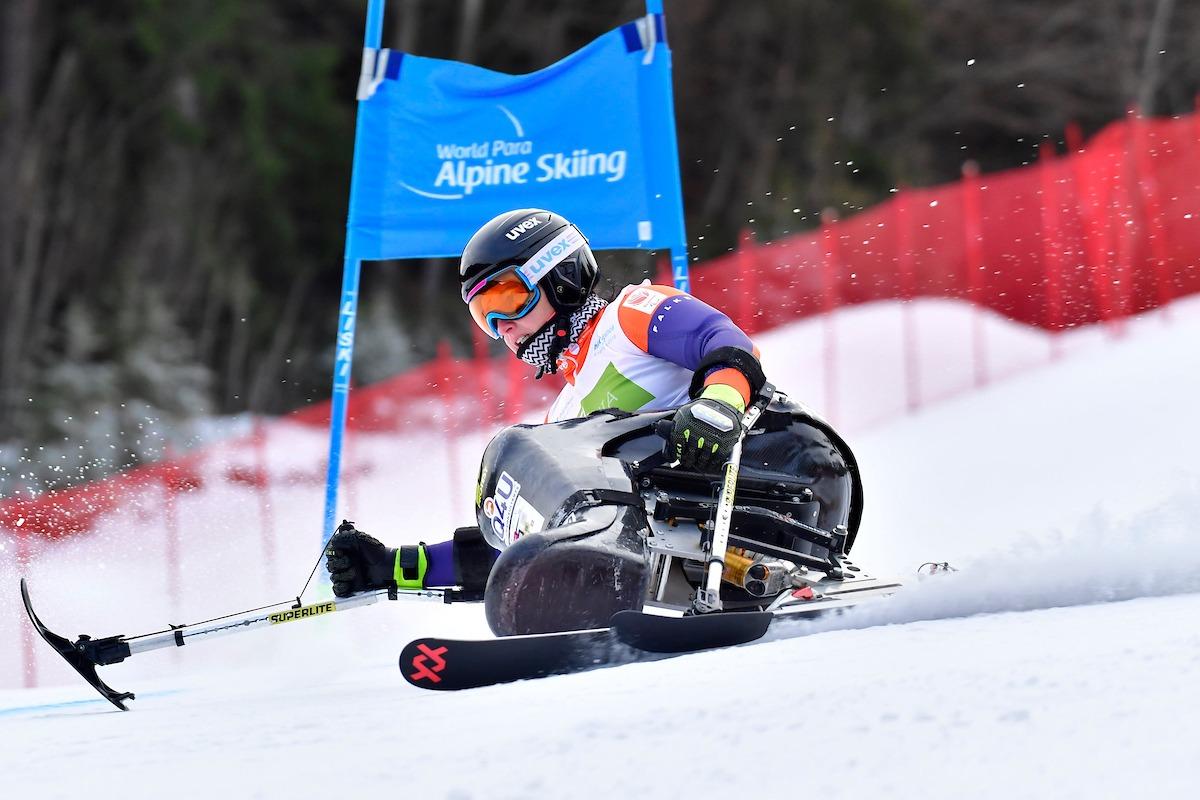 ⒸLuc Percival for World Para Snow Sports
By Lena Smirnova | For World Para Snow Sports
After taking four silver medals in her earlier four races of the 2020-21 World Cup season, Dutch sit skier Barbara van Bergen finally soared to the top of the podium in Leogang, Austria.
The Austrian ski resort is hosting two giant slalom and two slalom races from Tuesday to Friday (16-19 February).
Van Bergen clinched her victory in grand fashion. Not only did she break Anna-Lena Forster's undefeated streak this season, but she also outraced last season's overall Crystal Globe winner Laurie Stephens at the US skier's first World Cup race this year.
"During the pre-training season I really made some big steps, much more consistent and building on a better technique," van Bergen said. "I was a bit frustrated that I couldn't show it during the previous races, so you can imagine me being extremely happy that it finally came together here and I won against these two ladies and with a good time."
The Dutch skier beat her rivals by more than three seconds with Forster taking the silver and Stephens the bronze. Germany's Forster upgraded her medal to gold in the second race.
While at the end of the first day, van Bergen was beaming and giving the thumbs up, the outlook of the race did not always look so optimistic. When the skiers woke up in the morning, the sunny weather of the past days had suddenly been replaced by a rainy drizzle.
"After three super sunny and very cold, -15 Celsius, training days with a solid hard slope, we went to bed while it was snowing outside," van Bergen said. "The next morning, on race day, it was raining and - 1 Celsius, so we expected the snow to feel different, and it did but still the slope was in good condition and the bottom layer was still hard. First run we still had a bit of rain, but it didn't bother me during the race." 
Medal shower
Germany's Noemi Ristau and her guide Paula Brenzel struggled a lot more with the weather conditions, but still managed to pull through with their season's first gold. 
"We felt really good to win the gold medal because this season for us was really many ups and downs," Brenzel said of their victory in the women's vision impaired class. "The weather conditions yesterday were not that easy because in one of the runs, on the down part, it was really foggy so I told Noemi, 'OK, now it's really foggy so come on, come closer to me or you will not see me'."
The pair ultimately outraced their next opponents, Barbara Aigner and guide Klara Sykora, by 5.97 seconds to win the gold. The medal was a confidence boost, especially after Ristau's crash at the World Cup opener in Veysonnaz, Switzerland.   
"The biggest lesson we learned is stay strong, always keep going," Brenzel said. "Noemi hurt her shoulder in October and it was really bad; then it gets better and then after her crash in Veysonnaz, it gets worse. Now it's a little bit better, but it's difficult in slalom for her and, also COVID made it not easy for us so I think the lesson is to stay strong no matter what happens."
Ristau and Brenzel led by 5.46 seconds after the first run of the second race but did not finish the second run. Instead, it was the first day's silver medallists Barbara Aigner and guide Klara Sykora who took the gold. 
The Aigner siblings have not failed to bring Austria at least one medal in each of the technical races this season and topped this count with three more medals in Leogang. In addition to Barbara Aigner's gold and silver, her twin brother Johannes Aigner and his guide Matteo Fleischmann won gold in the first men's vision impaired race.
In the second race, Great Britain's Neil Simpson took his career's second gold medal, this time racing with guide Lachlan Veitch instead of his brother Andrew Simpson.
Like Austria, Team Germany basked in the hardware with each of its female skiers winning at least one medal in Leogang. Following on Forster and Ristau's golden result, Anna-Marie Rieder won both standing races with her teammate Andrea Rothfuss picking up two silver. 
Luise Grube and her guide Lucia Rispler took a bronze in the women's vision impaired race on the second day, bringing Germany's tally in Leogang to eight medals. 
Broken streaks
Arthur Bauchet's reign of power in the technical races was cut short in the first giant slalom of the men's standing class as Russia's Aleksei Bugaev claimed the gold and broke the French skier's undefeated streak.  
Bugaev finished right behind Bauchet in three speed races earlier in February and beat Bauchet to gold in the final super-G race by 0.08 seconds. His victory in the giant slalom in Leogang was more substantial as he outraced Bauchet by 1.57 seconds. The French skier returned on the second day, however, to beat Bugaev by 0.19 seconds and take the gold.
Dutch sit skier Jeroen Kampschreur was also unable to keep his golden record in the giant slalom races. He led both runs and won gold in the first race, but a mistake in the first run of the second race tied him with Italy's Rene de Silvestro in the silver medal position despite a winning second run. Norway's Jesper Pedersen, the silver medallist of the first day, won the gold. 
Full results from the World Cup races in Leogang, Austria are available on the World Para Alpine Skiing website.