Players embrace Denmark's red-hot fans at Wheelchair Rugby World Championship
The home team advanced to the medal round for the first time at a World Championships and will face defending champions Japan in the bronze medal match on 16 October
16 Oct 2022
Imagen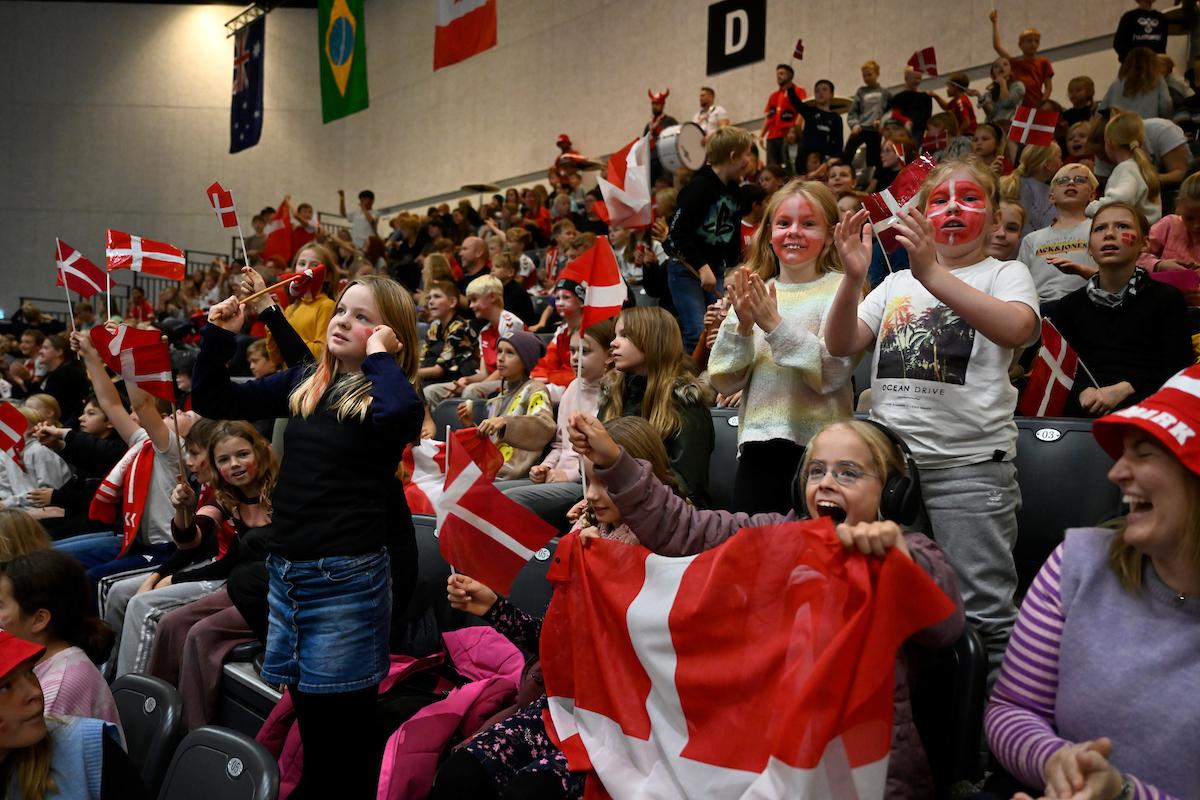 ⒸLars Møller for Parasport Danmark
By Ayano Shimizu | For the IPC
Denmark's Sebastian Frederiksen says the 2022 Wheelchair Rugby World Championship in Vejle has been a "big party" as hundreds of fans gathered to cheer for the home team at every round of the competition.
Fans wearing Denmark's red jerseys have filled the stands since the team opened their campaign on 10 October. They screamed, chanted and clapped their hands in support of the team at DGI Huset Vejle.
"A lot of people are coming in, a lot of my friends, my teammates' friends and family," Frederiksen, Denmark's star player, said about the crowd. "To be honest, sometimes I'm a little bit jealous of not being up with them because they seem to be having so much fun."
Like rockstars
A group of Frederiksen's friends took a week-long vacation from work to watch the world No. 7 Denmark play against the other top teams. Equipped with a small drum, his friend David Hoeier has been a huge addition to the Danes' campaign.
"It's easy to fall in love with wheelchair rugby," said Hoeier, who travelled from a town near Copenhagen. "Look around, what's not to like? Everybody is happy, everybody is cheering also for the opponents' team. Everybody is just happy and it's amazing.
"We have agreed with Sebastian that now that we have taken a vacation for the whole week, he also has to perform. We have done our part, so now it is his turn."
Frederiksen has done just that, scoring more than 100 tries in this tournament. While the hosts lost to Australia 56-55 in the semifinals, the game provided much excitement to about 1,300 spectators in the arena.
Mark Peters, also a major force for Denmark, said the crowd has pushed him to go beyond his limits on the court at all times, even when he was tired.
"You feel appreciated, also your sport," Peters said. "When you come out (of the arena), people want to talk to you, get autographs and take selfies, so you feel like a rockstar, even though you're not. It's nice that people want to see your sport and I love my sport, so it's great."
New fans of the sport
Danish fans came in all ages. There were people who have followed the sport for many years while some were introduced to wheelchair rugby in Vejle, which calls itself the capital of Para sports in Denmark.
"It was really cool. I liked it a lot. A lot of things happen on the court and it was a good first time to watch," said Kathrine Raunholt, who watched Denmark's quarterfinal match against European champions France.
It was also a first-time experience for students from local elementary schools.
In addition to watching the matches, they tried out the sport in the fan zone set up at the venue. They rode wheelchairs across a court and tried passing the ball to each other.
"The students learned how fun and hard Para sports can be," said Gert Hougaard, a principal at one of the schools. "The children also thought it was a big experience that DGI Huset was full of the world's best athletes because of the world championships."
Visiting athletes have big hopes
While Denmark had the largest crowds, visiting teams also had their share of fans. Children got excited at watching New Zealand's haka performance before their quarterfinal match against Japan and cheered for the two teams with handmade flags.
After Japan won the game, they quickly ran up to the players and formed a line to ask for autographs.
Japan's captain Yukinobu Ike said that having a large crowd at the tournament could have a lasting impact on the sport in Denmark, especially given that some of the matches were broadcast on TV.
"The first international tournament I went to didn't have spectators and it felt like the players were just competing against each other," he said. "Here, children and adults are really enjoying the games, and this is what sport is all about.
"If children with impairments watch athletes compete in front of a large crowd instead of a silent venue, it can encourage them to want to play sports, and they may actually start."
Australia's captain Chris Bond also noted the importance of having big crowds during matches.
"This is why we do it," he said. "Most of us always spend time in our home gyms training with nobody, pretending there is glory and clapping, and there might be our mom and dad in the crowd on our social competitions.
"It's a really good feeling - that's what we put all the hard work into - to get an atmosphere like this."
The final showdown
The 2022 Wheelchair Rugby World Championship will culminate in a gold medal match to be played between Australia and the United States at 16:00 CEST on 16 October. The United States booked a ticket to the final by defeating Japan 57-52 in the semifinals.
The bronze medal match between Denmark and Japan will take place earlier in the day. 
"The fans were amazing. The energy was so positive today," Frederiksen said after Denmark's semifinal loss against Australia. "I really hope they will all be back to support us again tomorrow. Now we just need to relax and get ready for another big game." 
Live streams of the matches can be watched on the official 2022 Wheelchair Rugby World Championship website.