Great Britain triumph over USA as first European nation to win wheelchair rugby gold
Japan beat defending champions Australia for a bronze on home soil
29 Aug 2021
Imagen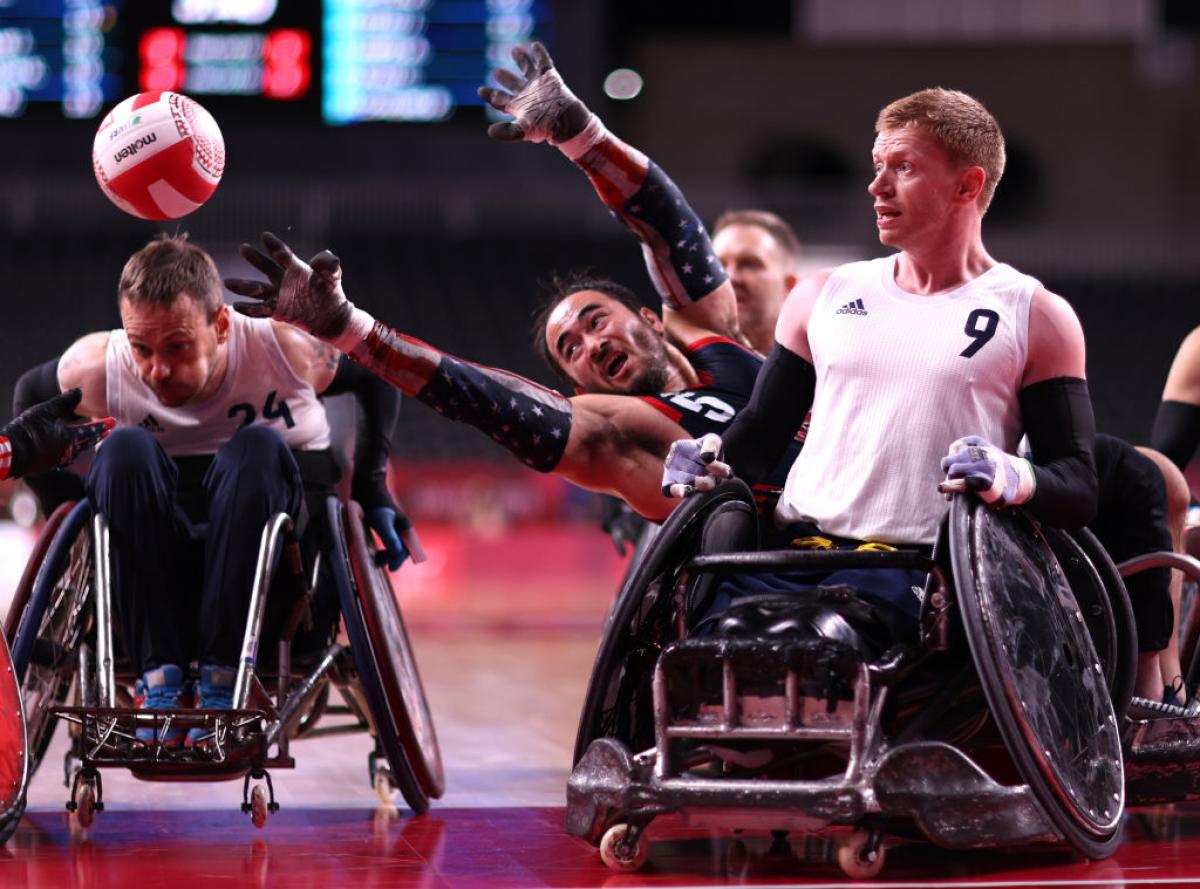 ⒸNaomi Baker/Getty Images
By Ruth Faulkner I For the IPC
Great Britain secured their first ever Paralympic medal in wheelchair rugby after beating the USA 54-49 at Tokyo's Yoyogi National Stadium on Sunday.
They edged 15-12 ahead in the first quarter with some important steals, but in the second a key steal from USA's Charles Aoki almost felt like it would turn the game, with the deficit reduced to two.
There was little between the teams in the third, with Great Britain surging back with a mammoth 17 tries in the fourth quarter to secure the win.
The early steals were essential, agreed top scorer Jim Roberts. "We know USA run a solid offence so any scraps we can get we'll try to make the most of them, and that was key. They got a little bit desperate at the end and perhaps we got a few more than they would have given up otherwise. Obviously it came down to a pretty tight game, it was a massive game."
Despite their calm and composure, this win is a success for the team that few foresaw. While Great Britain made it to the bronze-medal matches at Atlanta 1996, Athens 2004 and Beijing 2008, they had never won one.
"We haven't beaten USA in a major tournament before, we haven't beaten Japan in a major tournament for a long time and we haven't beaten Canada in a major tournament, so to beat all of those teams was huge for us.
"We had some good training camps, we knew we were in good shape, we had a practice tournament with France and Denmark,  and that made us realise we had to step up. Europe has showed up in this tournament," Roberts explained.
There will certainly be some big celebrations on the horizon after Great Britain became the first European team to win gold in wheelchair rugby. "I blooming hope there's some beers in the changing room."
For USA, the silver medal was not what they hoped, but still meaningful for the team. "I am proud of my team, this has been a hell of a last five years. Everyone's been through more than you can possibly imagine. I'm disappointed obviously but proud," Aoki said.
Hosts take bronze medal with local school watching on
The bronze-medal match was also particularly significant with hosts Japan beating defending champions Australia. Japan, who had hoped for a different medal colour but suffered defeat at the hands of Great Britain on Saturday, were focused on taking the bronze, playing with confidence and iron will.
It still had a touch of the bittersweet though, as Katsuya Hashimoto, youngest of the team at 19 years old, was in tears as the game closed. "It's regretful because we were aiming for gold but ended up with bronze, but we are very relieved," he said.
Japan remained focused throughout the game, continuingly deepening their lead and not giving Australia an inch. In the fourth period, every point was a battle, with the clank of the wheelchairs a constant beat. With two minutes to go, tears appeared in the eyes of the Australian team when it was clear there was no way back and Japan won 60–52.
"Fairly upsetting week and the results haven't been the best. We knew we were up for some challenges, we haven't been together as a team for so long and it's really hurt our preparation. We've been affected back home in Australia," Ryley Batt said.
Australia, who arrived at the Paralympic Games unbeaten at this level since the 2008 final, lost four out of their five games in Tokyo. 
Batt, who has been playing wheelchair rugby for 20 years, was noticeably emotional speaking to the media. "It hurts. It just wasn't to be. Unfortunately teams sometimes they can't be at the top forever. It's going to hurt watching every other team receive a medal and not us, but that's just what happens when you're not the best."
There was a local school in attendance at the stadium in Tokyo, cheering on the hosts Japan. Hashimoto felt their presence gave the team the extra boost they needed. "Those kids gave me some strength. They pushed us forward and gave us energy. 
"Since I'm the youngest in the team, I'm closest to the school kids' age. Even though rugby is still a minor sport in Japan we hope we gave a positive impression of the sport itself. I hope I gave them the motivation to play the sport like this."