Republic of Korea tops gold medal table at 2022 World Para Table Tennis Championships
Athletes from the Republic of Korea claimed 10 gold medals at the Andalucia 2022 World Para Table Tennis Championships, which wrapped up on Saturday, 12 November
14 Nov 2022
Imagen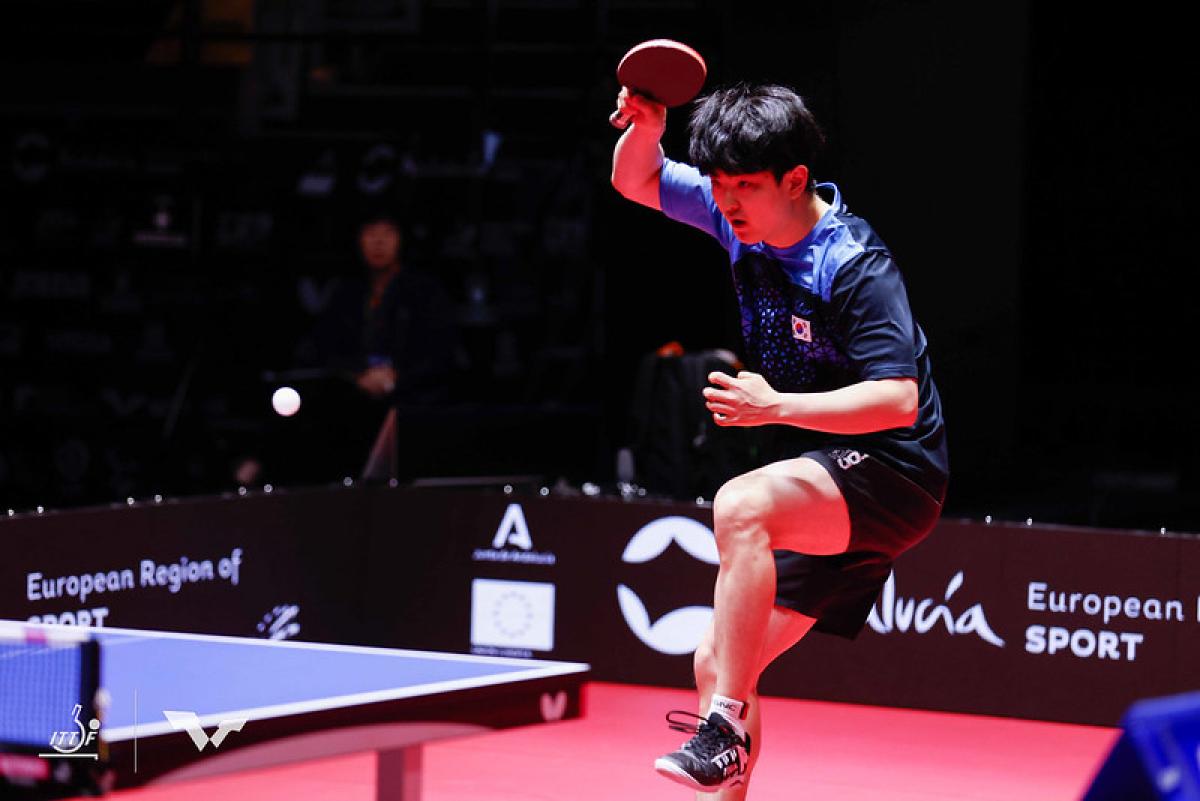 ⒸITTF
By ITTF and IPC
The Andalucia 2022 World Para Table Tennis Championships wrapped up in Granada, Spain after a week of competition featuring a record 326 players from 51 teams.
Athletes from the Republic of Korea won 10 of the 39 events contested at the Palacio Municipal de Deportes de Granada. Kim Gi-Tae, who competes in class 11, was the only athlete to earn three gold medals, winning the men's singles, men's doubles and mixed doubles.
French players picked up four gold medals, increasing expectations for their performances at the home 2024 Paralympic Games in Paris. 
While defending champions and gold medallists from the Tokyo 2020 Paralympic Games retained and regained titles, several newcomers also made an impression. Brazil's Sophia Kelmer, only 14 years old, stood out among the debutants, as she secured bronze in the women's singles class 8.
Republic of Korea tops gold medal race
Kim Gi-Tae was the most successful player in Granada, sweeping all three of the events he competed in.
He defeated fellow Korean Kim Chang Gi 11-7, 11-7, 11-3 in the men's singles class 11 final, after winning the men's doubles with Jeong Kyuyoung and the mixed doubles with Seo Yanghee.
Kim Gi-Tae said his unbeaten run in Granada came as a surprise because he failed to advance to the knockout stage at the 2020 Paralympic Games. 
"I didn't expect to be the champion in this tournament because I lost in the first round in Tokyo, so I'm super happy. To play a final with a compatriot is a great pride for Korea," he said. 
It was also an emotional tournament for Kim Jung Gil, a gold medallist at the Rio 2016 Paralympic Games. He pulled off a narrow win over France's Maxime Thomas in the men's singles class 4 final after topping the podium in the men's doubles class 8.
"I haven't won anything since 2010 (Worlds), so I really appreciate this moment," Kim Junggil said. "In recent years I have been under a great deal of pressure. Now I have gold in both men's doubles and men's singles."
Next target, Paris 2024
With less than two years to go until the Paris 2024 Paralympic Games, Lea Ferney was one of the four French athletes to top the podium in Granada. Ferney dispatched Poland's Krystyna Lysiak 11-6, 11-8, 11-7 in the finals of the women's singles class 11.
"This victory makes me No. 1. I've only lost one game in the tournament, it's incredible," said Ferney, who won silver at Tokyo 2020. "My next objective is to win gold in Paris 2024 because the Paralympics are in my country and that makes me excited."
Thu Kamkasomphou of France made a huge comeback in the women's singles class 8 event. She beat Norway's Aida Dahlen in the final en route to winning the title she previously claimed at the 2010 Worlds in Gwangju.
"It's amazing and important for me," Kamkasomphou said. "That's the reason why I train hard. I'm greatly encouraged with Paris 2024 ahead because the Games are in my country and I want to show a great performance there."
A mixed tournament for Tokyo 2020 champions
Germany's Valentin Baus and Ukraine's Maryna Lytovchenko were among the Tokyo 2020 champions who also topped the podium in Granada. 
Baus beat Ali Ozturk of Turkey 11-8, 7-11, 11-5, 11-7 in the men's class 5 final, while Lytovchenko won the women's singles class 6 final against Poland's Katarzyna Marszal. 
On the other hand, Kelly van Zon of the Netherlands, a three-time Paralympic gold medallist in the women's singles class 7, lost to Turkey's Kubra Korkut.
The victory over van Zon was sweet revenge for Korkut, who lost to the Dutch player in the World Championship final four years ago in Lasko, Slovenia.
"This victory is a dream for me. I've never won a final against Kelly," the Turkish athlete said. "I thought today was the day. I cried because this is the result of working hard and I want to improve myself. I dedicate it to my team. Without them, it would not have been possible."