Dutch table tennis star Kelly van Zon ready for the unknown at Tokyo 2020
Two-time Paralympic champion says she is "always very careful in saying what I'm going for because the ball is round and you need to have your day"
10 Jul 2021
Imagen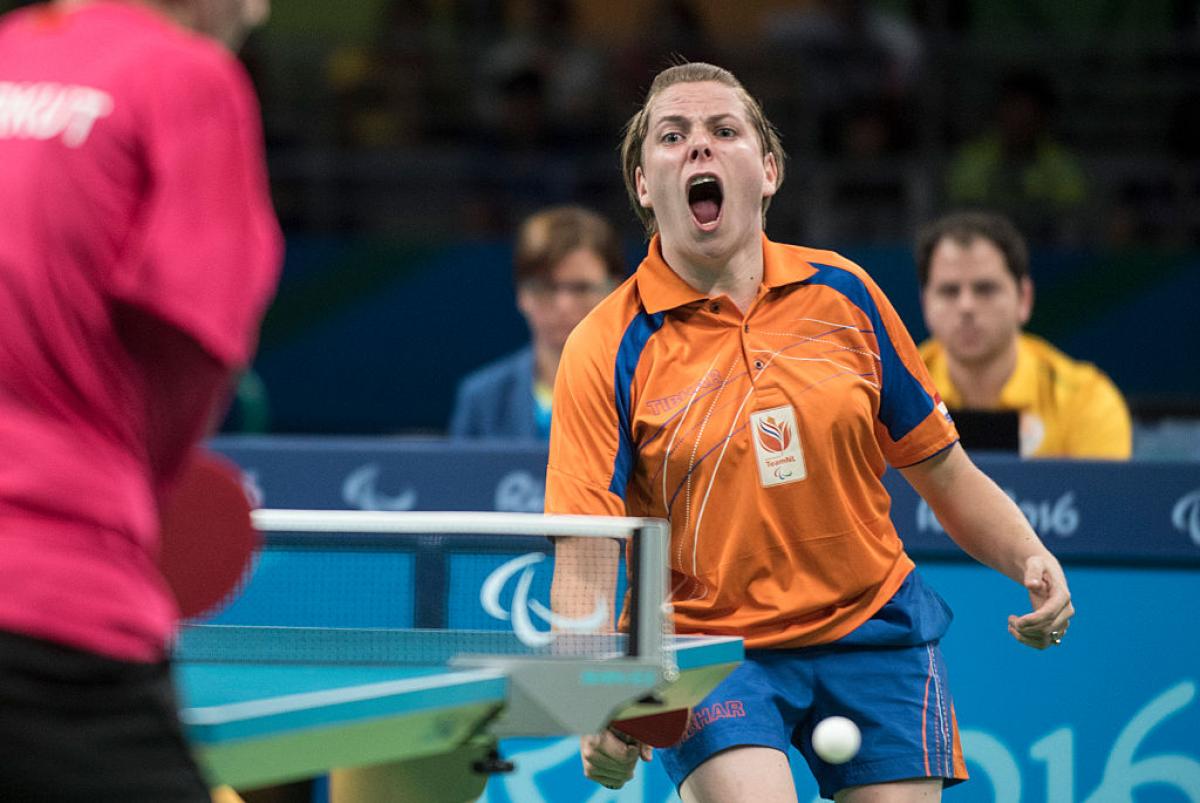 ⒸGetty Images
By Beau Greenway | For the IPC
Two-time Paralympic champion Kelly van Zon had faced the possibility of being the Netherlands' only athlete to compete in the sport at Tokyo 2020 when her teammate Jean Paul Montanus opted to withdraw from the men's class 7 singles at Tokyo 2020 for personal reasons.
However, Van Zon, also a class 7 player, will be joined by Frederique van Hoof, who was awarded a wild card and will contest the singles and the teams event for class 6 to 8 competitors.
The Dutch star Van Zon won gold medals at London 2012 and Rio 2016, but her fourth Paralympics will be much of an unknown given how different the lead-up has been for everyone due to the COVID-19 pandemic.
Van Zon is confident she has done all she can to prepare herself for Tokyo, despite having not played an international match since March 2020.
She and her trainer looked at options to change up their practice for the Paralympics and decided to head to Croatia for two training camps in recent weeks.
"In Beijing (2008) we had four, London (2012) was four or five and Rio (2016) we also had four, but now we are reduced to two," she said. "It is a little bit different, but the whole year is different for everybody because of corona. I don't know if it's because I'm preparing alone or it's because of the pandemic, because there's been no matches.
"It's good that I can have some training camps abroad so you don't have the feeling that you're stuck in the same area. For me it's a one-hour drive to the national centre, so it's always the same road. I've been driving this road for 18 years, so I was a bit tired of always being in the same hall, so in the end we made some adjustments. I've been practicing at my club which is only 15 minutes away, so I think it's all going quite well."
Van Zon described her inner focus when approaching a major event such as the Paralympics as a 'tunnel' and said it was getting smaller and smaller last year, before she took some time away after the postponement was announced.
"I had the feeling that the Paralympics would be postponed, I don't know why. I was preparing for that," she said. "I stepped back because if I knew I was continuing at that level, it would be too tense because it would be a really long wait until the Paralympics again.
"I know it sounds silly but we were starting to get used to corona life. Being stuck home and not being able to see your family.
"In November I got corona, but it was really mild symptoms. I had a fever and a little headache for two or three days, but that was basically it. I had no problems with breathing or anything like that, but I was a bit tired, of course.
"After three weeks, I was back practicing like normal. I think I was in quarantine for 17 days and the walls were coming in on me.
"I hope that everybody still has had a good preparation for the Games and we can fight for what we're coming for."
Van Zon rose to fame during the Rio 2016 Games when she played a miracle diving shot around the table in her group game against Turkey's Kubra Korkut, who she went on to defeat in the gold medal match.
She revealed almost five years later, it still comes up in conversation. 
"But I cannot watch it anymore because I was so full of emotion and tension. The face of my opponent was amazing, but I cannot look at myself shouting and I always tell myself 'Kelly what are you doing?'" Van Zon said.
"It went super viral here on many famous websites and Instagram and Tiktok and Facebook, it was everywhere.
"It's also fun to see the reactions as well. I think it's pretty cool to show people what we're capable of. Let's see if I can maybe make one more in Tokyo."
While she is fighting for an incredible third straight gold medal at Tokyo, Van Zon remains humble.
"I'm always very careful in saying what I'm going for because the ball is round and you need to have your day," she said. "With this year, everyone has had their own preparation and the preparation was different. You need to have luck on your side also.
"It would be strange if I'm not saying I'm not going to defend my title and I want that for sure, but I also want to go there to enjoy it and play the Games because we all haven't played any matches for so long.
"I think everybody has practiced hard and Para sport is more professional than ever with how much attention it gets. We'll have to see how it goes and of course, I hope I can reach the final."