Polish table tennis legend Natalia Partyka out to make it five in a row
Partyka goes into the Paralympic Games strong after having just competed for the Olympic Games
23 Aug 2021
Imagen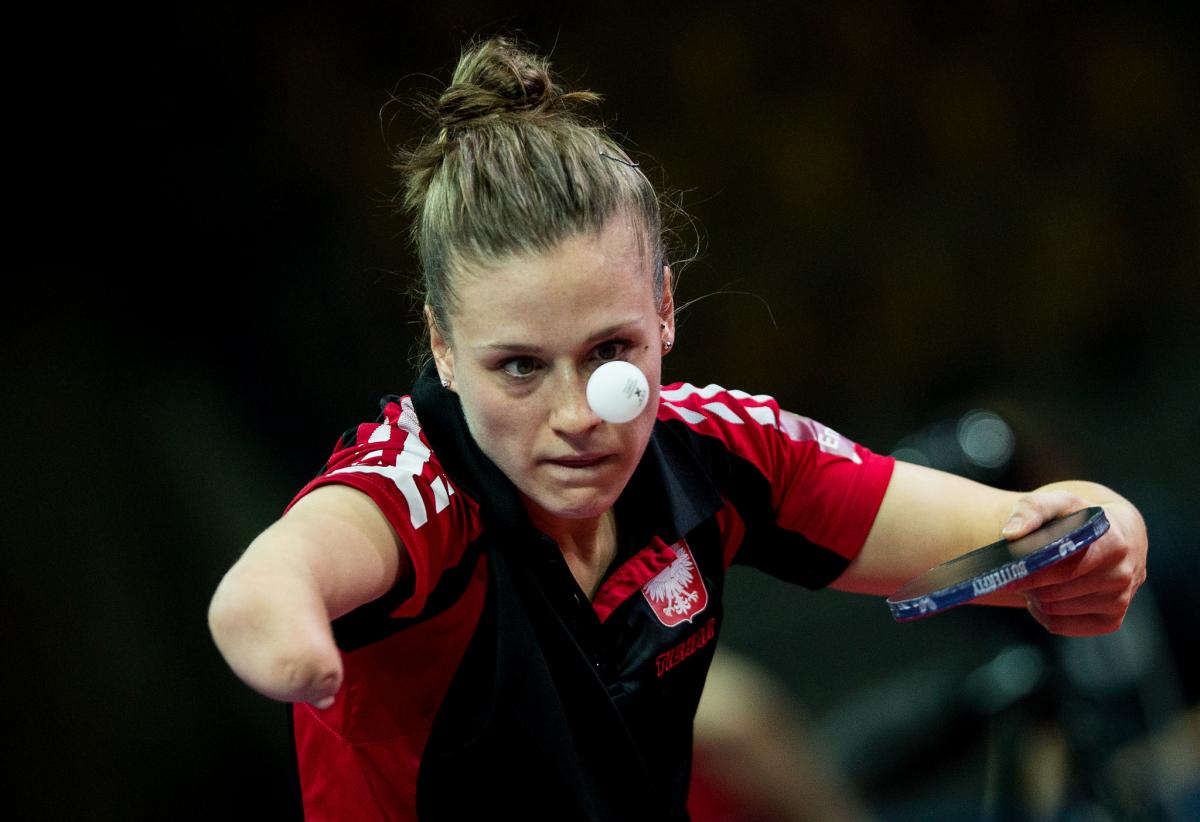 ⒸVid Ponikvar/Sportida
By IPC
Polish multi-medallist Natalia Partyka enters her sixth Paralympic Games aiming for a fifth successive table tennis singles title.
Following her wins at Athens 2004, Beijing 2008, London 2012 and Rio 2016, the seven-time world champion is one of five women with eight Paralympic table tennis medals. Only one woman, China's Zhang Xiaoling, with nine, has claimed more.
Partyka's Paralympic career began at Sydney 2000 where she became the youngest ever Paralympian at the age of 11. Four years later, in Athens, she was victorious in the class 10 singles. She also won medals in the classes 6-10 team competitions at Athens, Beijing and London, before adding gold in that event in Rio.
Now 32, Partyka is as hungry as ever, and acknowledges the development of her sport and classification over the decades. "When I went for the first time and for the second time to Athens in 2004, it was like for fun maybe," she says.
"OK, the players, everyone prepared their best and they wanted to win the medals, but I felt like for the others outside the Paralympics it was like, 'OK, they're just, you know, playing for fun and they enjoy and it's not professional sports'. But now it's changed.
"It's really become a professional sport. Players are professionals, they are improving and my category's really strong. Girls can play really well. So for me it's also a challenge. It's kind of challenging because I have to play better than before.
"Every time is always different. Every time it's like a new story, a new competition and everything is totally different. So it feels like the first time. When I went for my first Paralympics I was just a kid – 11 years old. I was a small girl and everything was new and it was a great experience. But after that, every time I was a much better player. I was improving year by year, I was better and better in table tennis.
"So now I'm a player on a different level than at the beginning so I just want to focus on my goals and my game."
ON HER PARTICIPATION AT TOKYO OLYMPICS
Partyka goes into the Tokyo 2020 Paralympics having just competed in table tennis at her fourth Olympic Games, placing her among an exclusive group of athletes to participate in both events.
"That's nice and it's already kind of a big achievement," says the world No.1. "It also shows that it's not that easy.
"OK, some (athletes with a) disability are not able to compete on the same level like able-bodied but we are showing that with our disabilities, like with less disabilities, if you work hard and if you have luck and if you are good, anything is possible.
"I'm not thinking about this. It's not like I'm waking up every day and thinking, 'Oh, I achieved a lot because I was playing both'.
"Of course, I know what I have done and what I have achieved. But I'm not thinking about this. I'm just trying to focus on the present in my everyday life and every day I have to do my job.
"So that's the most important for me at the moment. Maybe after my career there will be time to think about the past, to cry, because so (many) nice memories.
"OK, I know I did a pretty good job for the Paralympic movement as well, so it's kind of extra motivation for me because I know that I'm like some role model for the others so that's really nice. I'm really proud of myself. But I just did it, and I want to continue that way."
THE MAIN CHALLENGERS
Among her opponents in the women's singles class 10 is world No.2 Melissa Tapper of Australia, and Tapper's teammate Yang Qian, the Chinese-born Rio 2016 silver medallist who is ranked No. 3.
"She's more experienced now and I think she works hard," Partyka says of Tapper. "OK, every player works hard every day, but she also has experience from the able-bodied competitions.
"This can be kind of an advantage in our case because the others, they're playing just tournaments with the disabled. We have more opportunities to play against other strong players, that's for sure good for us.
"I really wish Melissa can win a medal at the Paralympics because she really deserves that. In London she lost to me in the semi, in Rio we were in the same group. She deserves (it). She really improved a lot and she can play very well. I really wish she is going to win a medal but not gold, you know. Just kidding.
"If she's going to be better than me then it's OK. There are a lot of strong players. It's really nice to see how the Paralympics changed during the last 20 or 15 years. Every year it's more professional."
GIVING IT BACK TO THE SPORT
For all her success at the table, Partyka's humility away from the field of play is endearing and equally inspirational. In 2013, she was named as the International Table Tennis Federation's first Dream Building Ambassador. Two years later, she established the Natalia Partyka Foundation to support young athletes. The two-time European champion clearly understands what it takes to reach – and stay at – the top.
"I was the biggest opponent for myself," she says of close contests at both London 2012 and Rio 2016.
"Somehow I overcame this, that meant a lot to me. This time, I really wish I could play without any pressure and stress. We're going to see in a few days.
"Many people think (table tennis is) really easy because they're playing during the summer time, during vacation. You can see them drink beer and play and everyone thinks they are good.
"But professional table tennis is super difficult. It's really tactical, one of the toughest sports, in my opinion. It's so fast and there's a lot of spin. You have no time to react because the ball goes so fast. You have to move a lot. It's a really tough sport.
"Also, you have to think about the way you play, how you play and you have to also think about your opponent, what is she doing, like chess."
So what of her chances of making it five singles titles in a row?
"Everyone wants to finally beat me but I hope that's not going to happen this time," she says.
"At the beginning there was no pressure at all. I was just playing and coaches and other players they didn't expect me to win. But a few years ago, everything changed.
"And now everyone expects me to win easily but it's not that easy any more because players are better and better. And I'm older and older.
"It's a lot of pressure but I hope this time I'm going to be capable to play with less stress than before. I was trying to think this way, that I don't need to prove anything to anyone any more, because I already won four times in a row.
"So, it really means I'm now the best player. I just want to enjoy the game and enjoy the time I spend here and I hope I will be able to remember that during my match.
"I'm a professional player, that's my job. That's how I earn money. That's the thing I like to do.
"I have a lot of fun during the matches – not always, sometimes when I lose it's not that fun. But I think I'm pretty lucky that I can do what I really like.
"It's not the time for (it to be) over. I want to play a few more years. I still have some more to achieve."