Paralympians express excitement ahead of Tokyo 2020
Six Paralympic stars speak to media ahead of Tokyo 2020 Opening Ceremony
22 Aug 2021
Imagen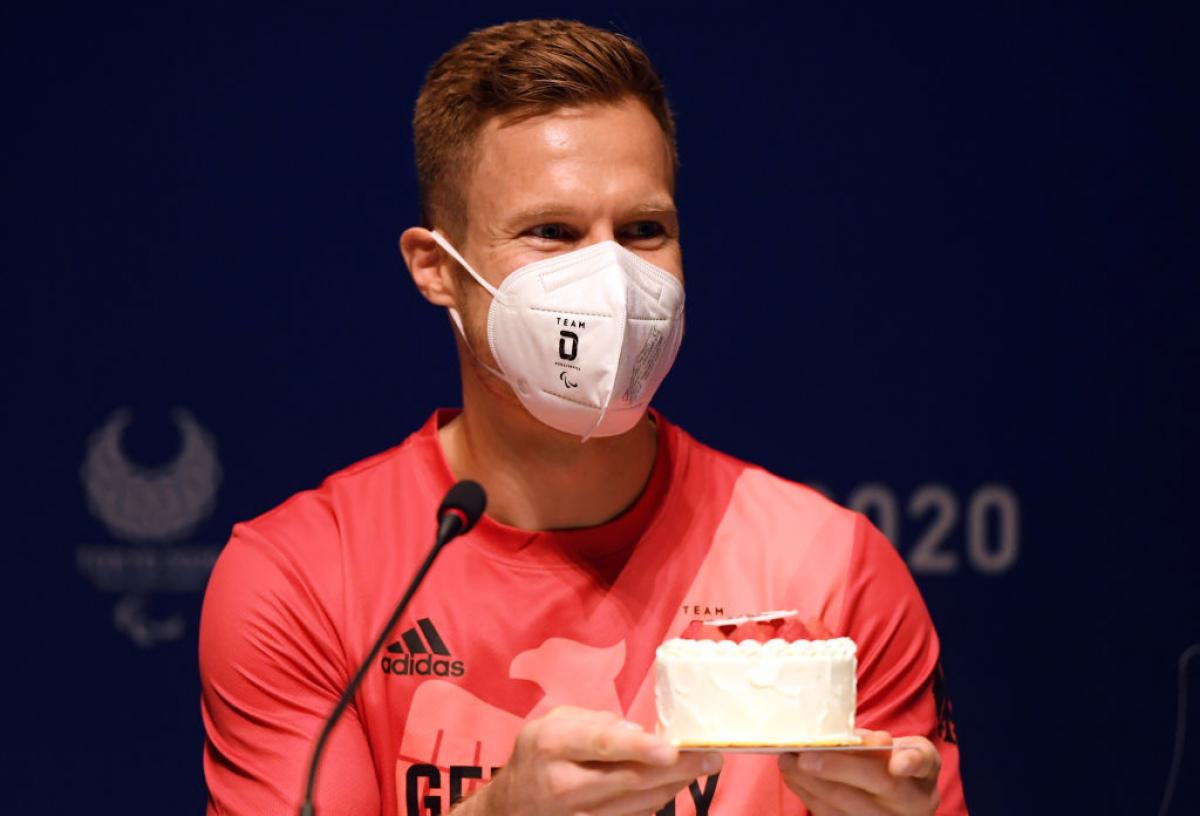 ⒸGetty
By Ros Dumlao | For the IPC
German Paralympic long jump champion Markus Rehm celebrated his 33rd birthday in a way he least expected – during a press conference in Tokyo.
In front of dozens of media members from around the globe and alongside five other Paralympic stars set to light up Tokyo 2020, Rehm was presented with a birthday cake on the panel — followed by the question many have been asking: will he break his own World record of  8.62m during his T64 event at the Games.
"We have seen at the Olympic Games a triple jump World record and, well, we hope to have a similar headline at the Paralympic Games," Rehm said. "It's going to be tough to jump 8.62m, but I'm in good shape and my coach did everything he could to prepare me for this day. And I'm definitely going to try to attack this 8.62."
The Paralympic cauldron lights up on 24 August, setting the stage not just for Rehm's World record attempt but also in anticipation of exciting performances from Mexican powerlifter Amalia Perez, US archer Matt Stutzman, Ugandan teenage swimmer Husnah Kukundakwe, Italian wheelchair fencer Bebe Vio and Japanese taekwondo athlete Shoko Ota.
Each athlete opened up about their expectations and finally being at the Games after the one-year postponement due to the COVID-19 outbreak.
"Sports can be a positive force, especially during these difficult times since the pandemic started and we had to stay at home," said Perez, who has competed at every Paralympics since Sydney 2000 and will attempt to win her fourth title, this time in the -61kg category.
"During the lockdown, we tried to take care of ourselves and of others, keep working, waiting and dreaming. I am enjoying the Paralympics to the fullest since the moment I set foot in Japan."
While Perez is no stranger to the Paralympics, 14-year-old Kukundakwe, who is the youngest Paralympian in Tokyo, is absorbing a whole new experience.
"I'm really, really excited, and I even told my mum that I don't care if I get a medal, getting into the Paralympic Village is enough for me," she said. "Since it's the Paralympic Village and everyone is disabled, I felt very comfortable. In Uganda, there are very few people with disabilities who want to come out and just be themselves. So around them (the Para athletes) I'm comfortable."
Vio, who sat beside Kukundakwe on the panel, quickly commented to her fellow Paralympian how she had a similar feeling being the torchbearer at London 2012 at 15 years old.
Now, the star of Paralympic documentary 'Rising Phoenix' is looking to defend the foil individual - category B title she won at Rio 2016. While she recalled the joys of celebrating with her family after winning in Brazil, she knows Tokyo presents a different reality with no spectators allowed. But it does not demotivate her.
"It would be weird without people but in my case when I'm fencing I've got my mask on, and I'm in my own world, and I choose who's inside my mask.
"So for me, I'm going to be there, with my family and my teammates inside my mask.
"I'm so sad that they won't be there, the whole team won't be there. But anyway, they are going to be watching from home thanks to all the communication… This year there is not going to be people here, so guys (media), your job is to be doing communication. Good luck to you."