Resurgent Anna Normann back on her 'dream' march
All set to take a shot at Tokyo glory
"I say that my injury has been the best and the worst thing that's happened to me."
30 Sep 2019
Imagen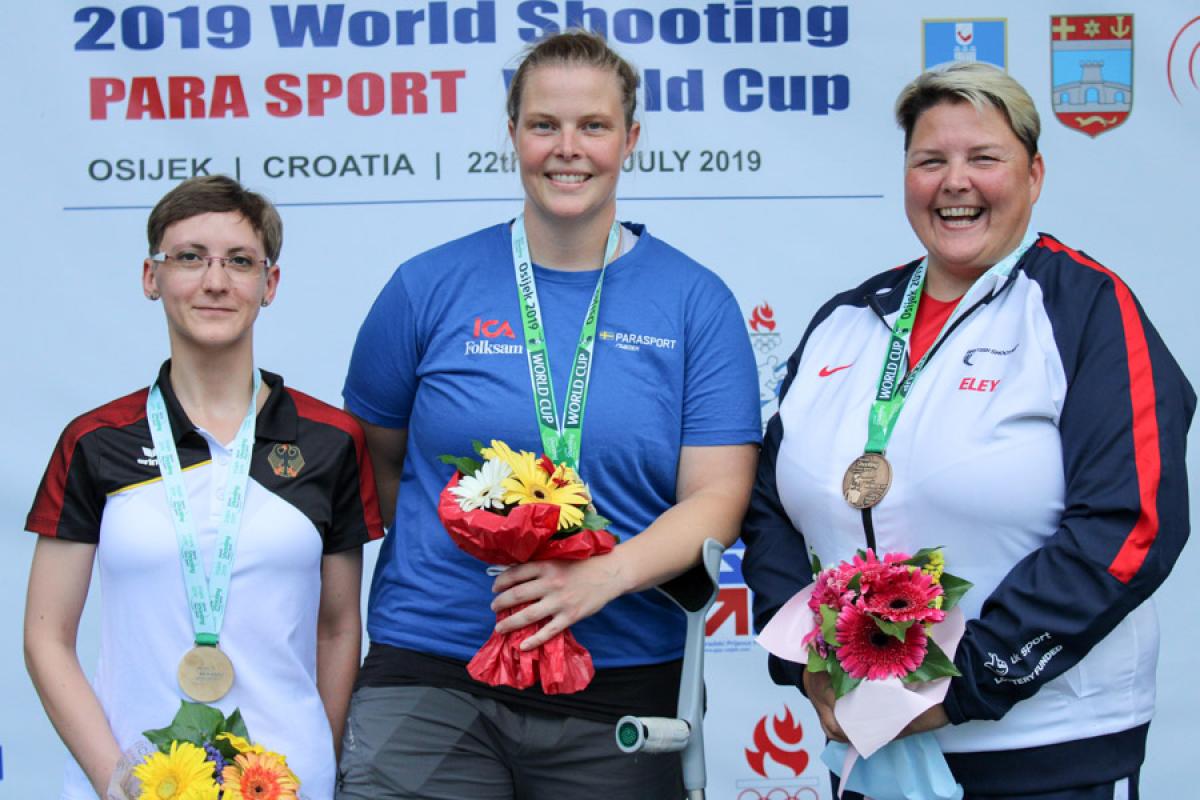 ⒸDubravka Krmpota
By Amp Media | World Shooting Para Sport
Four years ago, Anna Normann was convinced her hopes of competing on the greatest sporting stage of all – Olympics - had ended abruptly.
The Swedish rifle shooter - who turns 35 later this month - was at her lowest ebb after a horrific ankle injury which had left her barely able to walk and seemed certain to curtail a blossoming sporting career which had just begun to flourish on the elite stage.
A long-distance specialist, Normann won a breakthrough gold medal as part of the victorious Swedish women's team in the 300m rifle prone event at the 2014 ISSF World Championships. She began to dream of Rio 2016 - her debut Olympic Games, until disaster struck.
"I'm an officer by profession in the Swedish Army," said Normann, as she recalled her fateful accident in November 2014.
"I work with the air defence section, and I was on a training exercise with my soldiers. We were out in the woods, and I was climbing up to a radio station when I slipped. I fell back, but my foot was still wedged between two stairs, and...."
Normann's voice trails off. She was rushed to hospital where X-rays confirmed that she had fractured her ankle completely.
The following year would pass by in a blur of consultations, scans, and operating theatres, but five surgeries later, it began to dawn that the fracture might never heal.
"By October 2015 I realised things were probably not going so well," she said. "I didn't understand why my injury was so complicated, but then the specialists told me that only one in four people who have this kind of break actually recover."
Normann describes this realisation as being devastating. She assumed her shooting days were over, until a friend pointed out that she would be eligible to compete in Para sport.
"It was really hard to take," she said. "I thought that I wasn't able to compete anymore. I didn't know I would be able to compete with the Para athletes until someone said, 'We have to get you classified!'"
Since receiving her classification in 2018, Normann has taken the world of shooting Para sport by storm.
Last year she won a World Championships silver medal in the R8 (women's 50m air rifle 3 positions SH1) category, and after picking up R8 gold at the World Shooting Para Sport World Cup in Osijek, Croatia last month, she will be among the leading contenders in the category at October's World Championships in Sydney.
Not that it has all been easy. "The hardest thing to overcome is that my ankle doesn't feel how it used to feel," she said. "Most of all it causes me a lot of pain, because the ankle is completely stiff, and if you can't move your ankle, then the bending part has to come from somewhere else. So, then your knees break down."
One of the toughest challenges for Normann has been finding a stance which closely resembles the way she used to shoot, while minimising the discomfort posed by her ankle.
Because shooting is a sport of such fine margins that the difference between winning and losing can be a fraction of a millimetre, even the slightest adjustments in stance or technique can determine whether an athlete is a contender or not.
So, while most competitors in the R8 compete whilst sitting down or kneeling, Normann balances somewhat precariously on one leg. "I try to shoot like I did before the accident as much as possible, so I stand on one foot, and I'm on tiptoes on the other," she laughs.
"I could sit on a chair but that's so completely new to me, it's too hard. I try to stick to what I'm used to, even though my physio is not so happy with me because it's bad for my knees.  He says, 'You have to stop doing this Anna.' But I don't want to."
In twelve months, Normann will finally get to realise a lifetime's ambition when she competes at the Tokyo 2020 Paralympics.
Seven years ago, she was at London 2012 in a professional capacity, as part of the Sweden Armed Forces helping protect the UK's airspace, and dreaming of one day qualifying for the Games herself. But while she was a talented athlete, too often she would buckle under the psychological stresses of the sport.
"I used to have to work really hard on the mental side of shooting because I would be too afraid of losing," she said. "When you compete, everything has to be perfect, I ended up getting a bit of a mental block. But having my injury and becoming a Para athlete has changed all of that. Now I'm just so happy that I can still do this, I don't have that block anymore. Because of this, I say that my injury has been the best and the worst thing that's happened to me."
This autumn will mark five years since the fateful day when Normann's life changed forever. In the mean time she's experienced a full kaleidoscope of emotions from anger at the cruel hand of fate, to apathy. But through discovering shooting Para sport, she's come full circle.
"It's sounds so cliché, but now I'm just happy for what I can do, not angry for what I can't do," she says. "I used to love to run and now I can't do that anymore. Without crutches, I can only walk really badly. But I'm not sad about that anymore. The biggest thing I've learnt is simply to be happy about what you're able to do, and do that."